People traveling by plane often leave their furry friends at homes, and this is typically because of two main reasons. The first reason is people are unaware of any airlines that allow dogs in the cargo.
However, thankfully, there are some airlines that allow pets on board to travel in the cabin and in the cargo.
The second is the strict airline policies when boarding with dogs, cats, or any other pets for that matter. The good news is in this article you will find out which airlines that allow dogs in the cargo.
Not only that, but you will also learn exactly what the airline policies are when boarding with your dog.
5 Airlines That Allow Dogs In Cargo
1. Air Canada
Air Canada is one of the most popular airlines in the world that allows dogs in cargo. If you want to ship your dog via cargo, you will need to contact the airline directly when you're ready to book.
Air Canada's cargo service for pets is known as A.C. Animals, which provides an excellent traveling solution for live animals, including dogs, cats, fish, etc.
If you can't travel with your dog in the cabin, the A.C. Animal service can take care of your dog to avoid stress. This service is beneficial for your dog in terms of safety and comfort.
The airline offers designated holding facilities and world-class transport vehicles that will ease the journey of your dog.
The transport vehicles from Air Canada facilitates your dog to and from the airport. There are many benefits of the A.C. Animal service, such as…
Kennel facility in Toronto, Trained staff to care for your dog, Holding facilities that are comfortable, Qualified veterinary consultant services, and affordable prices for dog transport between the U.S and Canada
However, Air Canada does not accept dogs to travel via cargo to or from Mexico. The cargo support team continually monitors the dog travel around the clock.
In the event of flight delays, diversions, or cancellations, the airline will notify the dog owner about a schedule disruption.
Air Canada charges $105 for one-way dog transfer within Canada and between the U.S and Canada. International charges are $270 per dog.
For More Information Visit: Air Canada Website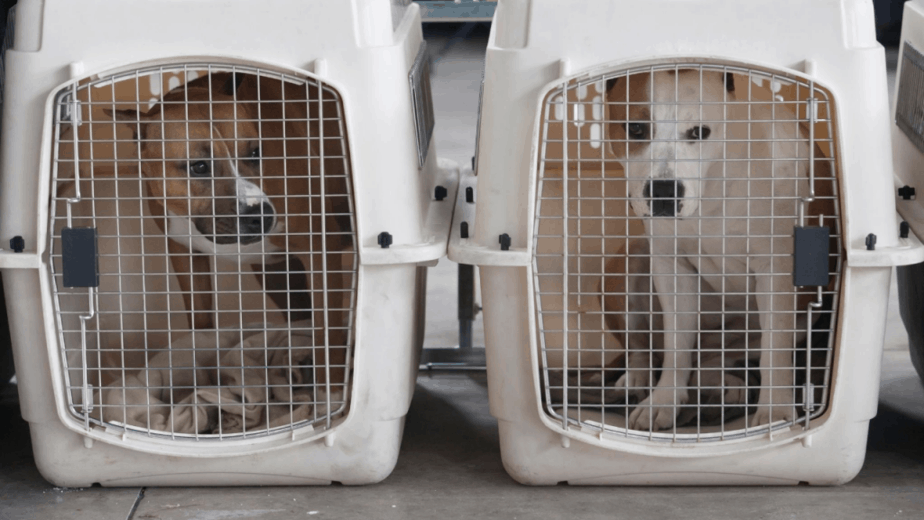 2. Alaska Airlines
Alaska Airlines is an American company headquartered in Seattle. The airline welcomes pets in both cabin and cargo but has strict guidelines and policies.
Alaska Airlines requires people to make reservations for their dogs 24 hours in advance. Shipments involving the transfer of dogs to another airline must be booked three days in advance.
The airline will allow your dog to travel via cargo after processing all the paperwork, which is usually done two hours before the scheduled departure.
Alaska Airlines has limited the combined dog and kennel weight to 150 pounds. SkyWest-operated and Horizon-operated flight accept up to 100 pounds.
"Depending on the type of aircraft, the airline company may apply other restrictions.
Alaska Airlines does not accept dogs in a hostile or agitated condition"
Also, they do not accept muzzles or restraints that impair respiration or injure the dog. You must provide instruction in writing about the handling, watering, and feeding requirements for your dog in the shipment.
The airline requires dog owners to submit rabies certificates if their dogs are traveling to, from, or within the state of Alaska.
The good news is that if you have a puppy that is only three months old, then there is no need for submitting a rabies certificate. The airline charges $100 fee each way for a dog in cargo.
For More Information Visit: Alaska Airlines Website
3. American Airlines
American Airlines has been helping pet owners for over 50 years to ship their dogs all around the world. The airline ensures the highest levels of comfort and safety for dog transport.
The airline allows a combined weight of 100 pounds in domestic flights in the Continental U.S states of Hawaii and Puerto Rico. They don't permit a container larger than 36 x 26 x 28 inches.
You must bring two copies of health certificates signed and issued by a licensed Vet within ten days of travel for outbound and return trips.
"The health certificates must also include a rabies certificate"
The airline does not accept dogs that have been tranquilized or sedated.
American Airlines permit kennels made from wood, metal, or rigid plastic material. For domestic routings, the kennel must have proper ventilation on three sides.
Likewise, for international routings, they must have adequate ventilation on all four sides. It is essential to remove kennel wheels altogether.
When it comes to paying for dog transport, it varies by drop-off location. American Airlines does not accept payments over the phone or online.
"If you are in the military, the airline will offer a 50% discount for domestic flights"
The airline transports warm-blooded breeds when ground temperatures are 45-85 degrees Fahrenheit. The temperature policy applies to the origin and destination cities.
So, it is no surprise to tell you that American Airlines is one of the best airlines that allow dogs in cargo. The staff is well-trained, qualified, and professional that will care for your dog.
For More Information Visit: American Airlines Website
4. United Airlines
United Airlines work collaboratively with American Humane to improve the transportation service for pets, including dogs and cats.
In case your dog does not qualify for in-cabin travel, then you can reserve a spot for him in cargo. The "Pet Safe" program launched by United Airlines that allow dogs in cargo and focus on their secure transportation.
The program offers airport to airport travel for dogs to more than 300 destinations. United Airlines permits dogs from two pounds up to 770 pounds with Pet Safe Program.
United Airlines have different rates that vary depending on the size of the dog and country of departure. You will have to pay $200-$400 to transport a dog of 11 pounds from the U.S to various destinations around the world.
"If your dog weighs between 300 and 770 pounds, the price can be anything from $960 to $2410
For further information on dog transportation via cargo, we recommend you to contact the Pet Safe Desk at 1-832-235-1541.
For More Information Visit: United Airlines Website
5. Delta Airlines
Delta is one of the best airlines that allow dogs in cargo. Although the airline permits some medium to large size dogs in the cabin, it is better to transport them via shipment.
"You must book a shipment for your dog via cargo 14 days before departure"
Also, keep in mind that the airline does not guarantee shipping dogs on a customer's same flight. Shipping a dog requires you to drop-it-off at Delta Cargo location three hours before departure.
We recommend you to contact Delta Airline Service at 1-800-352-2746 for additional information.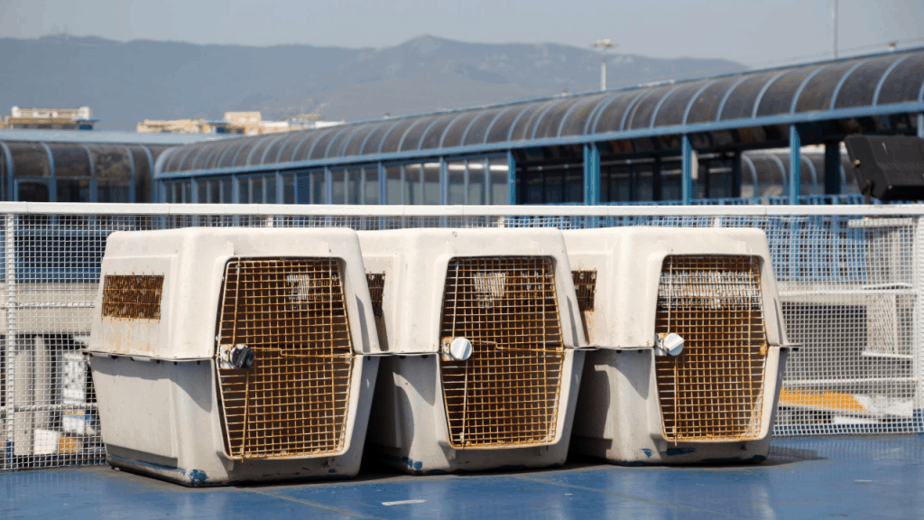 Delta Airlines has a specialized program known as "Pets First," which accepts dogs transport via cargo. Your dog should be in a kennel approved by the USDA.
The airline has a strict policy regarding temperature and humidity levels. Your dog can travel via cargo when the forecasted temperature remains 10-85 degrees Fahrenheit.
If you have a stub-nose dog, the airline will allow it in the cargo when the temperature remains below 75 degrees Fahrenheit.
Delta Airlines permit sedated dogs, but you must do the sedation in advance of the flight. Remember, it requires written consent from the veterinarian
Before the transportation of your dog via cargo, you will have to complete the pet-travel checklist by Delta to make sure your dog is ready for its flight.
Hawaii takes extra care and caution when bringing dogs into the state due to its ecosystem. The state requires that dogs brought or shipped into the state have rabies inoculation certificates.
"Delta Cargo does not accept warm-blooded dog breeds on flights with a flight time of more than 12 hours on international flights"
So, you must contact the consulate or embassy of the destination country to find out dog travel regulations.
Make sure you obtain all essential paperwork, such as documentation and health certificates, regarding your dog's travel.
You may also contact your local Vet to make sure your dog complies with a foreign country's health regulations.
If you are transporting your dog via cargo to the U.S, it is essential to check with the CDC and verify information on the importation of dogs in the country.
The airline has several programs for pet travel in cargo, including sophisticated protocols for dogs.
"Delta Airlines has high-qualified and professional staff who take care of animals in the cargo"
The staff is well-trained and licensed as well as know all procedures that ensure the safe and secure transport of your furry friend.
For More Information Visit: Delta Airlines Website
BEFORE TRANSPORTING YOUR DOGS In The CARGO
Putting your dog in cargo can be a daunting and stressful ordeal. However, you need to follow a checklist so that you can relax, knowing your dog has everything he needs.
Photo of you and your pet
Portable water dish and bottled water
Supply of sealed dog food, dish, and spoon
Dog treats, brush, toys, shampoo in the kennel
Medications, such as ear and eye drops, vitamins, etc
Collar, leash, or a name tag with your phone number on it
Plastic bag for picking up your small pup at the destination airport
It is essential to work with a dog travel specialist who will help ensure you meet all the critical cargo requirements. This will give you peace of mind, and you won't have to worry about your furry friend traveling in cargo.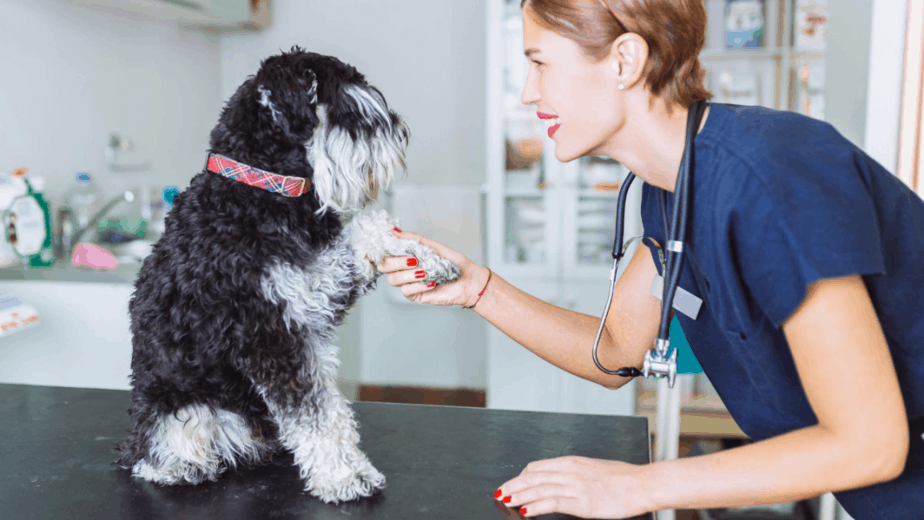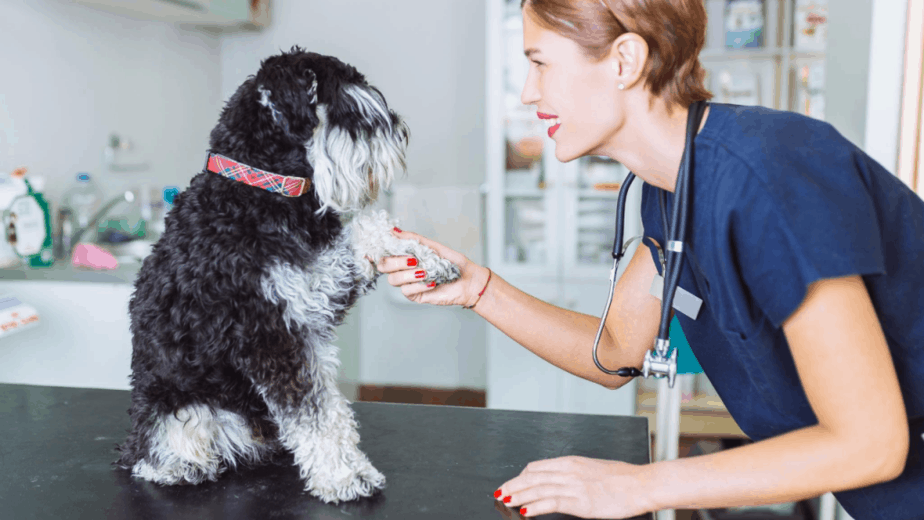 Things You Need To Do
Before you transport your dog to another city or country via cargo, it is crucial to becoming familiar with a few essential things.
First, you need to bring your furry friend to the Vet for a checkup before sending him on an extended trip.
You need to ensure all vaccinations are up-to-date. Don't forget to provide shot records to the concerned authorities. Airline cargo travel requires up to date stamped and signed health certificate or pet passport.
To keep the dog healthy, make sure you provide a list of supplies to the airline staff. You can also provide regular food to the team with a consent letter from your veterinarian.
For example, experts recommend Purina Pro Plan as the company offers both wet and dry food options.
The food items are carefully formulated to provide necessary nutrition as well as a taste for travel excellence.
Keep in mind to provide bottled water to the staff along with medications your dog needs. The airline may or may not charge you for the extra supplies that go with your dog.
"Most airlines that allow dogs in cargo requires that it is your responsibility to verify your dog's health and ability to travel via cargo"
Ask a local Vet if it is better to tranquilize your dog for transport via cargo. Although the airline will make sure the appropriate temperature, you must also check it off the flight's starting point and the country of destination.
It is crucial when you are also traveling via passenger flight and transporting your dog via cargo service of the same airline.
Federal regulations do not allow shipping dogs as cargo or excess baggage if your dog is exposed to temperatures below 45 degrees or above 85 degrees Fahrenheit.
Keep in mind that each airline has its variations on services and regulations. For instance, if the kennel does not meet the requirements, the airline will not allow it.
However, if you have a small dog that does not fulfill the cargo requirements, the airline may allow it to travel with you in a carrier or crate.
Related Article
Remember, the carrier must be well-ventilated and comfortable to your dog. It must also fit under the seat in front of you.
A cargo flight is a stressful situation for any dog, and this may be far worse if your furry friend already associates his kennel as a scary place.
You must start kennel or carrier training early and often, so your dog sees his kennel as a safe space. It helps keep him calm during cargo transport.
Conclusion
The cargo hold requirements and specifications vary from airline to airline. However, the airline will ensure everything is comfortable and safe for your dog.
Although the airline will give information about the cargo load before the flight takes off, it is a good idea to remind the pilot and staff that your dog is in cargo.
A cargo flight can be both safe and dangerous, as it depends on how your chosen airline treats your dog. Lastly, people need to select airlines that allow dogs in cargo and ensure their safety and comfort.