The United Kingdom is one of the most beautiful countries to visit, and not to mention one of the best ' Pet-Friendly Places' In the world, with over 8 million dogs living in the UK, and with the vast open countryside, it's definitely a place worth visiting.
With all the history and great views to admire, Bringing your Dogs to UK is a must for any dog lover. But as we all know with most countries there are rules you need to follow first if you want to bring any pet to the UK. So in this article I've made a list of everything you need to know when travelling with your dog to UK.
Rules and Regulations
The United Kingdom is considered a rabies-free country and falls under European Union Regulations. So there are some rules you need to follow when travelling with pets to the UK.
Also, your dog will need to be checked over by an official veterinarian before you can travel with your dog to the UK.
If you do not follow any of the requirements listed below your dog can be put in Quarantine for up to 4 months and refused entry which is the last thing you want.
So always check with your local vet before starting your journey. You can find all this information at GOV.UK. Click on the link to view.
When bringing your dogs to the UK You must have a valid EU Dogs passport.
If you do not have a dog's Passport and you coming from a Non-EU country then you must have an official veterinary certificate called a Certificate of veterinary inspection (CVI) when bringing your dog to the UK.
Your dog must arrive in an EU country within 10 days of the certificate being issued this is very important. All pet passports and certificates are issued by an Official Veterinarian.
To get this certificate or passport, simply contact your local vet and they can advise you further, your dog will need to go through some medical checks as well, this is normal for any pet that's going abroad.
Dogs Microchip
Before you can enter the UK you will need to get your dog micro chipped before you can travel, this is normally done before the rabies shot. All dogs that are not micro-chipped will be refused to enter the country. This is now law in the UK.
Having your dog micro-chipped is not only law, But this will give you peace of mind.. Say your dog is lost in a country you don't know, At least all your information is stored on the micro-chip that way when your dog is found you the owner can be located quickly.
Dogs Rabies Vaccination
All dogs must be over 12 weeks old to receive this rabies vaccination this can be given at the same time as the usual annual booster vaccinations.
You must wait 21 days from the date of your dogs rabies vaccination before travelling with your dog to UK or any other EU member state.
Dogs Tapeworn Treatment
Your dog will need to have Tapeworn treatment this is normally given in tablet form and need's to be given 5 days before travelling, The time and date needs to be recorded in the dogs passport to prove the treatment has been administered.
Once you have completed all these's checks you can then apply to receive your dogs health certificate or passport.
Dog Breeds Banned In The UK
The Dangerous Dogs Act 1991 that prohibit or restrict certain types of dog breeds in UK and codifying the criminal offence of allowing a dog of any breed to be dangerously out of control.
This is after eleven horrific attacks that happen in 1991 and now this act has banned the sale, purchase or exchange of the types of dog breeds in UK that they consider Dangerous.
Pit Bull Terrier
Japanese Tosa
Dogo Argentino
Fila Brasileiro
Unfortunately if you own any one of the dog breeds listed above you won't be able to bring your dog in UK.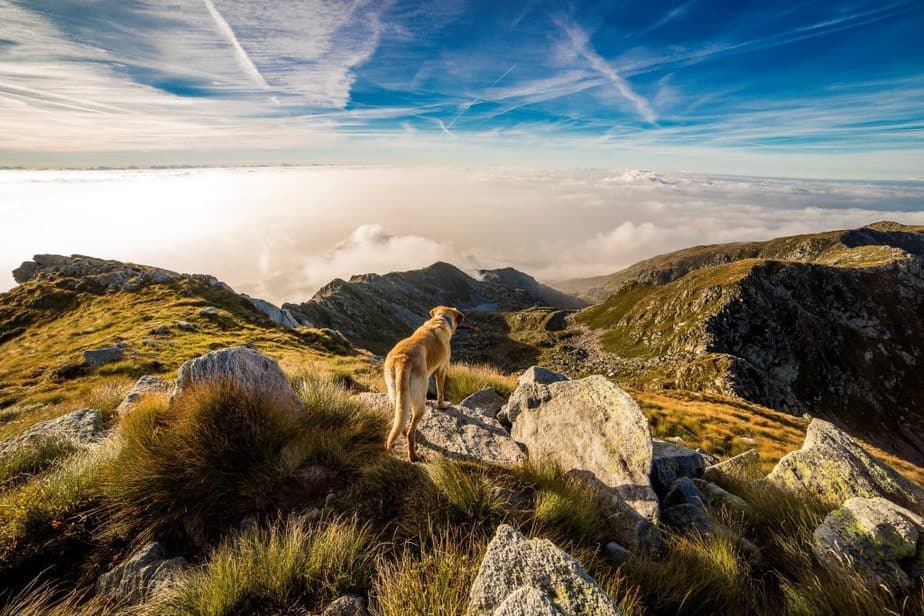 Transportation
So once you have done everything mentioned above, the next thing you need to do is, check the regulations for the transport you are planning to use to travel with your dog to the UK.
If you are thinking about taking your dog on a plane or a ferry, the first thing you want to check is are dogs allowed on the plane or the Ferry you plan to use and if so.. what are the Regulations?
You need to think about the 'weight of your dog' and 'the size of your dog' the 'breed of dog' whats the size requirement must your pet carrier be.
All of these things you need to take into account before booking your transportation for you and your dog to the UK.
The good news is after doing a lot of research on this, Below I've set out the requirements you need to know and ways on how to travel with your dog to the UK.
Dog On A Plane
Now there are many Airlines that will let you take a Dog on a plane, Some will even let you travel with your dog in the cabin, but this depends on the size of your dog.
If you have a big dog, and when I say a big dog, I mean the average size of a German shepherd then your dog will have to travel in the cargo.
Here's an example is taken from one of my other articles, I'll leave the link below so you can go check it out.
but British Airways have Regulations when taking a Dog on a plane. Not only that but they are one of the best Airlines to travel with your dog.
British Airways: Allow guide dogs in the cabin and other pets that weigh less than 6KG, They must be transported in a portable dog carrier or cage, with maximum dimensions of 20 x 30 x 20 cm. If they weigh more than 6KG your dog will need to travel in the cargo hold.
British Airways have now partnered with a company called Pet Air UK which is run and owned by qualified veterinary surgeons and has been flying pets all over the world since 2004 that offer's a comfortable and convenient way to export their pets from the UK. For more Information Click Here.
If you are planning on travelling with your dog in the cabin then you should find this article very helpful called 10 Airlines that accept dogs in the cabin
Dog On A Ferry
Travelling with your Dog on a Ferry to the UK is another option. Depending on which ferry you use, Here is another Example: Brittany Ferries travel to and from the UK and have some Pet-Friendly ferry cabins so your dog can travel with you but you will be an extra fee for this.
When boarding the ferry the check-in agent will require the following..
Your booking reference
Your passports (including the pet passports)
That your dog has a microchip
That you have a dog muzzled
Once these's checks have been completed your dog's microchip will then be scanned by the agent, At this point, your dog will need to be muzzled at all times.
Dog on a Train
There are lots of travel lines in the UK that will let you take a dog on a train however if you planning on crossing the channel into the UK then this is going to be a bit tricky, Unfortunately, Eurostar UK /France /Belgium trains do not allow any pets on board.
Only Guide dogs are allowed with strict rules. and the guide dog must have been trained from one of the following companies below…
Assistance Dogs UK
Assistance Dogs International
The International Guide Dog Federation
Your also required to show documentation when arriving in or if you departing from the UK.
One option. If your planning on using a train is, first use Folkestone Taxis to run you from Calais to Folkestone using the Eurotunnel shuttle, Once your in the UK taking your dog on a train will be much easier.
Most trains in the UK are happy to take dogs on board. If you are not sure which trains will accept your dog, read this article called Can-you-take-dogs-on-trains there you find a detailed list of trains in the UK that will let you take a dog on a train.
Dog in a Car
Crossing the channel with your dog in a car is another option, again all the rules above apply, you still need to show all the relevant documents upon your arrival in the UK.
If you are planning on crossing the channel by car, then make sure you pack plenty of water, Dogs get hot fast when travelling in a car, especially in the summer, So lots of water is needed to keep your dog hydrated.
Conclusion
So after going through this article it may sound complicated, But it is fairly straightforward, Long as your dog is healthy and passes all the tests with your local vet then you shouldn't have any problems getting a passport or health certificate CVI.
Just remember to check your dog's weight and the dimensions of your dog carrier before you check in on any flight.
and also you must wait 21 days from the date of your dog's rabies vaccination before you can travel.