Maltipoos are a cross between Malteses and poodles. This means that they have a lot of the same characteristics as both breeds, including their coat type and hypoallergenic qualities. However, can Maltipoos swim?
Maltipoos can swim! In fact, they can be great swimmers if given enough training thanks to their Poodle genetics. The Maltese on the other hand don't do that well in the water.
The Maltese are a small dog breed that does not swim well. However, most Maltipoos are larger than the Maltese and have more poodle in them which makes their coats less dense.
This means they can swim better because their hair is not as heavy when wet which makes it much easier for them to swim.
The best way to find out if a Maltipoo can swim is to take it for its first dip. If the dog seems happy and energetic then they're probably not too concerned about being in the water, meaning that they should be able to swim well enough.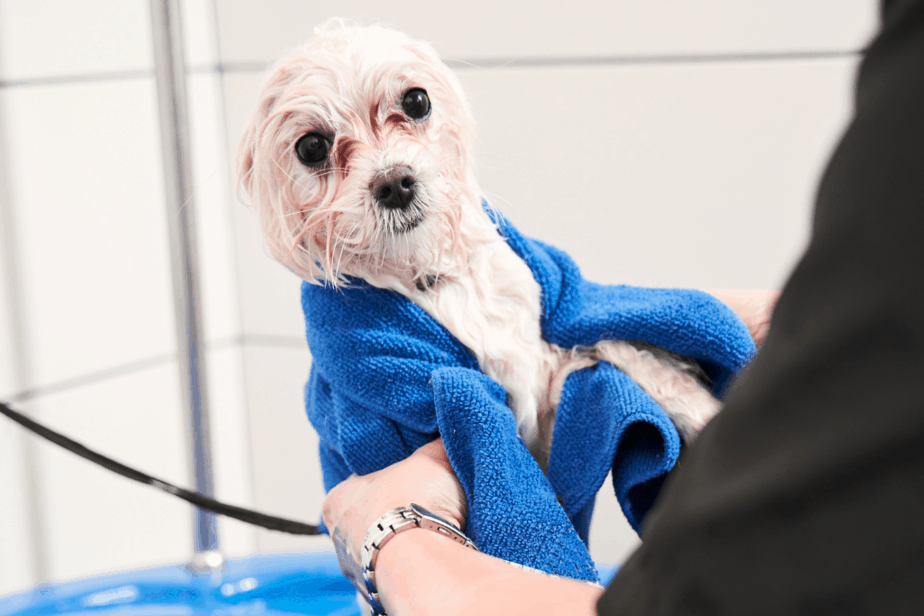 Do Maltipoos Like To Swim?
Like most dogs, Maltipoos are very happy to jump in and have a swim! But, not all dogs like swimming! And this is usually because they have had a scare when being around water which has made them frightened of it.
This is why it's very important never to push or force your dog into water especially when they are still a pup! As this can put some dogs off swimming for life!
Generally, however, most dogs don't have this problem, and soon as they see other dogs playing in the water they will follow!
Are Maltipoos Good Swimmers?
Maltipoos can be good swimmers but usually, they need some time to adjust, especially if this is their first swimming experience. Once maltipoos know what they are doing then they will happily splash around in the water with other dogs and playing fetch games without getting tired or scared.
However, Puppies will be much more cautious around water and will only want to play from the shore so don't be too disappointed if they're not up for playing in the water with other dogs.
Typically, Small dogs that have longer coats don't tend to swim as well. This is because longer coats become so heavy and wet that it becomes difficult to move and stay afloat. This can also increase the risk of your dog drowning as their movements are restricted.
Just remember not to turn your back on them because these dogs always surprise people by jumping into pools unannounced!
Related Article:
Can Maltipoos Swim In chlorinated pools?
Maltipoos can swim in chlorinated pools as long as they've been given time to adjust. It's been well-established that there should be no problem with your dog swimming in chlorinated pools!
"But" It's not recommended that you let your Maltipoo drink the water in the pool as this can make them sick or worse! If you are worried about this then your best option would be to use a dog's pool that you simply fill up with water (no chlorine).
The type of pools you should use for your dog are what's called Puncture-Proof Dog Pools that prevent your dog from puncturing them with their nails.
Is It Safe For Maltipoos To Swim In The Ocean?
Maltipoos can swim in the ocean but this really depends on the currents and the size of the waves. If you're going to the beach with your Maltipoo and it's a calm day then they should have no problem.
But if there are currents or big waves, don't let them out of your sight! You should also make sure that your Maltipoo is wearing a life jacket no matter how experienced they are at swimming.
Be very careful about letting your dog swim out too far into the ocean as this can be very dangerous for them and so should only ever happen if you are with them so you can pull your dog to safety if need be.
How To Teach Maltipoos To Swim?
It is important that Maltipoo's are taught how to swim from an early age so don't worry too much about taking them into the water until they're older.
It can take up to two weeks of consistently swimming with a dog before they're able to swim on their own without any help from you. However, these tips should give you an idea of how best to train them:
First of all, you need to make sure that the water is not too cold, this can cause your dog to be too scared of the water and not want to go in!
Secondly, if they're on a beach then you should make sure that there are no waves or currents around. If it's just going from the shore into the sea then this is fine but don't let them swim out too far by themselves.
So in order to teach your pup how to swim all you need do is follow these tips below:
Let Your Dog Feel The Water: If they're on a beach or using a pool you should let them feel the water with their paws or just at the edge of it. one they gain confidence in themselves they will be more willing to go deeper.
Put Your Dog In Deeper Water: If they're already used to the feeling of water then you should get them comfortable with being in deeper water but make sure you are in the water holding them for this part.
Hold Your Dog As They Kick Their Leggs: Once your dog is happy and comfortable being in deeper water, you should hold your dog as they kick their legs. Dogs should do this naturally in order to swim!
Finally, Let Go Of Your Dog: Once your dog is happy and confident with themselves let go of them as they swim! However, when you do this make sure you are at their side just in case they need some help.
It's really important to make sure that you don't push or force your pup into swimming. This can be very damaging for some dogs, so it's best just to coach them gradually and give them time before pushing further.
Related Article:
Why Is It Important To Teach Your Maltipoo To Swim?
It's important to teach your dog to swim because this can save them from drowning or getting injuries.
This happens mainly because once a dog jumps or falls into a swimming pool they are unable to get out and drown.
This is why if you teach your dog how to swim then this can help them to get out of these situations which would otherwise be very dangerous for them and can save their life.
There are an estimated 5,000 family pets that drown each year in backyard swimming pools simply by falling in to the pool when unattended!

www.petplace.com
For eg. in this video below from the daily mail youtube channel of a dog caught on camera falling into a swimming pool.
However, luckily another dog comes to their rescue! But what this shows you is that dogs can easily drown if you are not careful.
Should You Let Your Maltipoo Dive Underwater?
When dogs jump into water naturally they will go under the water for a couple of seconds before resurfacing.
They are also dogs that tend to dive under the water and are completely fine afterward! But what about Maltipoos?
If you are sure that your dog is comfortable with this and won't panic then it's fine to let them dive under the water, but only for a few seconds at a time! As before many dogs do this and there have been no reports of any injuries.
Most dogs just shake themselves off after removing and flipping off water from their ears and coat. But with that said, if your dog looks like they are having trouble when submerged under the water then you shouldn't let them do this.
Related Article:
How Often Should You Let Your Dog Swim?
Dog swimming is a great way to keep your pet cool during the warmer months, but it can be hard to know how often is too much.
Some people like to let their dogs swim every day, while others only let them do it once or twice a week. It's up to you and what you think best suits your pup!
But it's important if they are training to let them swim at least two to three times per week. The more time spent in water the fast your dog will learn to swim. Just remember not to overdo it!
Benefits Of Letting Your Maltipoos Swim
Swimming is a great way to help keep your Maltipoos health in check. It provides exercise and helps improve their mobility, while also being an opportunity for them to socialize with other dogs.
Swimming can also be good for their coat as it keeps them cool in the summer heat and gives their skin a chance to soak up some sun. Not only does this help prevent dry skin, but it also leaves them smelling fresh!
Lastly, swimming is a fantastic activity that has few risks of injury compared to other forms of exercise, In short: Swimming will make your Maltipoo healthier, happier, and more confident!
Benefits Of Letting Your Dog Swim:
Improves Overall Health
Helps With Stress-Relieving
Strengthens Their Muscles & Joints
Great For Overweight Dogs
Improves Their Mobility
Training Dog Products For Swimming
If you want to switch things up while training your dog there are a few products that can make this experience safer and more fun.
These included a life jacket to keep your pet afloat in the event they lose their footing, as well as a floating toy just to make it more enjoyable for your pooch.
Dog Life Jacket
Paws Aboard Dog Life Jacket
Fido Pet Products-Paws Aboard Neoprene Doggy Life Jacket
PAWS Aboard Pet Life Jackets and Designer Pet Life Jackets provide ultimate buoyancy and high visibility to...
Constructed to provide buoyancy along with a cozy secure fit the PAWS Aboard Pet Life Jackets features
Made in China
If you're going to let your dog swim then it's really important that they wear a life jacket. This will keep them from sinking and make sure that they stay safe in the water!
The Paws Aboard Dog Life Jacket is comfort, and durable. It's made from durable neoprene fabric with quick-dry properties that allow it to dry quickly when wet so your dog can get back in the water sooner.
This Jacket has an advanced, breathable mesh underbelly that helps regulate their body temperature while the reflective trim keeps your pup visible perfect for use in low light conditions
Floating Fetch Toy
Dog Water Toy Electric Spray Chew Pool
[Durable Dog Chewers Toy ] These dog chew toys for aggressive chewers were repeatedly tested by Golden...
[Interactive Dog Toys] These funny dog toys are easy to clean with water and can be used as outdoor dog toys...
[ Instinctual Needs] This Little crocodile chew toy helps satisfy dogs' instinctual needs and provides mental...
[Dog Tooth Cleaning Toy] The deep serrated contour matches the shape of the teeth. Adding toothpaste can...
[DOG Gifts & Guarantees] Dogs chew aggressive chews, allowing them to enjoy lasting entertainment. The best...
Every dog needs a toy when they are swimming and the Dog Water Spray Toy is great for dogs that like to chew on things and love the water. The floating dog pool toys are of non-toxic EVA material, which is safe for your pet's health.
It can float on the water without sinking, and it will not cause any harm to your pets when they bite or chew it. The small size makes it easier for you to throw into the water or take it anywhere you go!
This toy also has (Molar teeth cleaning) that helps dogs to clean their teeth and gums when they are chewing it, which is very beneficial for the health of your dog's mouth.
Dogs like water and will spend hours playing in it, making this toy a great way to keep them entertained.
Conclusion
So now that we told you everything about if maltipoos can swim and how to teach them so you can start teaching them yourself! It's a great form of exercise, and it will make them healthier! But don't forget to supervise your dog at all times while they are in the water.
Also, make sure they are wearing a life jacket and that if your using a swimming pool that your dog is able to get out when necessary. So if you're looking for a way to keep your dog healthier then it's absolutely worth teaching them how to swim!
Related Article: