Hammocks are one of the most comfortable accessories out there, something everyone enjoys even our pets, and the great thing about hammocks is that people can use them almost everywhere, abroad, at home, or even for camping.
But one question that's always being asked is can dogs sleep in hammocks? and if so is it safe?
Well, we are going to answer that very question in this article below. You see! the best thing about hammocks apart from being extremely comfortable is they are very easy to pack.
After all, the typical hammock is made from sturdy nylon parachute fabric that's very lightweight making it easy to fold up and take with you when on holiday.
But the question still remains can dogs sleep on hammocks? and is it safe?
Yes! dogs can sleep in hammocks, and they are very safe, especially for small dogs. However, It's not wise for your dog to spend excessive amounts of time on the hammock, if it's just for a nap then it's fine. "But" If you have a large dog that has sharp claws for example, then it is possible with their weight they can rip the hammock that could lead to an injury.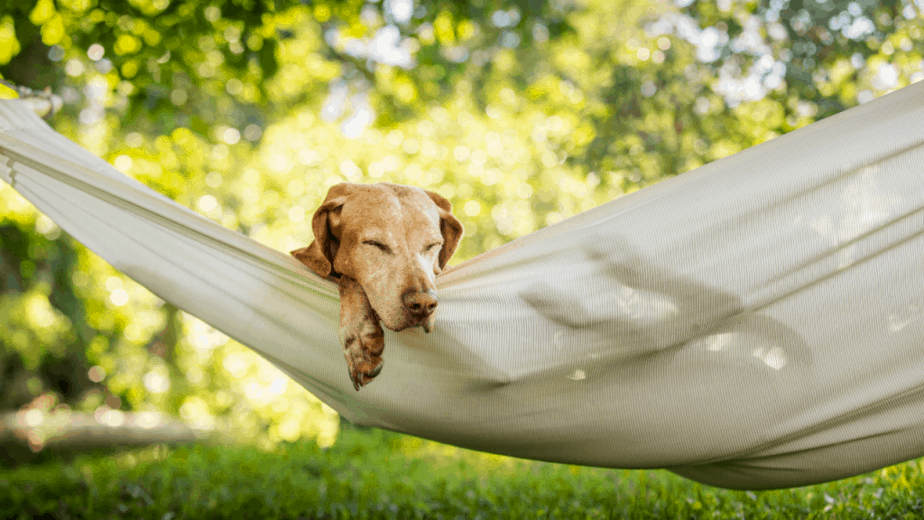 Do dogs like hammocks?
Yes, some do! "But" there's always a chance your dog won't! but of course, you won't know this until you try. Some dogs will feel off-balanced being in the hammock and may jump straight out.
Yet there are other dogs that will love being in a hammock.
It really depends on the dog and if they feel comfortable being in the hammock. If you want to train your dog to be familiar with it, then it's best to have you both in the hammock at the same time this way your dog will feel much more comfortable.
If you are planning to use the hammock for camping/holidays then better to practice at home first. This way when you do set up camp your dog will be ready and feel comfortable sleeping in the hammock.
Kkiimatt 10 in 1 Pet Grooming Hammock...
🐶.[Sturdy And Durable] Kkiimatt dog hammock helper is made of mesh textile material, the sling is sewn with...
🐶.[Convenient] As a pet owner, it is easier for you to give medicine to pets, clean their teeth and ears,...
🐶.[Perfect Combination]Nail clipper x 1 (safety block design), nail file x 1, double row pet comb (for...
🐶.[Comfortable] This pet grooming harness bag is designed with a breathable and flexible 3D mesh structure...
🐶Size ]This pet grooming hammock Harness M size 27.17 inches long and 20.47 inches wide, suitable for front...
Dogs First Time In A Hammock
Now, if your dog has never been in a hammock before, there are ways to train them. If you have a puppy this will be much easier, compared to a Dog that is more cautious about hammocks.
To help you with this below are 3 simple steps you can try out with your dog at home. Now, this might not work with every dog, but again you won't know until you give it try.
Step 1 If you have a small dog the best way to get them comfortable being in the hammock is to have your dog lay on top of you. This option is for small dogs only, If you have a big dog then, unfortunately, they are just too large to fit comfortably with you in the hammock.
Step 2 Using dog treats. With this option, the first thing you should do is pick your dog up and place them in the hammock, once you've done this give your dog a treat and by this your teaching your dog that it's ok to be in the hammock. You might have to do this a few times just until your dog is happy in the hammock.
Step 3 Quicky toy. Now, this may sound strange, but it actually works. Again this is for small dogs only. This is also a great way to get your dog to jump on to the hammock without any help. First, you should lay in the hammock and have one of your dog's toys to hand. The idea is once you squick the toy your dog will naturally jump into the hammock to fetch his toy.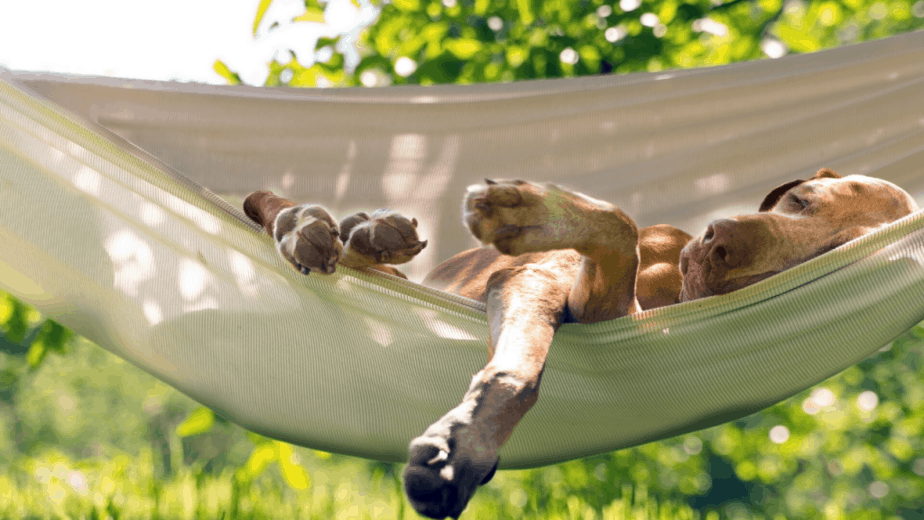 How To Sleep With A Dog In A Hammock?
If your thinking about taking a nap with your dog in a hammock, first make it as comfortable as possible. You can do this by adding blankets, bed sheets, or even a sleeping bag.
Now if you have a large dog use a hammock with a large resting area preferably 8.20 by 4.9 feet big enough for both of you.
Obversely, If you have a small dog and you don't mind him sleeping on top of you then a medium size hammock will do, long as, you and your dog are both comfortable.
Just remember to be patient with your dog especially if it's there first time sleeping in a hammock.
Where Can Dogs Sleep In A Hammock?
Typically a dog will sleep in a hammock's middle, or simply lay on the owner, depending on its size? If the dog has it's own hammock than it should be close to the floor for the dog's safety.
There are occasions where the dog might sleep by your feet but again this depends on the dog and size of the hammock and most importantly where it's most comfortable.
Don't forget that if you do plan to have your dog in a hammock make sure you lay some bed sheets or a sleeping bag for your dog so it's comfortable this way they will be able to sleep much easier.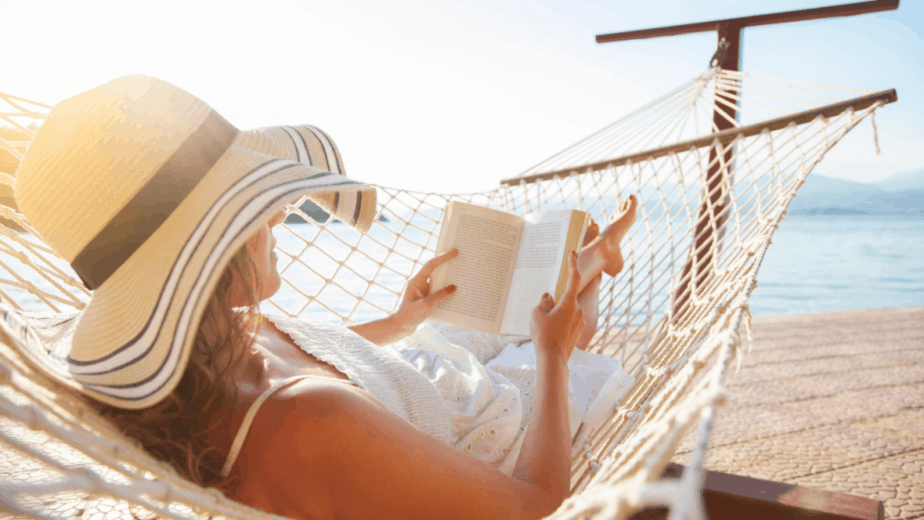 Hammocks That Are Dog Friendly
When looking for a hammock with your dog in mind, you want one that's durable and most importantly comfortable. Avoid any netted hammocks as your dog paws could slip thought the holes and or tangle up in netting.
Preferably you want a hammock that's made out of cotton which is also adjustable making it easier for your dog to climb in and out of the hammock.
To give you an idea of the best hammocks that are dog friendly below are a list of 5 hammocks that are not only dog friendly but are good for camping, using at home or taking with you on holiday.
1. EASY EAGLE Outdoor Cotton Hammock
The easy eagle hammock is perfect for at home or for holidays. Most importantly it's comfortable and has a thickened canvas and anti-rollover wooden spreader bars with resistant cotton ropes and resilient polyester hammock straps.
This hammock is very durable making perfect for your four-legged friend. It also includes an inflatable pillow and carry bag. Now it is a medium-size make for 1 adult or 1 large dog unless you have a puppy or small dog. The canvas length and width is 7.2 ft (220 cm) x 3.9 ft (120 cm)
2. Anyoo Outdoor Cotton Hammock
The Anyoo hammock is great for camping or using at home. It's durable and made from cotton that has rope hangers on either side and can hold up to 200Kg in weight perfect for large dogs.
This hammock is easy to set up and comes with 2 premium carabiners and 2 wide straps with steel rings at one end, for attaching to a tree or stand. you can use it for swinging, sleeping, great for taking a nap with your dog. The canvas length and width is 270cm Long x 150cm Wide, Bed Size: 210cm Long x 150cm Wide.
3. Vivere Double Cotton Hammock
The Vivere hammock is a great design with easily adjustable hooks allowing you to decide how high or low you want to lay. This can be perfect for beginner dogs that are just getting used to being in a hammock.
By having the hammock lower to the ground your dog will feel more comfortable sleeping in it. But what's good about this hammock is there's plenty of room and can hold 2 adults or 1 adult and a large dog. The canvas length and width is 63 x 94-inch with a total length of 130-inch
4. Amazon Basics Fabric Hammock
Now with the Amazon basics hammock includes a Stand that can be placed anywhere outdoors with plenty of space, and can hold up to 2 adults or 1 adult and 1 large dog, weight capacity is up to 181.4 kg.
The stand is made of heavy-duty steel, which also comes with a carrying case. The hammock's canvas is made from high-quality fabric, which is both good for comfort and durability.
This hammock is perfect for camping, at home or even the beach and the fact that it comes with a stand you won't have to worry about the shortage of trees
5. Sooair Travel Camping Hammock
The Sooair travel is quite durable as this hammock is made of 100% cotton. The material is super soft, comfortable and even machine washable.
The hammock can fit into any backpack making it perfect for camping or any trips on holiday. It's lightweight and can hold 280 kg of weight and is good for breathability, so you won't sweat when sleeping. This hammock will suit 1 adult and a small dog, or 1 large dog.
Best Selling Camping Hammocks For Vacations
Conclusion
So can dogs sleep in hammocks? of course, however, as mentioned it's not recommended for long periods of time if you have an old dog, as sleeping at a funny angle that your dog is not used to could cause some aches and pains.
Puppies, on the other hand, should be fine, that's if you can keep them in the hammock long enough. Just make sure the hammock is close to the floor so the dog can get to and from without any trouble.
Related Article: