We're an affiliate! We may earn a small commission when you make a purchase from product links at no additional cost to you!
Dog whistles are used in many different situations and are very popular tools to use when training your dog.
However, what if you use the dog whistle on a regular basis can the sound waves actually cause pain and hurt dogs over long periods of time?
For example, Some people are worried that they'll hurt their dog's ears by blowing the whistle at full volume for long periods of time.
Well, the good news is unless you do this right next to their ear it shouldn't cause any discomfort.
Dog whistles are typically used at a distance of about 30 feet, at this distance your dog will be fine.
"But" If the whistle is blown too close to an animal's ear in any situation it can startle and confuse the dog which may cause some stress or discomfort- but for most dogs, these effects wear off quickly.
The range of sound that dogs hear is much higher than what humans can hear,
so blowing the whistle right next to their ears would be more likely to hurt them even if they can't show symptoms!
So don't worry- as long as you're not using the device appropriately there shouldn't be anything wrong with using a dog whistle.
Can High-Frequency dog Whistles Hurt Dogs Ears?
As we know, dogs have a higher frequency range than humans and can hear sounds up to 45,000 Hz, while humans can typically detect sound frequencies from 64 – 23. 000Hz.
Because dog's hearing is more enhanced shall we say frequencies that are higher than 25,000 Hz can cause irritation and discomfort in their hearing especially if they are exposed to loud noises like music or fireworks.
The louder or higher those sounds are, the more they will annoy them! Dogs may whimper when confronted with such noises if their ears can't block it out any longer-or even worse run away from you altogether!
So what about High-Frequency dog whistles?
Well, the frequency of most dog whistles can range between 23 to 54 kHz and although some will be above the 25,000Hz range as long as the dog whistles are used correctly it shouldn't cause any discomfort for your dog.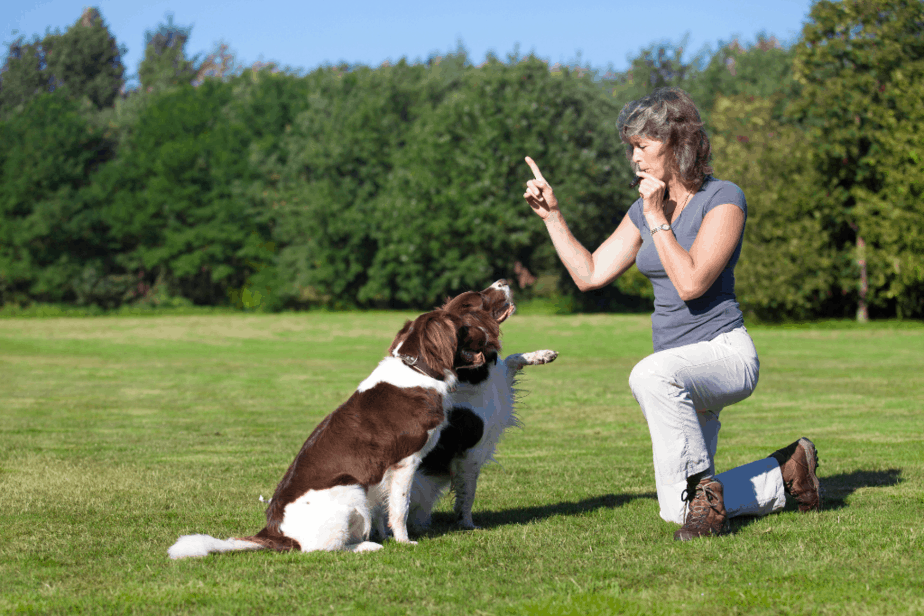 Can Dog Whistles Hurt Your Dogs Brain?
So as you know, dog whistles produce a high-pitched sound that could cause harm to their hearing if it is too loud for your dog but what about the brain?
Now, there are no reports of any whistles causing any damage to the brain if the whistle was used in a confined space or right next to the dog's ear there is that chance it could cause your dog to a seizure which can result in brain damage.
So unless you're in a confined space or blowing the whistle right next to their ears it won't cause any damage to their hearing or the brain.
So using a dog whistle it's considered safe and in fact, these whistles have been used for years now without any reports of side effects.
Dog Whistles Don't Hurt Dogs If Used Properly
Dog whistles are often used by owners who want their pet's attention or have difficulty training them using other methods like verbal commands or treats but if the
A whistle is a powerful tool, but it depends on how you use it. When used effectively the dog will be more responsive to commands in general.
Using dog whistles with positive reinforcement, such as patting your pet when he responds to his call is an excellent way!
However, do this only occasionally; avoid spoiling or pampering him too much.
In order to improve your training, it is important that you get a good whistle.
A professional trainer or veterinarian can help with getting the best one for optimal efficiency and effectiveness in what they do.
When Should You Not Use A Dog Whistle?
Dog whistles are often a key tool for dog owners to communicate with their pets,
but it's important not to overuse them because they can be irritating or annoying. This is counterproductive and will render the whistle useless!
Just remember that while you may not hear the sound of your pet's response as well (due in part to his/her super-sensitive ears),
he does have an incredible sense of hearing which makes him more sensitive than humans when it comes to sounds like these.
When Not Use A Dog Whistle:
Never Use In A Confined Space
Never Use Right Next To Their Ears
Make Sure There Is A Distance Of 30 Feet
Whistles That Are Safe For Dogs
Dog whistles are an interesting topic. They exist in a variety of shapes, sizes, and colors and the type you choose will depend on your needs for your pup.
There's The Mini Dog Whistle that has a small, compact design that is perfect for carrying around in a pocket or bag.
It can be used to train dogs from up to 100 yards away so it's great for outdoor use as well as close-range training sessions indoors.
The Loud Dog Whistle emits louder sound than our other models which makes it popular with hunters and trainers who need their dog's attention at long distances or when they're hunting hogs, deer, coyotes, etc. So do dog whistles hurt dogs?
The most common type is made with a metal or plastic tube and has a small hole at one end this sends out the sound waves that dogs can hear!
But, When choosing which kind to buy, make sure you take into consideration your own preference as well as how often you plan on using the whistle in training sessions.
Recommended Dog Whistles
Howan Dog Whistle, Adjustable Pitch for...
ROFAKU Dog Whistles, 2021 New 2PCS...
Johiux 3Pack Dog Whistle, Dog Whistle to...
2 Pack Dog Whistle for Stop Barking,...
Dog Whistle,Ultrasonic Dog Whistles to...
Conclusion
The interesting thing about whistles is that they are not inherently a bad idea, as long as you use them with discretion and notice the response. A whistle can become harmful if it's used improperly- always make sure to keep track of how your pet responds!
A whistle is one of the most versatile tools used in dog training and is also great for getting dogs' attention and teaching them new commands.