Spending time with your pet can be very relaxing, and it is a proven way to reduce stress. Most pet owners enjoy adventures with their pet pooch or snuggling up with their lap cat. However, finding the time to do this can be difficult for those who have full-time jobs on top of other commitments.
National Pet Day Off is a scheme that allows parents to dedicate a day to their beloved pets. This is an excellent opportunity to make time for your four-legged friends and give them the attention they deserve.
Having the chance to spend dedicated time with your pet will benefit you and your pet, which is why it is well worth doing. This article will look at some benefits of making time for your pet on National Pet Day Off 2023.
How can I celebrate National Pet Day Off?
What are my options for National Pet Day Off? Encourage other animal lovers in your area to join National Pet Day Off and participate in special activities with your pet, such as grooming, visiting a park or meet-up, or even going to a physical or virtual veterinarian appointment.
Participate in your neighbourhood adoption group and let National Pet Day serve as a happy reminder of the joyous celebration these creatures merit every day of the year.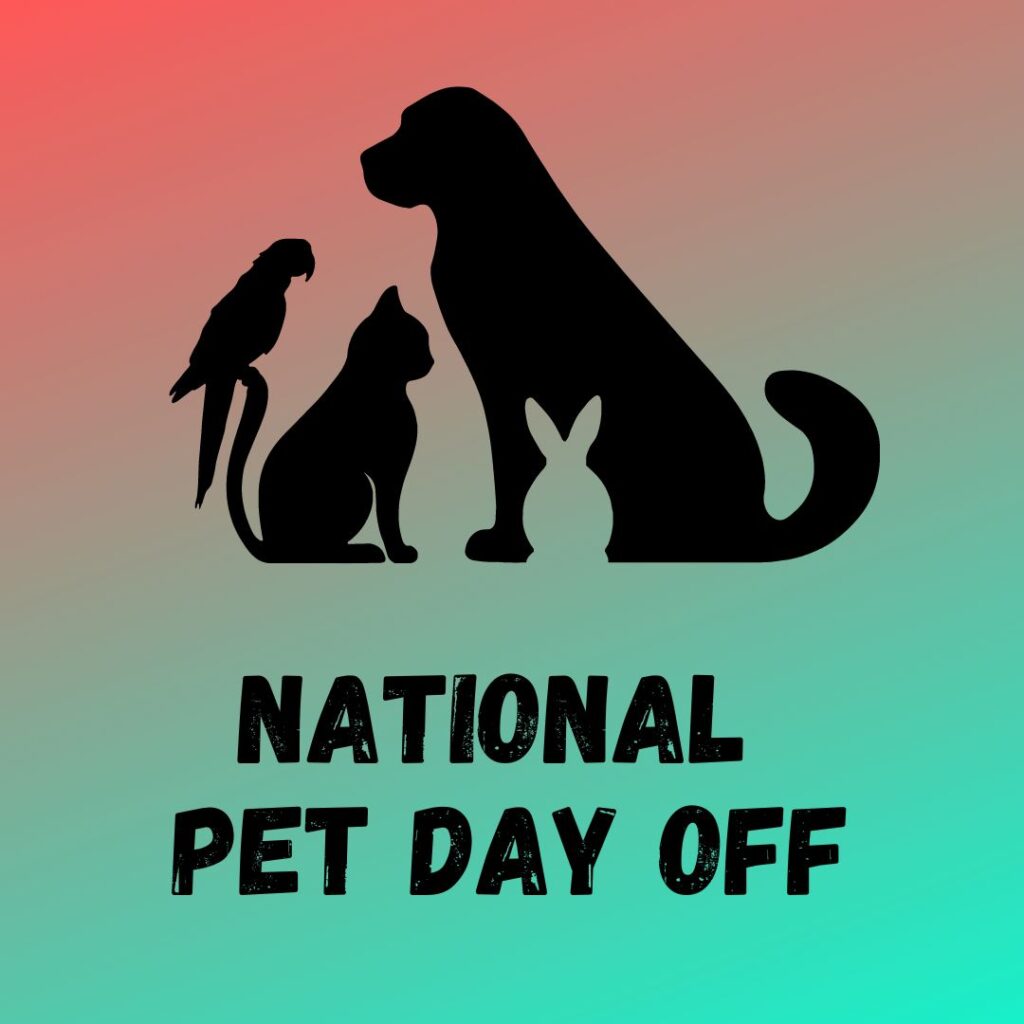 What is the motto of National pet day?
Adopt rather than buy!
On April 11th, pet lovers worldwide observe National Pet Day. "Don't shop! Buy Adopt!" is the holiday's catchphrase. The holiday is celebrated in more than ten nations worldwide, including Australia, Ireland, the UK, Italy, and Spain.
Who made National pet day?
Animal rights activist Colleen Paige created National Pet Day in 2006.
She wished to draw attention to the numerous continuous need of pets of all types waiting to be adopted from shelters.
Stop shopping! The motto for the occasion is "Adopt!"
Take a trip. Choose a dog-friendly establishment in your area that you haven't been to before, then go there and have fun.
Get to DIY-ing. Create some fresh bedding, snacks, or toys for your pets.
Hang bird feeders,
Take a photo shoot, cuddle up, watch TV, and play water games.
Take a walk.
Colleen Paige Aspirations and Contributions
Colleen Paige is a pro in a variety of areas.
She is an animal behaviour expert and writer, dog trainer, photographer, interior designer, and author of the best-selling "The Good Behavior Book for Dogs." So, is her popularity only due to this? There is a lot more!
No of their breed, colour, size, or place of birth, Colleen Paige thinks that all animals deserve to be celebrated. For anyone seeking for a pet companion, Colleen suggests visiting a pure breed rescue before making a purchase from a reputable breeder since she feels that adoption should always be the first option. She wants to outright forbid people from purchasing pets and put an end to puppy and kitten factories.
Not only have her life-saving charitable holidays managed to rescue millions of abandoned dogs, but the frenzy on social media around her these days is almost palpable, with her routinely trending at the top of Google, Yahoo, and Twitter.
Paige, an animal rescuer and conversationalist, aims to inspire everyone to recognise and appreciate all creatures.
7 Colleen Paige Created Special Holidays For Dogs And Cats.
National Cat Day
National Cat Day
National Puppy Day
National Black Dog Day
National Pet Day
National Mutt Day
National Walk Your Dog Week
What Is dress up your pet day?
National Dress Up Your Puppy Day was established on January 14th 2009, by celebrity pet lifestyle expert Colleen Paige. Pet owners are urged to celebrate this modern day with their dogs, cats, and other animal companions by dressing them up in adorable AND secure pet costumes and clothes.
Benefits Of National Pet Day Off
You and your pet can look forward to many benefits if you spend time together on National Pet Day Off. Some of the main ones are:
1) Ability to Dedicate Yourself to Your Pet
One of the things that National Pet Day Off can do is provide you with an opportunity that you would otherwise not get. During a regular week, finding chances to spend quality time with your pet cannot be easy.
However, if you have a special day off, especially to do this, you can give your pet the attention and dedication it deserves. Your pet will be delighted to have its human around for the day, and you can enjoy spoiling and pampering your furry friend.
2) Chance for Your Pet to Enjoy Company
During the global pandemic, many of our pets became used to having us around as many of us had to work from home or were furloughed.
While it was a shock for a lot of people to have to go back to work, it was also a shock for pets because they were suddenly left alone once again.
Taking this day to spend quality time with your pet will give it a chance to enjoy your company again. It will also allow you to spend time with your pet, as you probably did during the pandemic.
3) Going Out to Have Some Fun
Another of the benefits that you can look forward to when you take this day to spend with your pet is the chance to go out and have some fun.
If you have a dog, you can head to all sorts of places for adventure and excitement, such as a dog-friendly park, a doggy beach for relaxation and excitement, or even hiking local nature trails.
These are a few key benefits you can look forward to when you take this day off to dedicate to your pet.