Are you an avid doodle lover? looking for Tips for Road Trippin' with Your Doodle Dog?
Or
You can't live without taking your four-legged darling on your car rides?
Well, no matter what family road trips are always fun. You can't leave your doodle at home for sure. After all, they are the cuddling buddies.
We have come up with a solution to this problem.
As a seasoned road tripper, who would not like to leave their pupper behind, here we have shared a few AMAZING tips. These tips will make you love your puppy and travel more.
Have a look, at what we have researched for you.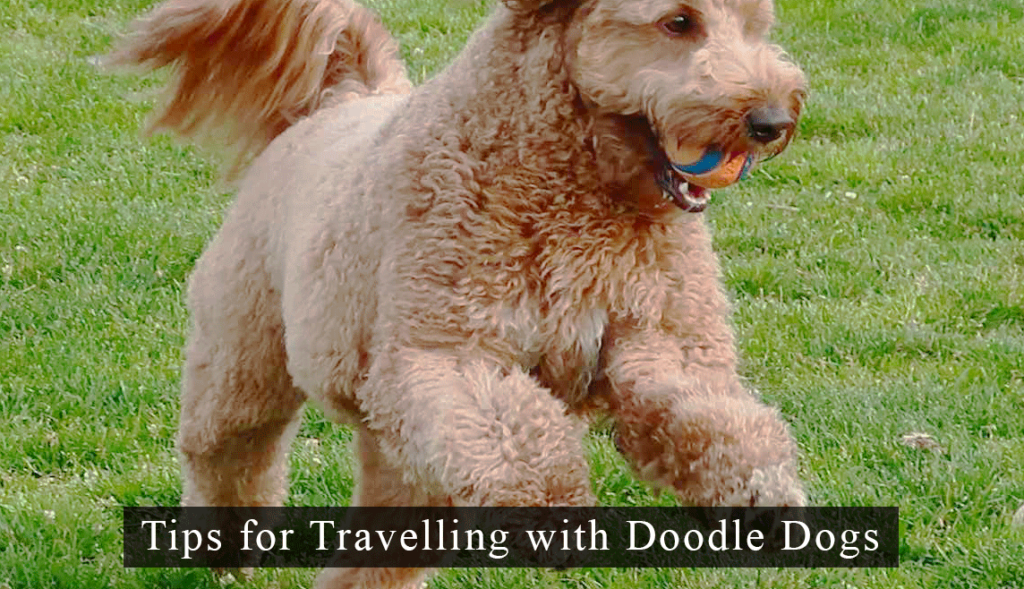 A  relaxed doodle is the best travel mate;
Many of us know very well, relaxation is the best therapy. Being relaxed is as good for your pup as for you.
If your doodle dog gets anxious on road or misbehaves in the car, chances are he's not comfortable.
Becoming a dog-parent not only gives you pleasure but brings responsibility too.
To calm out your doodle, try using CBD dog treats or ThunderShirt.
This will prevent your darling to choke itself with a dog seat belt.
Potty Time-table;
Oh, we can relate, how challenging this task is?
Well, well with little care, potty routine is less annoying. You simply need to stop for potty breaks after every 3 hours.
Most of the public rest spots have designated pet areas. Most gas stations contain grassy areas around the perimeter.
You should not forget to pick it up after your pet is done. This way you can keep the place clean. It's so gross to leave the mess behind.
Offer your pet water, every time you stop for a potty break. If you left your doodle panting, it will surely become anxious.
Be a supportive human being;
New places are a challenge for both humans and animals. In the case of doggos, they are less familiar with the new smells or new faces around. The doodle may feel uncomfortable or misfit.
You need to spend quality time just to soothe your pup. It's too good to cuddle your little paw-partners. A little conversation full of love and care does the wonder too.
Train your dog for travelling
Training is an integral part of owning a pet. If you are addicted to your dog and cant miss the adventure of taking him on travel.
You need to make the little fellow used to travelling. For this, you need to take him to the small rides.
This may be a time-consuming or a most difficult task, but it offers the best results.
Taking your pet for a ride once a day will prepare them for travel more. This will save them from car sickness.
Natural remedies to avoid car sickness in doodles
Car sickness is a common problem faced by dog owners. Feel free to contact your vet to avoid any unforeseen issues. Ask your veterinarian about any natural remedies.
Certain remedies are helpful to avoid any harm according to your dog's severity of the behaviour.
A topical spray with lavender is very good to calm the furry fellow. Lavender is well known for aromatherapy and helps people relax.
Some topical sprays are great to help in car sickness.
You can also opt for some wearable dog supplies. These wraps give the same feeling to your pet as your baby feels in swaddling.
Natural remedies do not always work, so use them in conjunction with the pet-training.
Invest on puppy seat belt
Seat belts are the first safety measure, you need while travelling in a  car. If seat belts are good for you, why can't they be the safest option for your pup?
A seat belt can keep your dog staying in a place other than to bump its head on left or right in the car.
Moreover, a seat belt that is very budget-friendly can save the tiny–paw–mate well.
The best benefit of a seat belt is they keep your pup from wandering here and there in the car. This means you are saved from being distracted.
Hydration & Food
Can you even think of a ride without enough hydration and food?
Not at all, as we all cant fathom a long ride without water or food nor our pet can.
Well, our dog can become dehydrated quickly. This is very common in summers. An extra bottle of water is a must-have.
Remember you need to offer more water breaks than the potty brakes.
The same goes for the food. Food is great to keep your darling engaged and retain energy levels.
Leashes & Rest Stops
Your pet needs food-water brakes and potty breaks, be sure to provide rest stops too.
Although you might the most of the road trip, your pup cant. It needs to rest in open areas, stretching the body or smell the natural beauty around.
Make sure you leash your Lil fellow. Even well-behaved doggos are very much prone to spook out due to strange voices in new places.
A good and comfortable leash is something, you can't miss from your travelling bag.
Pack a pet-supply kit
A pet-specific kit is all you need. If you plan to take your doodle on a road trip, don't forget anything that they may need.
Generally, you need these things in your kit. They include food, medications, bowls, water, kitty litter, litter box, dog-toys waste bags.
All absorb potty pads are an amazing product to deal with poop problems. They can soak the waste of your canine- buddy.
Prepare for Emergencies
Before you plan a trip, be vigilant of the up-to-date microchip or your doodle. In case you or your doodle get separated, you can reunite soon.
You should also consider a pet GPS tracker. These are helpful if the pet gets startled or runs off.
An app called paw-print is very helpful. You can receive the record of your pet including the medical records to vaccination schedules.
This is the best way to cope with any emergency. If you run into any emergency, feel free to ask for help.
Boost up the Energy level of your pet
Give your dog the liberty to break a sweat before you take them on a car ride. Taking your pup on a long walk or enjoying a fetching game can increase energy levels.
Although we can come up with multiple reasons why physical activities are great for your pets, one of them is to adjust them well.
A well-adjusted pet is less stressed. Less active dogs can be dreadful travel mates. They are not only more fearful but less responsive.
You would love to own an active travel partner.
To Sum Up
Packing up a nice travel bag for your dog, using a canine car harness or adopting calming remedies are great options to travel with the tiny buddy.
All the tips are helpful as long as you use them religiously. Still, we can't deny the importance of proper training and travel lessons.
A well-trained pup is not only a treat for the eyes but a sign of pride for a dog parent.
So, don't ever miss a chance to take your furry mate on a car ride date.
Happy Travelling!!!