Keeping Your Dog Warm In Tent is very important, especially when you're camping out in the wilderness at night.
In some countries, it can be extremely cold when camping, and in some areas "freezing" the temperatures can even go below minus.
When camping and backpacking with your dog this can be an amazing experience, and as we know,
dogs love exploring the wilderness and being in new places, not to mention is a great form of exercise for you both.
However, all this fun and excitement can ruin anytime by not taking the correct steps.
The last thing you want to see is your four-legged friend shaking in the night. So below are some basic tips to help keep your pooch happy and warm when sleeping in a tent.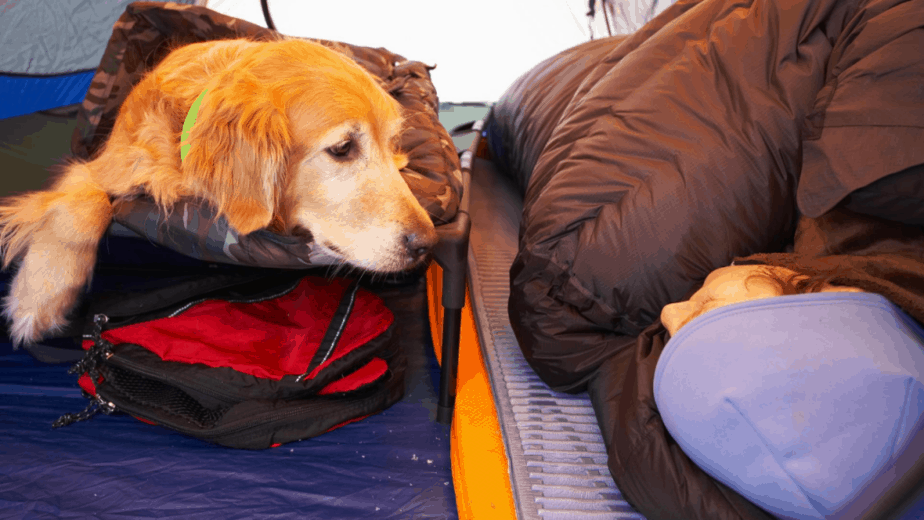 10 Tips For Keeping Dog Warm In Tent
Keeping your dog warm in a tent is not that hard and by following these simple tips below:
Not only will your pooch be warm but very comfortable, making it much easier to get a good night's sleep.
Related Article:
1. Thermal Fleece Blanket
Wrapping your dog up in a thermal polar fleece blanket is a great way for keeping your dog warm in a tent.
This will provide an extra layer of warmth for when the temperature drops and gets really cold.
If you do a lot of camping, then you should know how effective these thermal blankets are and will work wonders for keeping your dog warm.
You want to find a thermal blanket that is lightweight and is easy to add to your camping gear.
There are a variety of options for these blankets online, one place we recommend is amazon where you can view these Fleece Blankets and read customer reviews.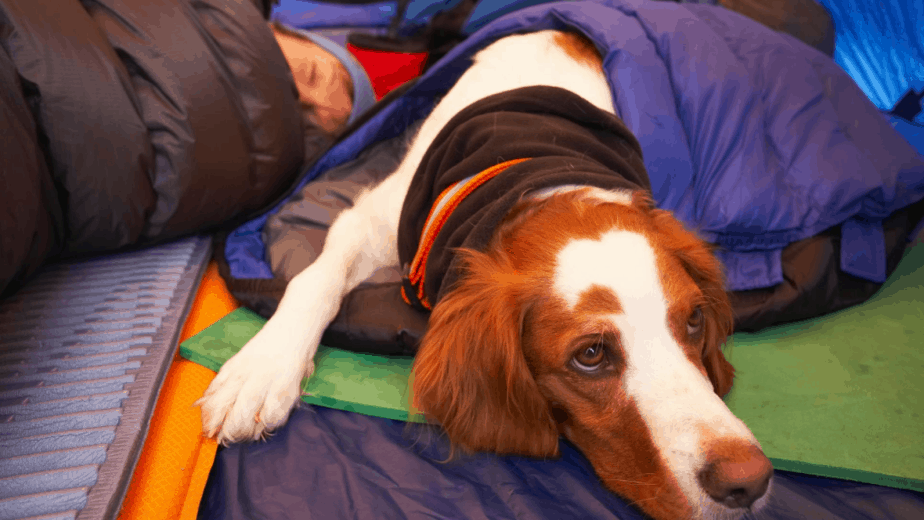 2. Portable Heater
Using a portable heater is another good way to keep warm in a tent, and with technology getting more and more advance these days, portable heaters are becoming more popular.
It's a great way to keep both you and your dog warm in your tent and most portable heaters especially "gas" have built-in safety features for that peace of mind.
There are a variety of Portable Heaters on the market today. However, it's always recommended before you make a purchase to read customer reviews first. Just to make sure they are safe and have no common faults.
3. Sleeping Bag
Sleeping bags are one of the most common types of insulation for keeping warm when camping, and having the right sleeping bag can make all the difference, especially for keeping your dog warm in a tent.
Not only are sleeping bags lightweight and easy to store but are very comfortable and as we know dogs sleep much better when they are comfortable.
Having your dog inside a sleeping bag will help trap all their body heat and as a result, they stay warm throughout the night.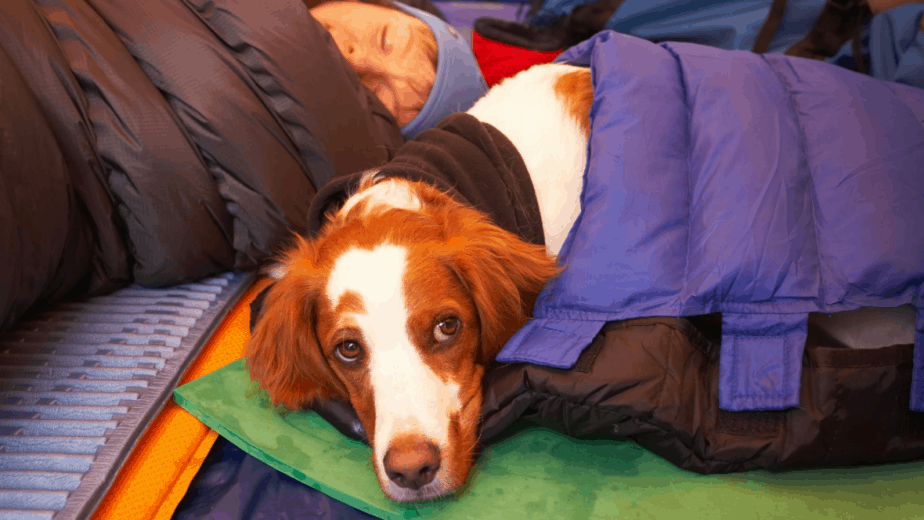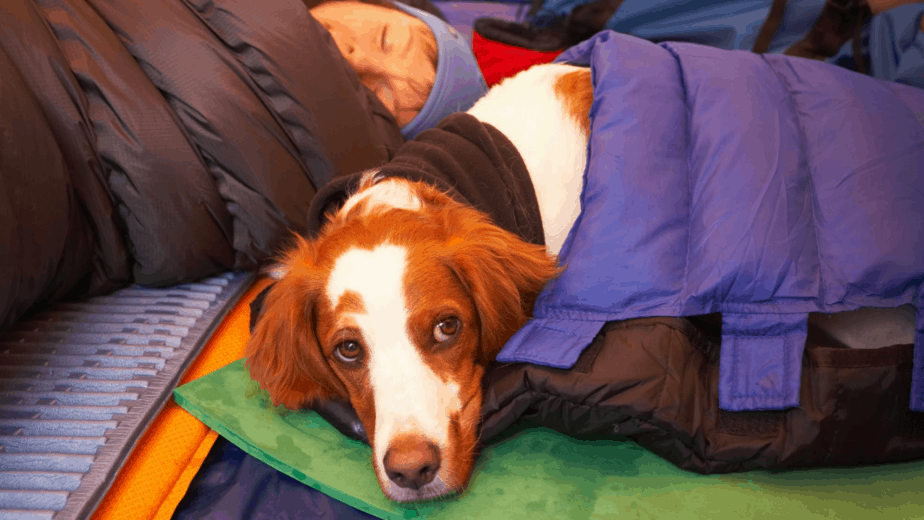 4. Dog Jacket
Having a dog winter jacket is not only a great way to keep your dog warm when out hiking in cold conditions, but, is also a good way to keep your dog warm in the tent.
Dog jackets are designed for keeping your dog warm in cold situations and can be used for everyday wear, even for sleeping.
Not to mention they are very comfortable, so your dog can wear them all night without feeling any discomfort.
These jackets are adjustable so if your dog starts getting hot simply adjust the jacket to their needs.
5. Warm Water Bottle
Putting a warm water bottle next to your dog or inside their sleeping bag is another good way to keep your dog warm at night.
Preferably you want a water bottle that has a furry cover this way the bottle won't burn your dog.
If you don't have one of these covers then you can just wrap the hot water bottle up in a spare towel if you have one, and then place it next to your dog.
Hot water bottles are a great way to stay warm at night that is very small and lightweight, making them easy to pack.
If you don't have one of these already then recommend you get one as they are very cheap.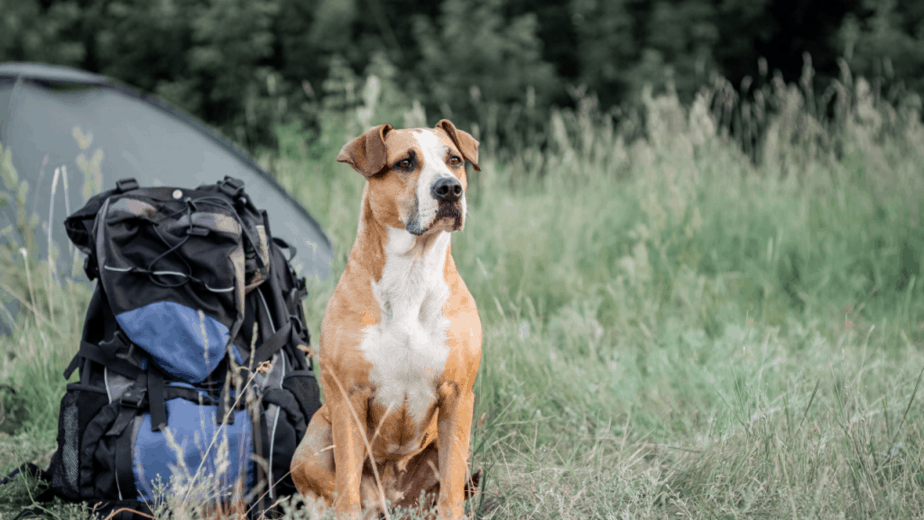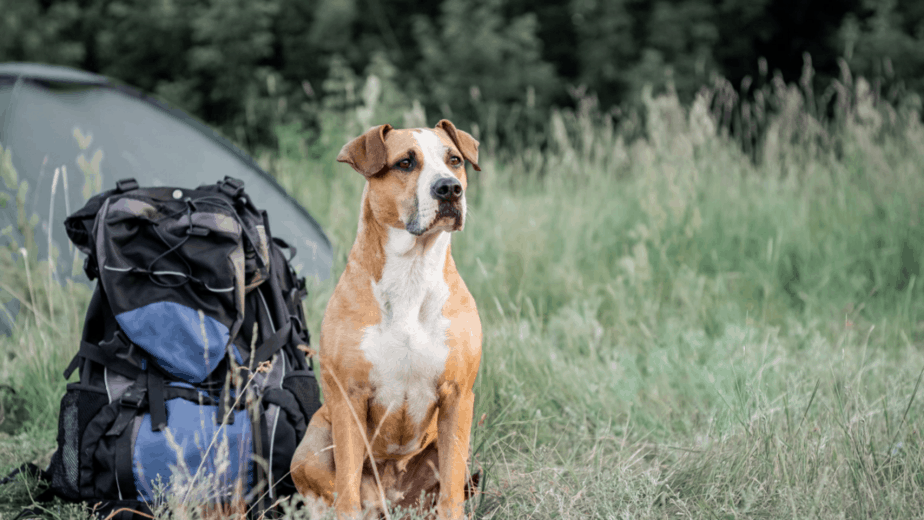 6. Inflatable Sleeping Mat
The floor in your tent can get quite cold at night, and using an inflatable sleeping mat can help keep your dog warm.
Like a sleeping bag, the mat can be folded and stored into a carry bag, making it easy for transporting.
Most mats are waterproof and will not leak air at night, and in case of any heavy rain you just need to wipe the water on the surface with a piece of cloth, then it can be used again.
It's great for using when camping and is very comfortable, giving your dog a good night's sleep ready for the next day.
7. Having The Right Tent
Having the right tent is definitely key for keeping warm and for getting a good night's sleep.
You really want a tent that's large enough for 2 to 3 adults, this way you can use heating equipment inside the tent-like gas heaters.
If you have a small tent example, you might find that you're limited to what you can use within.
You also want a tent that is durable and can withstand strong winds.
Well-designed camping tents usually have several ventilation flaps for optimal air circulation;
and a mosquito net in the inner tent that has inner pockets for storage.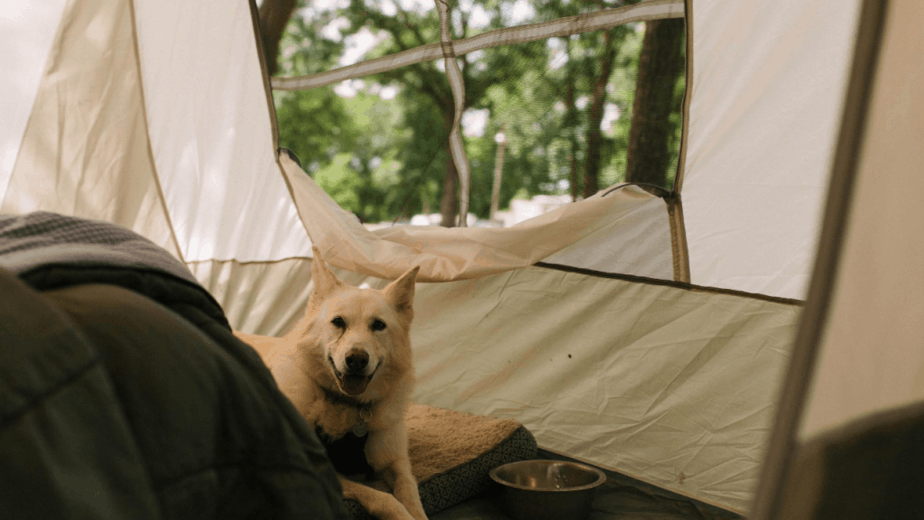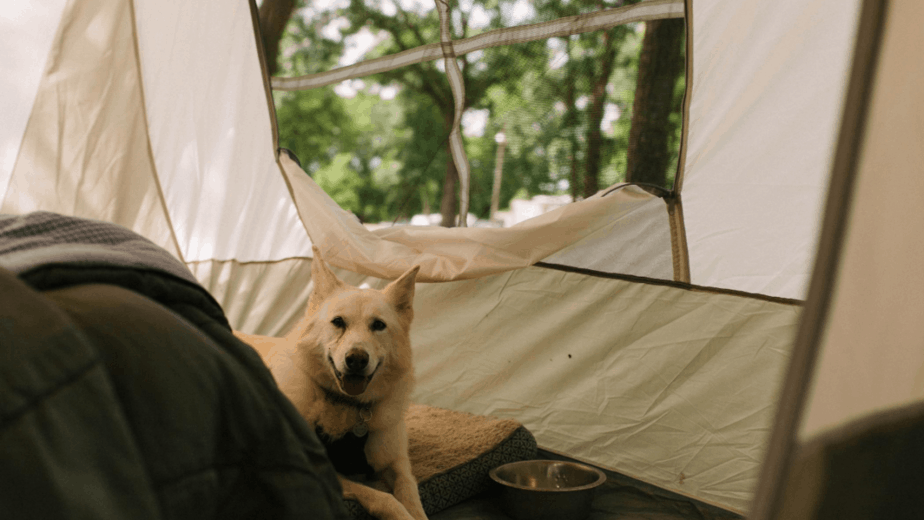 8. Keep Them Dry
There's always a chance of rain when camping and keeping your dog try before you sleep is very important. The last thing you want is to see your dog shivering in the night.
Now depending on where you live, in some places, it can get extremely cold at night and if your dog's coat is wet this can be very uncomfortable not to mention very cold for your dog.
If you have a campfire going your dog will naturally dry off,
however, if not you can use towels, just give your dog a good rub down until dry then your dog's body heat will do the rest.
9. Cuddles
If you find that your dog is shaking in the night give them lots of cuddles. Not only will this make them feel loved but can also keep both of you warm.
Believe it or not, this is a classic survival tactic and this is done with cuddles "sharing each other's body heat" and can be more effective than you think.
For the best result preferably you both want to be in the same sleeping bag, then throw over a large blanket and let your body heat do the rest.
10. Feed Your Dog More
Feeding your dog that little bit more can also help keep your dog warm.
Not only that but feeding your dog certain foods can actually boost that energy levels which is great when out hiking.
However, opting for this option makes your dog restless at night due to energy levels from eating more food.
But with that being said because your dog has more energy they will feel much warmer at night.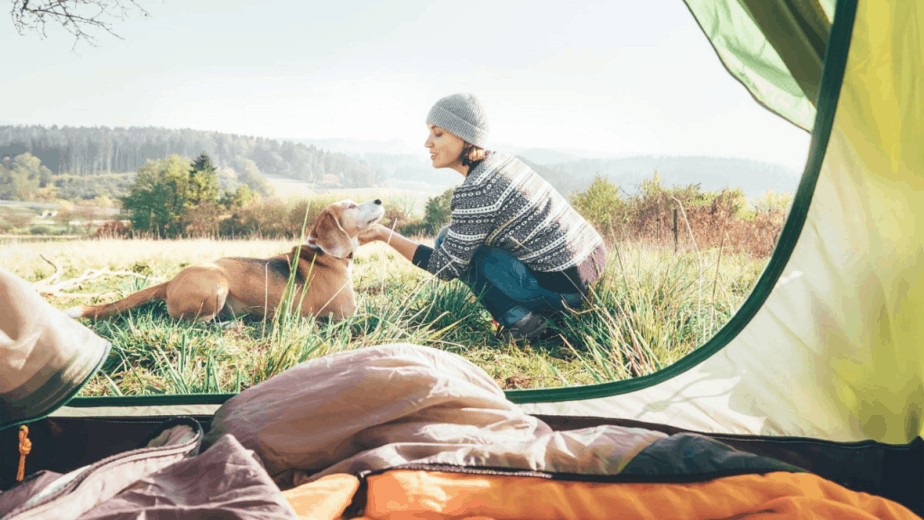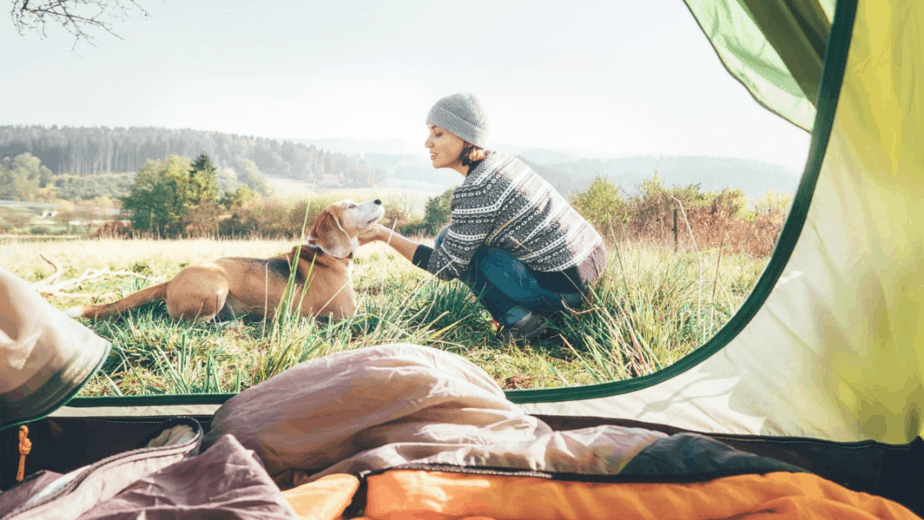 How cold is too cold for dogs camping?
Naturally, dogs have their own coat for keeping warm and will feel quite comfortable in cold conditions above (45 degrees F).
However, if the temperature falls below 40, then it's not a good idea to take your dog out for long periods of time.
Size is also another factor and if you have a small dog then they will get colder much quicker than larger dogs. Your dog coat is another thing you should consider.
For example, if your dog has a thin hair coat then it may get cold quicker than a dog with thicker hair. Your dog activity level is another thing you should think of.
If you have a young, active dog they can keep themselves warm by running around while outside. However, this only works for a short period of time, and eventually, your dog will get cold again.
Just keep an eye on your dog! if you think the weather is starting the bother them or you think it's getting too cold, it's best to be on the safe side and retreat to the tent.
Signs Your Dog is Too Cold
If your dog is playing outside make sure they take frequent breaks to warm up and hydrate.
However, there are ways to spot if your dog is too cold, and this is done by their body language.
Here's what to look out for…
Change in behavior, looking uncomfortable
If your dog shows any of these signs above seek shelter immediately and do not wait, or your dog could end up with frostbite or worse.
Pack Your Dog Camping Essentials
When camping with your dog don't forget to pack all the necessary essentials your dog will need, For example, Food, bowls, and poo bags.
It's also best to bring some familiar bedding so your dog will feel at home when sleeping you also want an insect- or pest-proof dog food container to stop any insects from eating your dog's food.
It's a good idea to pack any first aid items to patch up any bumps or scrapes that may occur during any hiking trips, the last thing you want is an infected wound.
Conclusion
So there are 10 easy-to-follow tips for keeping your dog warm in a tent. It really comes down to common sense, if you think it is too cold for your dog to be on the safe side and seek shelter in the tent.
These 10 tips will help you get your four-legged friend warm in a tent especially at night when the temperature drops. Don't forget to give your dog plenty of hugs, as sharing bodies heat can be very effective.
Like What You See? Follow Us On Pinterest!