Traveling to a dog-friendly beach with the family to enjoy the holidays is a must for any dog lover,
People from all over the world are now traveling more and more with their dogs,
So it's always important to do some research ahead of time when looking for any Dog-friendly beach holidays just to make sure that your dog is allowed on the beach you plan to visit.
Now there's definitely no shortage of any beautiful beaches out there, But not all beaches like or allow dogs,
So I've created this article of 8 dog-friendly beaches from around the world that will gladly accept your dog.
List of The Best Dog-friendly Beaches
1. Perranporth Beach: UK
This beach is located in the southwest of the UK in Cornwall and dogs are currently allowed on Perranporth Beach all through the year.
But during July and August there busiest times, Dogs are required to be on a lead between 10 am and 5 pm.
Once this restriction has ended which is usually the start of September you can let them run free off lead again.
This beach is excellent for exercising your dogs and not to mention you have some stunning views to admire.
Perranporth had been named the best beach for 2018 With three miles of beautiful golden sands,
It's well known for being the favorite amongst surfers and paddle boarders and of course dog walkers.
Perranporth beach also has a newly installed dog wash that's located next to the public showers, So you can give your dog a good cleaning before leaving.
There's also a pub if you get hungry or fancy a cold beer called The Watering Hole pub this is placed right on the beach so you can eat while enjoying the view, Dogs are more than welcome inside the bar or dining area.
2. Carradale Beach: Scotland
Near Campbeltown is a beautiful stretch of sand called Carradale Beach, With excellent views of the surrounding wildflower meadows and the mountainous countryside of the Kintyre Peninsular and the Isle of Arran.
It's a great place to take your dog for a stroll and admire the beauty surrounding the beach and with no restrictions for dogs on Carradale Beach, you are free to let your dog off the lead.
But before taking a stroll on the beach always check the tide times to avoid getting caught up in the waves. if this is to happen there are some signposted paths that surround the beach just in case.
This beach also has the Carradale Bay Caravan Site nearby, with lots of fun attractions, Including sea fishing, scenic walking, cycling, and horse riding.
There's also The Carradale Golf course for all those's golf lover's out there, The world-famous championship course at Machrihanish that has three more courses, this is only a short driving distance away from the beach.
There are some facilities within the village including a shop, bakery, and some hotels with bars and restaurants that are only a short walk away.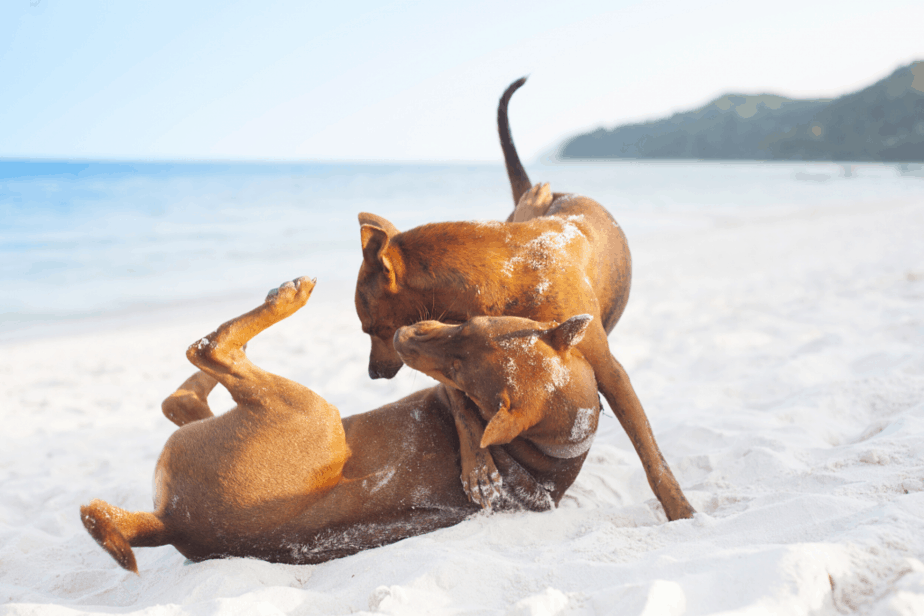 3. Le Touquet Beach: France
Le Touquet is located in northern France just an hour from Calais, All dogs are allowed to explore the beach without a lead. there are activities on offer here, like horse riding, or surfing, or hiking along the vast stretch of perfect sand while enjoying the view.
The beach itself is huge with miles of sand for your dog to roam across, There are walking routes along this beach with cafes and ice cream shops to get a bit to eat.
It's a great place to put up your umbrella and deck chair and just enjoy a view while watching your four-legged friend also enjoying themselves.
It's also a place where if you have your family with you they can enjoy doing some yachting, with a team of qualified instructors and this is accessible to everyone from the age of 8, with combinations and helmets all provided.
4. Llevant Beach: Spain
Llevant Beach is dog friendly and is welcome on this popular beach located in Barcelona Spain. However the dog area is fenced off from the rest of the beach, this is so dogs can't run around freely off the lead.
You are responsible for cleaning up any mess that your dog leaves behind to keep the beach clean and the surrounding water.
There are some drinking fountains and showers available for your dog.
The beach stretches 1.2 km and features clear blue water ideal for swimming and any water sports.
You can rent Jet Skis and explore the coastline, there's water banana boats, rafts, paddle boats,
There's also a number of cafes, restaurants, and shops on the beachfront. you have access to toilets and showers, medical care, and beach bars.
5. Lido de Fido Beach: Italy
One of the best dog-friendly beaches to visit for a holiday and relax is called Lido di Fido in Grado Italy that provides you with plenty of accessories like the use of a beach umbrella with a sunbed, deck chair, and leash holder for your dog.
You can get a dog waste bag as well and a water bowl, there's also a parking area nearby.
Now there are some regulations to follow to enter this beach.
First, your dog needs to be vaccinated against rabies, and have a microchip or ID tattoo,
If you already have a dog's passport then your dog should have been mico-chipped before the passport was issued.
Each dog must be wearing a flea collar or have been treated with an anti-parasitic product such as Frontline or Advantix. It's also recommended that any aggressive dogs be kept muzzled at all times and leash at hand.
Owners are also obligated to take their dog into the shaded area every 2 hours, this is so your dog doesn't get too hot in the sun.
And dogs can never be left unattended or free to roam.
The owner of the dog is exclusively liable for any damage that's caused by your dog to objects or persons on this beach.
So long as you follow the rules this is the perfect beach for your dog and for the family.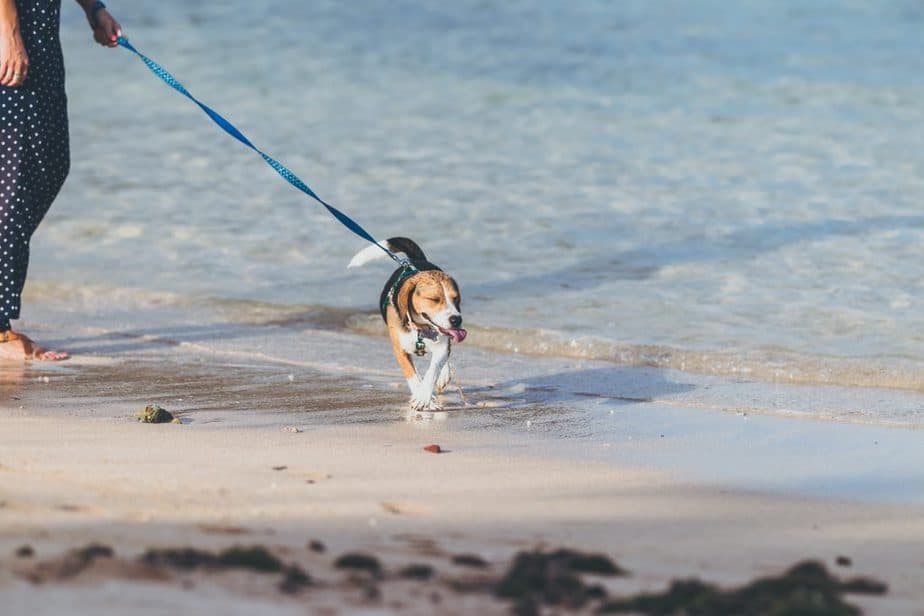 6. Podvorska Beach: Croatia
This beach is located in Crikvenica near the port of Podvorska, exactly 300m south of the river estuary in the Adriatic Sea.
Podvorska beach is a unique beach for dogs, voted one of the best beaches for dogs in Croatia in 2013. Which includes a shower and drinking water for dogs.
There's also a shelter if your dog gets too hot in the sun, The beach itself is covered with pebbles,
But this doesn't take away the fun and enjoyment of swimming with your dog.
Monty's Beach Bar that's been adapted for both dogs and humans,
what's great about Monty's Beach Bar is they also serve dog food, and There's even a doggy menu.
There's a hotel close by that accepts dogs called Kastel, This hotel is in the town of Krizisce, 15 minutes away from Crikvenica.
It accepts all types of dogs regardless of size or age. The hotel is open every day, all throughout the year.
7. Noordwijk Beach: The Netherlands
In January 2017 the National Geographic published a list of the 21 most perfect beach destinations on the planet.
And Noordwijk was named number 13 in this popular list.
Noordwijk is the perfect beach for you and your dog and relaxes on your holidays Part of the beach has pubs that are open all through the year,
and one section is dog friendly, but only from September to May, this section also has dog-friendly restaurants.
There are many accommodations in the area that are more than willing to take you and your dog while you visit.
But like most places, there are rules to follow when visiting. That being said you and your dog will love exploring this Beach.
There's a dog walking route that has been mapped out across the walking area in and around Noordwijk. This is great for hiking and exercising your dog.
8. Potami Beach: Greece
Potami is a dog-friendly Beach great for the holidays, that's located on the North-East coast of the Greek Island of Samos,
The pebble beach curves round on one side by the beautiful crystal clear waters of the Mediterranean.
Nearby is Potami waterfall, a stunning view of what makes the area one of the hottest destinations for tourists.
There are umbrellas and sunbeds available and a beach bar that provides snacks and cold drinks.
The beach is surrounded by steep cliffs covered with tall pine trees offering an amazing landscape.
If you start to hike up the river with your dog you reach a chain of waterfalls and pools, that are hidden in the woods.
This will be a great spot for taking some nice photos. The beach itself is accessible by car or on foot from Karlovassi Town.