A day of boating on the water isn't complete without having family, friends, and especially pets along. Water sports are an excellent way to bond with your Dog and allow the canine to have a fun time.
Since there are several ways to enjoy your time on the water, boating is what dogs love the most. Once the Dog is old enough to perform smartly in any surroundings, you can take him/ her for water recreation.
Most lakes, rivers, and water bodies allow dogs to accompany their owner. However, since a few of them might not, it is always ideal for checking before heading for the plan.
Before you bring any of your plans into execution, here are a few important things you need to consider.
Can I take my Dog on a pontoon boat?
Pontoon Boats are one of the most comfortable and pet-friendly boats you will ever find. The way these boats are laid out, anyone boarding them (humans or animals) will feel comfortable. From cushion seating to flat walking surfaces, it has everything that a dog will find comforting during the ride.
As long as your own a Pontoon Boat, you can bring your Dog on it without a second thought. However, if you are renting the same, ask providers (Company) if they allow pets or not.
The boat rental company that allows pets may ask for additional pet fees and refundable damage deposits. Also, with the Pontoon Boat, you might get life jackets for humans but not dogs.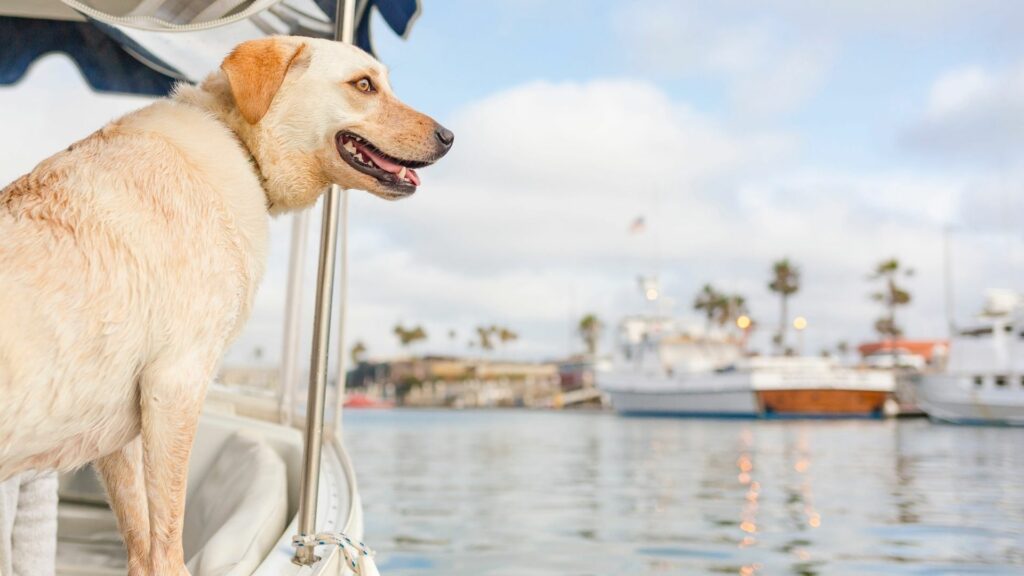 10 Ideas To get Your Dog back on a pontoon boat?
Getting a dog back on a Pontoon Boat is visually quite easy, but practically the task at times becomes tricky. Why? Your Dog's specific condition, mood, weight, build, and a lot of factors might influence him getting back on a boat. Though keeping them all in focus here, we have ten ideas on how you can get your Dog on a Pontoon Boat:
Pontoon boats are slippery, especially if it has water on their surface. But can it influence your dog's getting on and off boat process? Yes definitely.
Canines with thick and dense fur likely have fur between their paws as well (coming out from the middle of their fingers). When with the same paws a dogs get back wet into the Pontoon boat, he/she might face any accident on the slippery Pontoon floor. The simple solution here is to clip your Dog's paw fur so that his feet have more traction. This will keep him from slipping even when there is water on the floor.
If, regardless of paw fur, your Dog has clumsy feet in general, then give him some booties. Go for rubberized booties since they will improve traction and grip on all sorts of surfaces.
Invest in a boat ladder big enough for your Dog to get up and down the Pontoon boat.
Invest in a boat ramp that can handle your Dog's weight and size easily. Go for one with anti-skid pads to avoid slipping.
Invest in mini docks and attach them to the underside of your deck. The dock will slightly submerge into the water. However, while your Dog is trying to come back into the Pontoon, it will provide him a place to stand.
NOTE: While investing in a boat ramp, ladder, or dock, do think about your Dog's size.
Invest in dog safety gear. Buy a dog-specific life jacket with a handle on it (ideally on your Dog's back). On the one hand, a life jacket will provide the Dog some assistance in the water. Whereas on the other hand, you can easily pull back the Dog with the help of a handle.
Get the Dog familiar with getting on and off the Pontoon boat before the actual ride.
If you own a small dog bringing him back into the water is easier. You can simply hold and pull the canine back into the boat.
Invest in a long lease and attach it to your Dog's collar. This might come in handy while you are struggling to bring back the Dog into the boat.
And the most important, Practice, Practice, and Practice. For any trick or gear you are relying upon, do some practice before you actually go for a ride. Let your dog become comfortable with the boat, gear, and especially the life jacket. And while the boat is still on the dock, teach your Dog how to get on and off from it.
4 Floating Dog Ramps for pontoon boat
Solstice Inflatable Pup Plank Pet Ramp Series for Pets
This Solstice Inflatable ramp has a weighted mesh sink below water level and creates an effortless entry point for your Dog. The ramp's walking platform has extra-dense EVA traction pads that add in for ease in and out.
Solstice Inflatable Pup Plank XL (110...
PET RAMP: The Pup Plank makes getting in and out of the water easy for your furry friends; Its weighted mesh...
USE ANYWHERE: Perfect for all swimming environments including off the boat, the dock, or in the pool; Use its...
SUPER PORTABLE, EASY STORAGE: Incredibly easy to inflate, deflate, fold, and store back in the included bag -...
HEAVY DUTY CONSTRUCTION: Features dropstitch construction creating a rigid feel when inflated for unmatched...
EXTRA LARGE SIZE: Measures 48 x 32 x 5 inches; Built for pets up to 110 pounds; Comes with pump, carry bag, &...
It has built-in D-Rings & two 8-foot tie-ropes that help in securing the ramp with the boat. When not in use, you can inflate, deflate, fold, and store it into a bag (comes along). The ramp is built for dogs weighing up to 110lbs.
Beavertail Aluminum Folding Dog Ladder
This Beavertail ladder is two-way adjustable and ultra-strong. Its unique design facilitates easy entry and exit movement for your Dog from the Pontoon Boat. The ladder has rubber arms that easily fit with your boat.
It with that prevents scratches and unwanted noise, which usually is led by metal friction. It can take a dog's weight up to 100 lbs.
Drifter Marine Dog Boarding Boat Ladder
Drifter Marine presents one of the simplest yet most functional boat ladders for your Dog. It has an anodized aluminum frame with mesh netting for a slip-proof surface.
Drifter Marine Dog Boarding Boat Ladder...
39"×16" pad, rated for dogs up to 125 lbs.
Anodized-aluminum construction, extremely strong
Mesh netting for slip-proof surface
Adjustable and ladder hooks fit over boat gunwales up to 6" (Not suitable for docks)
Arms and climbing platform fold easily for storage
The ladder fits almost all boats (including Pontoon boats as well) and is quite easy to attach. When not in use, users can remove, fold and store it anywhere conveniently. It simply sits the hook over the wall of your boat and is then good to go. The ladder can take a dog's weight up to 125lbs.
Paws Aboard Doggy Boat Ladder and Ramp
Paws Aboard are the most ideal boat ladder for dogs who are old, overweight or have arthritic. Its non-skid ladder provides extra support for the Dog to move upwards.
Besides that, it provides an easy and hassle-free exit, thus cutting down the chances of straining or injuring. When not in use, the ladder will fold in half for easy storage.
Paws Aboard Doggy Boat Ladder and Ramp
The Doggy Boat Ladder is an excellent choice for use with arthritic, older, or overweight pets
Portable, lightweight and durable
Making boating fun and safe for you and your pet
The best part is that it is useful for not just dogs but humans as well. It can take a dog's weight up to 150lbs.
20 Tips for Pontoon Boating with Dogs
Here are a few hints and tips to make boating with dogs safe and enjoyable.
Pontoon Boat Dogs ideas
Get Your Pet Acclimated. Boating involves strange and loud sounds which might scare your Dog. Thus, before going on the actual trip, take your Dog to the boat, start the engine a few times and let him/ her familiarize. 
Before going for a long trip, go for small 15 minutes to half an hour trip instead. This way, you will get a chance to learn about your Dog's seasickness (if it exists). Also, the canine will familiarize with water.
While the boat is still at the dock, let your Dog spend some time on it. This will help him adjust during a long sea trip.
Train your dog 'How to Swim'.
Train your Dog with all the essential commands which will help you with water around.
Invest in a high-quality pet life jacket.
Before the trip, consult a VET whether your pet is fit for riding a boat or not.
Consult your Dog with first-aid practices, which might come in handy during an unfortunate situation. For instance, how to treat heatstroke in dogs? How to bandage a deep cut? And more.
Carry separate drinking water for your Dog even if you are going on a freshwater lake.
Prepare a bag with first aid necessities and your Dog's medicines.
Carry a pet-friendly sunscreen with good SPF.
Train your Dog for potty breaks on the boat. Since you might spend a long time away from land, prepare a potty corner on the boat itself. Some pee pads and poop bags might help you in the task.
Pack enough pet food and treats.
Do keep a lease handy you never know when you may need it.
Must have a pet-friendly boat ramp or ladder in your Pontoon always.
Since the Pontoon boat's surface can be slippery, line it with a rubber mat for your Dog's convenience.
Dogs who can't swim and get anxiety attacks in and around the water drop the idea of taking them on a ride.
In freezing weather, make sure your Dog has additional protection like a warm coat.
Invest in a raincoat for bad days.
Plan for a shaded space in your boat where the Dog can rest.
If you have any fishing gear anywhere on your boat, hide them from your Dog's approach.
Different states and cities have different rules about dogs on Pontoon; thus, always have their paper handy.
And at last, keep your Dog hydrated. 
Wrapping up…
Boating with dogs is a pleasurable experience for both humans and animals. While with some dogs, you might face some challenges, others will do a great job adjusting from day 1.
Introduce your Dog to boating slowly, and he will gradually become your water buddy for life. And do not forget to stuff your boat with all your Dog's essentials. You never know when you might need them.