You may have heard of pets on flights numerous times, but ever seen a dog enjoying a boat ride?
Taking your pet dog for a boat ride is a fun and enjoyable experience. And since the boating atmosphere is all open and airy, dogs absolutely love going for the same. However, with fun, a boat ride with a dog or dogs also comes with a lot of risks.
While boating, there are many potential dangers, specifically dog jumping and drowning in the water. However, despite the seriousness of the risk, there are safety measures that can facilitate a peaceful and safe ride. How?
Here is all about enjoying a safe and secure boat ride with your dog. Have a look:
How do you transport a dog on a boat?
Transporting a dog on a boat is easy only if you keep a focus on the 'Safety' part. Here are some tips that will help you with all preparation and awareness for the process. Have a look:
Train your dog to respond to your command so that you are able to control his behavior onboard. An untrained dog can give you a really hard and risky time during a boat ride.
Train your dog with swimming lessons. Even though when dogs are natural swimmers, a lot of them still require training in order to learn the art. However, swimming lessons will introduce your dog to water, and in any unfortunate situation, your dog will at least not drown. And if you own a dog breed that can't swim, at least teach him how to float.
Get your dog the right kind of life jacket. Despite how well your dog can swim, a life jacket is also essential for added safety. It will especially help in any unfortunate situation, like when the water current is harsh.
Lastly, do check about dog's law. However, there are no widespread constraints or restrictions that prohibit having dogs on your boat but check about legal affairs in your region.
Sale
Outward Hound Granby Splash Orange Dog...
SIZING BASED ON GIRTH: Dogs come in all shapes and sizes. Whether your dog is short and stout or long and...
SPLASH WITH SAFETY: The Outward Hound Granby Splash life jacket for dogs is designed with bright colors and...
NOVICE & EXPERIENCED SWIMMER-FRIENDLY: The Granby Splash dog life jacket is constructed with ripstop material...
MULTI-HANDLE DESIGN: Dual grab handles make it easy to restrain and lift your dog out of the water and provide...
PLAY IT SAFE: No pet accessory is indestructible. Do not leave with unsupervised pets. Remove and replace if...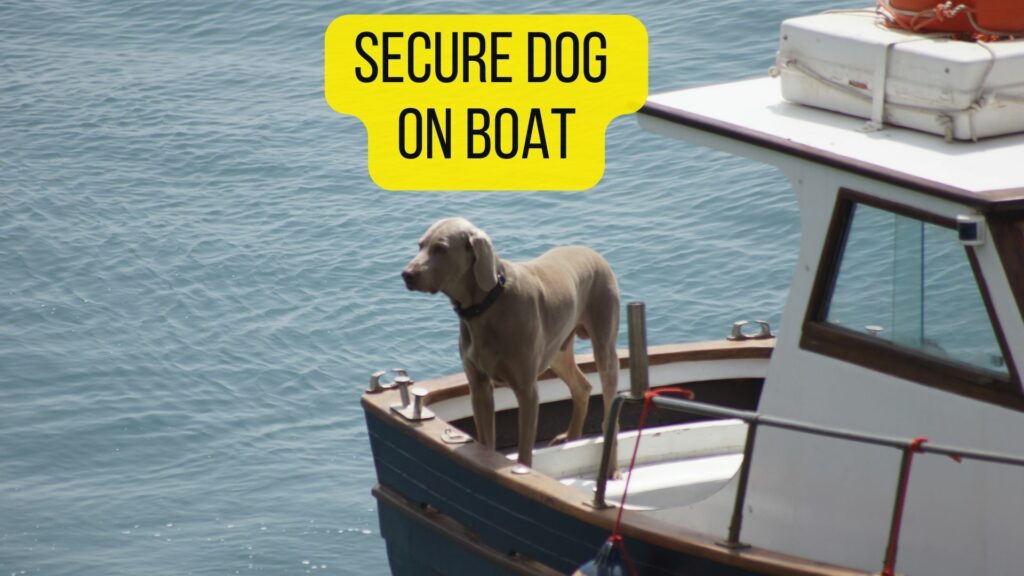 How do you get a dog on and off a boat?
For teaching your dog to get on and off a boat, first invest in a boat ramp or ladder. Several kinds of boat ramps and ladders are available that serve the same primary function.
Though make sure the ladder/ ramp you are investing in can handle your dog's weight. Besides that, it must stay safe and functional even after several back-to-back encounters with water and sun.
Large Dogs Car Step Stairs, Accordion...
【LIGHTWEIGHT AND DURABLE】 The metal frame foldable 4 steps dog stairs weighs only 10 lbs, but strong...
【NON SLIP AND PLASTIC BOARD INSERT】 The dog steps are upgraded with a non slip rubber coating surface to...
【MORE STABLE ANTI-SKID RUBBER FEET】 No more easy coming off like similar models, rubber pads on the bottom...
【PORTABLE/FOLDABLE AND SPACE-FREE】Snagle Paw dog stairs can be flod to a small size, not take much space...
【WORRY-FREE WARRANTY】If you're not 100% satisfied with our dog steps for cars and SUV, Just feel free to...
While most dogs are used to ladder back from home, you might need some training for others. However, since the task isn't really a deal, simply demonstrate how to climb a ladder/ ramp. Your dog will soon start imitating it.
How do I stop my dog from jumping off the boat?
Will dogs jump off a boat? Well, Dogs are curious, and it is no surprise if they jump out of a boat directly into the water. However, since that isn't safe, it is important to plan some safety measures. Here are a few of them which you might want to have.
Until your dog learns boat boundaries, keep him on lease all the time.
When in the boat, make sure your dog is wearing a life jacket all the time.
Keep and provide plenty of fresh water to your dog on a boat. This will keep him approaching the lake water and jumping out of the boat.
Train your dog to enter and exit the boat from one single route. This will keep him from jumping into the water in any possible direction.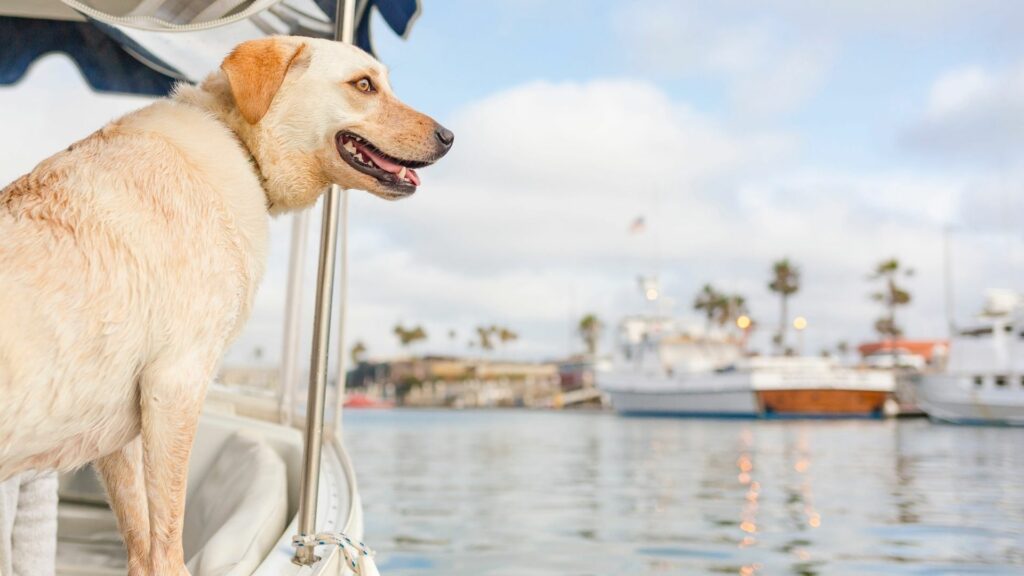 How to prepare your dog for a Water ride?
Do dogs like being on boats? Dogs love being on boats. Especially when it is the warmer season, canines find it appealing to spend time close to water bodies. And since you (their owner) are having a great time on the boat, they will love accompanying you.
Before taking your dog on a boat ride, here are a few things you need to prepare:
Teach your dog how to swim. If possible, take him on several swimming sessions on lakes, rivers, and other large natural water bodies.
Buy your dog a nice life jacket.
Prepare a first aid kit containing antibiotic ointment for minor scrapes, your dog's medicines, bandages, Dramamine, and more.
Prepare a separate bag with the dog's sunscreen and Canine insect repellent.
Ensure your boat has plenty of shaded space for your dog to rest.
Plan a peaceful and comfortable sleeping corner for your dog on the boat.
Get your dog used to the boat. Before you leave the land, make sure your dog knows what to expect. Always pay attention to your dog on a boat.
Carry along plenty of drinking water and food for your dog.
Potty train your dog for boat considering different circumstances you might encounter.
Prepare a bag of extras, including a pee pads, waste bags, towels, and mats.
Amazon Basics Dog and Puppy Pads,...
Includes 100 regular size, standard absorbency pee pads for dogs
Super-absorbent core that turns liquid to gel upon contact
Quick-dry surface with built-in attractant helps aid in potty training; leakproof plastic lining keeps floors...
For indoor/outdoor/car use; ideal for puppy training, assisting senior dogs, or as an alternative when outdoor...
Pad Dimensions: Regular size pads measure 22x22 inches (LxW); center pad measures 19x19 inches (LxW) with a...
Is it okay to bring a dog on a boat?
Unless the boat owner and passengers have a problem with it, you can bring your dog on a boat.
Several boats and ferries consider themselves 'pet friendly' since they allow dogs and other domestic pets to enter and travel around easily.
These ferries also have safety boundaries that would keep your canine buddy from jumping off into the water.
Do dogs need a life jacket on a boat?
While on a boat, all humans and dogs should wear a life jacket. Even when your dog is a great swimmer, a life jacket will provide protection in rough currents, strong waves, in deep water, etc.
Also, in an unfortunate situation when water enters a dog's nasal structure, a life jacket will help him keep his head high of the lake level and get through that.
Can a puppy go on a boat?
Unless your dog (puppy) doesn't know how to swim, avoid taking him on boat rides. However, if you cannot leave them back all alone, make sure you keep them under lease for safety reasons.
Wrapping up…
Taking dogs on a boat can result in plenty of great memories. As much as you enjoy the ride, your canine buddy will add more adventure and fun.
Though to keep this fun long-lived, make sure you go well prepared. And if your dog is super energetic and you think a boat ride might bring some risk, AVOID IT.