How to get a dog on a plane for free? It's very important to keep in mind that nowadays getting a dog on a free flight is quite complicated and any airline that does accept pets on board usually comes with a price.
Now, that's not to say it's impossible, there are some dogs that can get a free flight but this "depends on the airline" and is only for pets that travel as emotional support for their owners.
Guide Dogs (that meet the requirements of the airline) can travel on a plane free of charge. But unfortunately, other dogs such as family dogs that accompany their owners for a holiday will be charged and cannot travel on a plane for free.
However, with that said, AA has recently announced that they no longer allow passengers to bring emotional support animals onboard for free.
Other airlines such as Alaska Airlines, Southwest United, and Delta Air Lines have also recently added similar policies. 
How To Get A Dog On A Plane For Free?
Depending on the airline, it is possible for some dogs that have been (indicated by a psychiatrist with a medical certificate of emotional support), or Fully-trained service dogs can still travel for free!
If you are going to travel with your dog, you will need to carry a series of documents that are essential when traveling with your pooch to another country.
These documents are about the state and health of your pet that will be requested when traveling by plane. Things like your pet's passport will need to be updated and stamped and signed by a vet before you can travel.
If you have a small dog they can travel with you in the cabin, but, this only applies if you meet the airline requirements, larger dogs on the other hand will need to travel by cargo.
Guide dogs are trained to assist blind or visually impaired people, but they don't always fly, however when they do even guide and service dogs still need to abide by the airline rules and regulations.
Failure to do this can result in your dog being refused at the checking point.
documentation Your Need To Fly For Free
If you are flying with your guide dog, make sure to have the right paperwork at the ready before you get to the airport. You will need a letter from your doctor stating your disability.
You'll also need a letter from the organization that trained your dog proving that indeed your four-legged friend is a fully trained guide dog.
Pet Passport
One of the most important things you will need is a pet's passport. To apply for a passport for your dog you will need to book an appointment with your local veterinarian.
Your dog will also need to pass some health tests before a passport is issued. After you get the passport it's very important that your dog gets updated shots and a microchip.
In Canada, all dogs entering the country must have proof of rabies vaccines administered at least 30 days prior to entry date (or two years if the last booster was given more than twenty months ago).
Places like Mexico require all dogs entering Mexico from abroad to be accompanied by export health certificates completed no less than 24 hours before arrival at the Mexican border point.
Dog Microchip
The cost of having a chip inserted into your dog can vary depending on the clinic you visit but it is usually between $100-$300.
The process takes about 15 minutes and some clinics offer a walk-in service, which means you don't have to make an appointment in advance for the procedure.
Having this done will save time when boarding because they do not need physical identification or paperwork from their owner at the airport check-in desk.
It's also very important that dogs should be up-to-date with all vaccinations so make sure these are finished before getting them chipped!
Rabies Vaccination
Your dog will need a rabies vaccination if the last one was more than 12 months ago. In order to get a rabies vaccine, you will need to book an appointment with your local vet.
The cost for this is usually between $25-$50 depending on where you live and what type of clinic you visit. This is something that you should not wait to do, as a rabies vaccination is required and should be done 30days before leaving the country.
Health Certificate (CVI)
Registry where vaccination and deworming treatments appear and again it must be signed and sealed by a registered veterinarian. This can be done one or two weeks before the trip, but it should not be more than 10 days old.
Generally, these are the documents they usually ask for, in addition to their corresponding microchip. Some of the documents may take several days to complete, so we recommend requesting them well in advance.
As mentioned, guide dogs are allowed on most airlines for free just as long as you have all the correct paperwork showing that the dog has been fully trained as a service dog.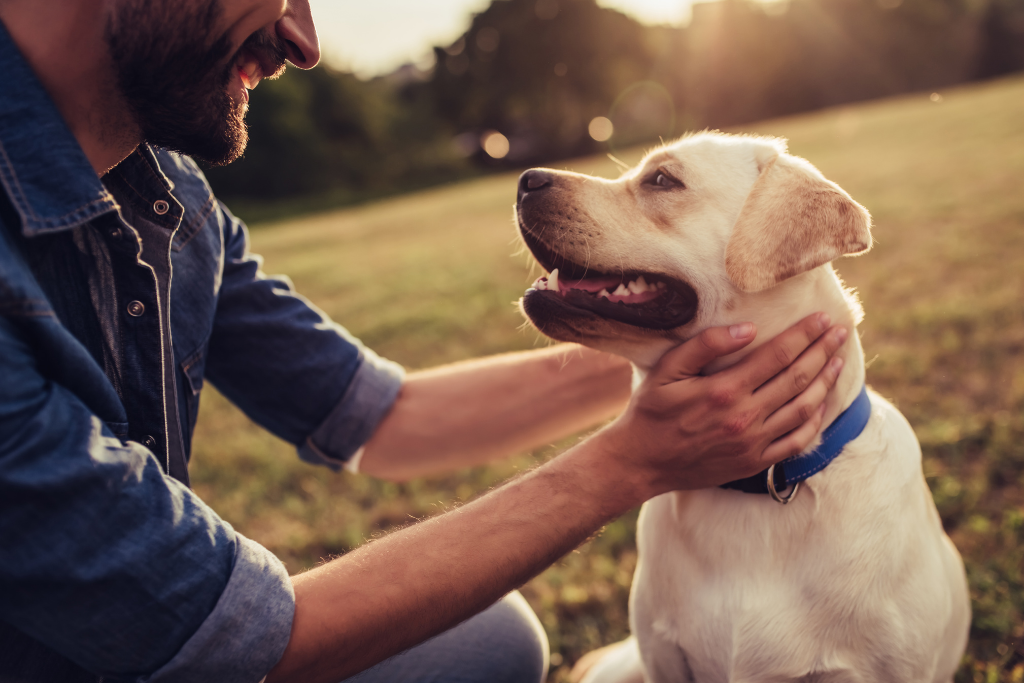 Airlines That Allow Dogs On Board For Free
United-Airlines
United Airlines no longer allows emotional support animals to be transported after February 28, 2021.
However, they still accept fully-trained service dogs on the plane for free but you will need all the paperwork to prove this.
United Airlines does have strict rules when traveling with a service dog in the cabin for free these rules are as followed…
The dog can not extend into the aisles
The dog must be a minimum age of 4 months for acceptance on United
You cannot travel within 30 days of your animal's rabies vaccination
The dog will be required to sit in front of your seat throughout the flight
All other dogs will be charged a fee of $125 to travel in the cabin as long as they meet the requirements, However, always check the conditions with the airline as the rules can change.
American Airlines
Now, as mentioned at the start of this article American Airlines have recently announced that they no longer allow passengers to bring emotional support animals onboard for free.
However, they still allow fully-trained service dogs to travel on the plane for Free but only if you have all the correct paperwork.
The dog will need to of been trained to aid the individual with one of the following disabilities…
Seizures
Deafness
Visual impairments
Mobility impairments
Post-traumatic stress disorder
For all other dogs the current charge is $125 to bring your pet onboard, but again, just remember to Check the conditions on the American Airlines website before you book.
Delta Airlines
Delta Airlines provides in-cabin travel for service and support animals without charge, however, all other dogs will be charged to travel in the cabin "but" they cannot exceed the maximum measurements.
The individual travelling with a Fully trained service dog will need to submit the following to travel for free…
A signed Veterinary Health Form
Or an immunization record
A signed Confirmation of Animal Training form
An Emotional Support/Psychiatric Service Animal Request form
The prices of this airline are varied, from $125 for flights from the US, Canada, and Puerto Rico, $ 75 from Brazil, and $ 200 for International flights.
British Airways
British Airways is another airline that allows you to travel with your service dog in the cabin free of charge but there are certain restrictions you need to follow.
For a service dog to travel in a cabin on British Airways for free you will need to prove the following…
The dog must have been trained to assist with your disability
All the documentary evidence to prove the dog has been fully trained
The service dog must be wearing an identifying jacket and harness
The dog must be in your control at all times
They accept pets in the cabin, however, cannot exceed 8kg must have a suitable carrier to fit in passenger's feet.
Lufthansa
Lufthansa allows assistance dogs to travel in the cabin with you free of charge, however, like most airlines there are requirements.
The dog must sit in front of your seat and be attached to your safety belt
The airline requests that you bring a dog muzzle with you for safety
The airline does recommend securing the dog with a harness
The dog must not sit on a passenger seat at all times
This airline allows you to transport other dogs in the cabin and the cargo hold at a price. For dogs to travel in Lufthansa in the cabin, they cannot exceed certain measurements.
Conclusion
So now you know how to get a dog on a plane for free, although this doesn't really apply to your average family dog and more for guide dogs.
Still, you should always double-check the requirements directly with the airline you plan to travel with as the rules could change at any time as mentioned at the start of this article.
Also, don't forget the measurements of your dog and its carrier if you want him to travel along in cabin.
If your dog is over the weight limit of 8kg they will have to travel in the cargo and an extra fee could apply.
The good news is once you have traveled abroad for the first time with your dog the second time will be a lot easier as you will know exactly what to do and what the requirements are.
It's also important to check into any airline-specific restrictions while traveling abroad because they might have different regulations about what types of animals they allow aboard their flights.