We all love our dogs, but sometimes they seem to be a little too big for their own good. Whether it is because of their size or the car we are trying to put them in, these large animals can cause some challenges when it comes time for us to take them on a trip.
The biggest problem that many people face with this task is how to safely lift a large dog into a car?
The best carrying method for getting a large dog into a car depends entirely on its size and weight. Some people use straps, slings, or ramps that can work wonders when dealing with older heavier dogs.
If you have a large dog that is light enough then of course you can give them a helping hand to get into the car! However, if your reading this article then you want to know how to do this safely without hurting your dog right?
Well, The first thing you should do if you have a heavy dog and don't have access to slings or ramps is to get some help. You should never try to lift a large that's heavy into a car on your own.
This way the other person is able to steady the dog and keep them from harm while they are being lifted into the car, if this cannot be possible, then another option would be to use a ramp or slings.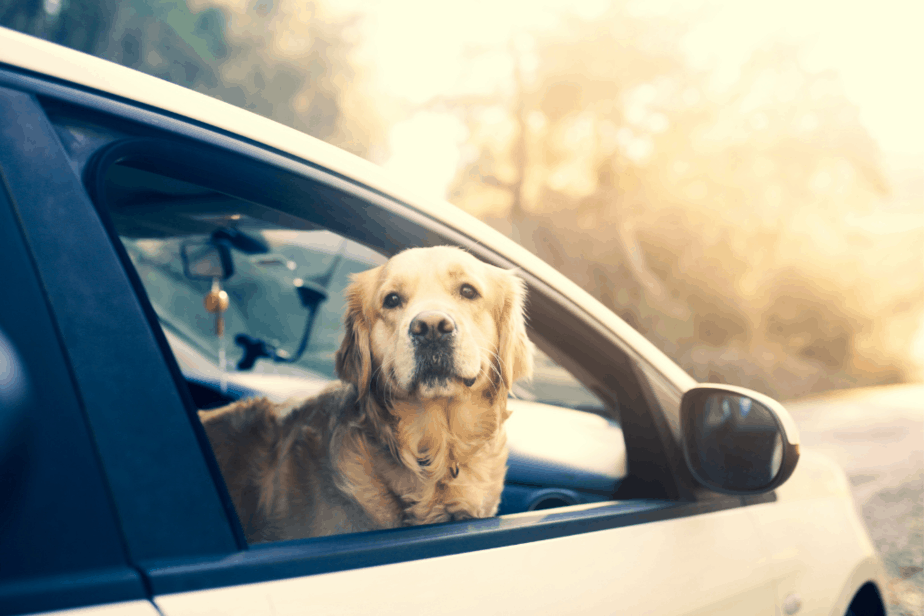 How To Lift A Large Dog Into the BackSeat?
Helping your dog into the back seat is fairly straight forward all you need to do is lift up the dog's backside, and have them rest their front paws on the car seat.
You can do this by reaching round at the front of their chest and gently lift. This will also give them some support to hold onto.
Remember, when lifting your dog make sure you're holding onto him/her tightly until he/she settles on the back seats without any problems, then close the door.
Lifting A Large Dog Into The Backseat:
Place their front paws on the car seat
Reach around and lift up the dog's backside
Kepp hold of your dog until he settles on the back seats
How To Lift A Large Dog Into Car Boot?
Now it's always recommended and safer for your dog to travel in the car boot preferably in a boot cage this way if there's ever a collision your dog will be protected.
So, to lift your large dog into a car boot, do the same as before, reaching round the dog's backside and chest making sure you have a good handle on your dog, and lift.
Lifting Tips: Lifting your dog up from the chest and backside is the safest option! you shouldn't try lifting your dog up from the belly or ribs as this will put pressure on their abdomen and ribs area, this can also be very uncomfortable for the dog.
Lifting A Large Dog Into The Car Boot:
Neal down and reach around the chest and backside
Keep your dog close to your chest and lift
Then place your dog in the boot
For Dogs That Are Too Heavy
As you can see, it is possible to lift a large dog into your car. However, there are some things that need consideration before making this decision. first off, consider the size and weight of your dog.
If your dog is too heavy to lift up then the next step would be to consider other alternative means to gently lift the dog up and place him or her into the car.
Many people have this problem where their dog is just too heavy to lift. This is why there are ramps, steps, and slings that are designed especially for dogs making it easier for them to get in and out of the car without hurting themselves.
Ramps
Dog owners who have large breeds often find it difficult to load their pet into the car for a ride and this is usually because of their size and weight.
The solution, however, is to use a car ramp to help your dog in and out of the car which works great especially if you have an old dog.
These ramps are available at most online stores including Amazon and they come in various lengths and widths to suit different sized dogs.
Dog Ramp For The boot
This PetSafe Deluxe Telescoping Dog Ramp is the perfect solution for helping your dog get in and out of vehicles. This versatile ramp features a compact, lightweight design that makes it easy to carry and store in your vehicle.
It quickly expands providing a sturdy platform that's wide enough for most cars and trucks. The high-traction surface also helps prevent your dog from slipping while the rubber feet help keep the ramp firmly in place during use.
This dog ramp is strong enough to support pets who weigh up to 300 lb perfect for your large dog.
---
Dog Ramp For The Side Door
Pet Gear Lite Bi-Fold Dog Ramp is a portable, lightweight ramp that allows your dog to get in and out of vehicles or up on furniture easily. The unique design of the ramp makes it easy to use.
Simply unfold the ramp, place it at an angle against the vehicle or platform and let your pet climb up by itself! The rubberized grippers on the bottom help keep the ramp steady when placed on an incline.
This side door ramp is lightweight, and with its compact folding design, it is easy to carry and store away. This ramp is also designed for extra support great for large and medium dogs.
---
Steps
The Niubya Foldable Dog Stairs is another great way to get your large dog in and out of the car safely. These steps can also be used for the side door and for boot entry.
The stairs are made of durable and sturdy steel, with soft rubber pads on each step to protect your pet's paws. The dog steps are adjustable in height and angle, making them suitable for most cars, trucks, and SUVs.
They can withstand up to 150 pounds in weight. The two carabiners ensure that they stay securely fastened when not in use.
---
Slings
LOOBANI is the most convenient and comfortable way to carry your dog. It's a perfect solution for pet owners who want to take their dogs with them on daily activities like going shopping, taking walks, or traveling.
These slings have a thickening design and soft lining with sheepskin-like covering and besides ,the handle equipped with removable padding is perfect for protecting your hand for easy comfortable carry.
A reflective nylon band runs through the whole sling to hold the weight of any large breed. And of course, it can help get your large dog in and out of vehicles safely and securely.
---
Conclusion
So if you are the proud owner of a large dog, then you know that they can be quite difficult to handle, and lifting your pup into the car is no easy task and it's even more complicated when the backseat or boot is inaccessible.
Just remember, if your lifting your dog on your own make sure the dog is in close proximity to the vehicle before lifting them up and getting them inside for their safety and yours.
If they are too far away, there is that chance that your dog might jump out of your arms or run away from you when you're trying to lift them up onto the seat.
Another thing to consider is whether or not there is someone else available who could lend a hand with this process if needed. It may take two people for one large dog!
So hopefully we've outlined some of the best options in this article, and that we were able to share some useful tips with you.
However, If none of these solutions work for you or your pup, don't forget you can use things like a ramp, step, or slings to help you enter the vehicles with any problems.
Related Article