Can you take a dog on a 10 hour flight? How to manage a long flight with a dog?
Well, Dogs are not just another pet but part of the family for many. But when it comes to taking an international flight with them, let's agree, it is not fun. Long flights are stressful for both, be it humans or pets.
Whosoever have ever taken their furry pets on a flight before knows how sharp the struggle is. However, it isn't that scary as well.
Flying with dogs undoubtedly is a task, but if you know how to manage it, it is smoother than you think.
From preparing dogs for flying to making them comfortable inside the airplane, everything makes the journey feasible.
And with that said, here's our outlook on taking your dog on a 10-hour long flight.
Our efforts are all about answering all your common queries and making the process simpler.
Everything you need to know about flying with a dog
Flying with a dog doesn't always have to prove painful. Despite the stories of how things went disastrous for several pet owners, you can always have your own safe story.
To make your air travel with the dog a Paw-sible deed, here's everything you should learn before.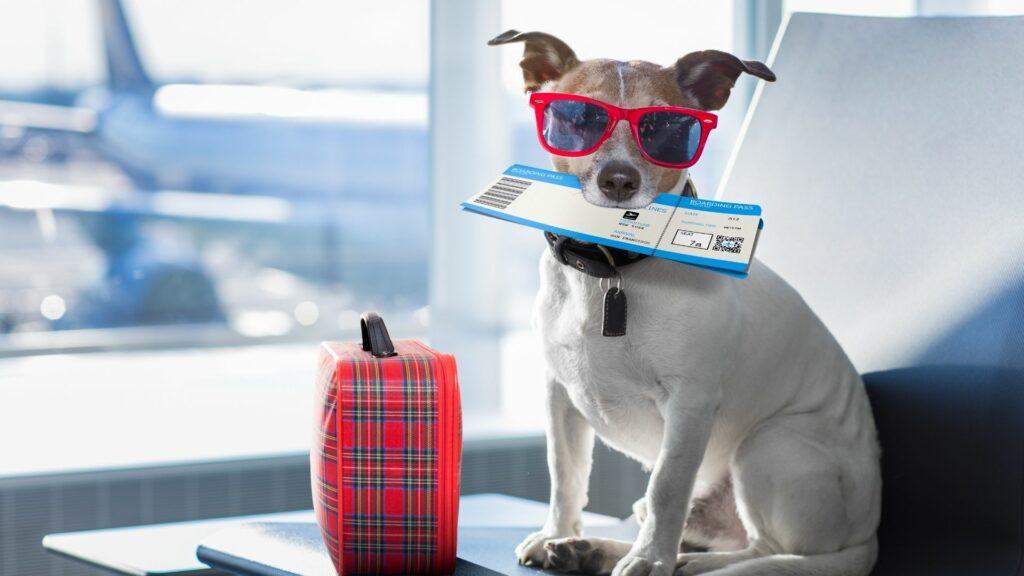 How to manage a long flight with a dog in the cabin?
Preparation before the flight
Check which dog breed is allowed on the plane
Not all dog breeds are allowed to take a flight. For example, snub-nosed breeds find it difficult to breathe inside a flight.
There are several cases of respiratory failure amongst such breeds, which lead to a Ban upon them. Thus, do check the dog breed you are a parent to is either allowed on the plane or not.
Check about pet quarantine.
Not all but several countries across the world mandate pet quarantine upon arrival. For example, New Zealand, Australia, Singapore have strict quarantine rules for pets after the flight.
Thus, it is advisable to check the pet quarantine center, duration, and treatment a month before your flight. If you are traveling only for 2 to 3 days, flight exhaustion and quarantine can trouble your dog.
Most flights allow only small dogs (up to 20lbs) on board. Further, owners have to keep them in a carrier that too has to fit under your seat. Also, some flights allow only a certain number of pets in one go; therefore, book yourself early.
Choose the right carrier and prepare your dog for longer cage time
A 10-hour long flight means 11 hours in an airplane, including boarding and getting off. Choose a large carrier for your dog to move and small enough to fit in the foot space of a plane seat.
Further cage trains them before 2 to 3 months from your flight. Allow them to be comfortable inside for long hours, like during the night. Make sure you line their cage from the bottom to avoid any unwanted situation.
Pee and Potty train your dog.
If you want to avoid a potty-smelling flight, train your dog before boarding one. You can take pee pads along to avoid inconvenience. Use pee pads both in their crate and bathroom, and then discard them right away.
Before you book the flight, get a confirmation letter from our vet that your dog is fit to fly. You will require to show their health document several times from airport to airplane and departure.
Preparation for the day of flying- Travel Day
Ensure you have a health document and a valid certificate of rabies vaccination. Also, the dog's Carriage must have all the right labels on it.
Food, water, Potty, and Peeing
It is advisable to avoid feeding your dog about 4 hours before the flight. Even if done, make sure you make them poop either at home or at the airport. If required, you can feed them water.
Also, pack your pet food and treats along as not all airplanes provide them.
Keep your dog active before the flight.
Make sure your dog burns off his/ her anxiety and energy before the flight. It will lead them to sleep in the airlines, reducing several chances of an unavoidable nuisance.
Reach the airport 1 hour before the time
Though checking in with a dog does not take much time, it is advisable to reach before time. The airport can be overwhelming for dogs, thus consider letting them take around and get comfortable.
On the Flight
Let the dog move and know the surroundings.
If allowed in the plane, let your dog move around and become comfortable. You can allow them to walk with their lease on, ensuring no other passenger gets troubled.
Normally, travelers cannot let their pets roam freely inside the plane or jump over the seat. Thus, make them comfortable inside their carrier.
You'll have to put the carrier beneath your seat. You can even place it at your foot space. Try making the dog sleep so that the trouble for the first few hours snooze down.
Avoid checking every 5 minutes.
If you check your dog every 5 minutes, he will panic with effect. Though having an attentive eye is not bad though.
Letting your dog starve for hours is not at all recommended. If they have slept right after boarding the flight, you can take a relief. Though once they wake up, feed them food and water. If required, you can take them for peeing and pooing brake in the plain bathroom.
After the flight
Get a map of your departure gates.
Because it was a 10-hour long flight, your dog is in no way in a good mood. Thus, to avoid more complications, have the map for your departure ready.
Once you are out of the airport, your little doggo will breathe a sigh of relief (of course, you as well).
At home/ hotel/ other destination
Upon reaching your destination, instead of relaxing, take your dog for a long walk. They have spent over 10 hours in a small carrier, and thus, moving around is the need of the hour. Let them pee, poop, eat, drink and play around.
Additionally, some cuddles and extra love with invest in comforting them.
Is taking your dog on airplanes is worth a risk?
Taking a long flight with your dog isn't a matter of risk but requires a hell of a lot of planning.
There have been several instances of injury, health emergency, etc., with dogs on a flight in the past.
Pets don't find it comfortable to stay confined inside a flight (in a carrier).
There are lower risks of taking your dog on an airplane if he/ she:
Is passed safely to travel by a VeT.
Is medically fit (no fever etc. in the past days)
Does not have any anxiety issues.
Do not react harshly seeing other pets and humans around.
Feels comfortable staying in crate/ carrier for longer hours.
Can be on her own for multiple hours.
Alerts you for peep and poop.
Knows and reacts to your command.
Avoid taking flights with your dog if he/ she:
Is claustrophobic or prone to separation anxiety.
Is not quiet with other pets and humans.
Has some injury or medical condition.
Is below three months old
Is not vaccinated against rabies.
How safe is it to fly your pet in Cargo?
For dogs who weigh above 20lbs, cabin flying is often not allowed and recommended.
Also, if your dog makes a ruckus in-cabin flying, the possibilities are that crew will transfer him to Cargo.
The Cargo area is a climate-controlled and pressurized zone that ensures pet safety and comfort.
Per owners can book flights based on their dog's temperature needs.
Maximum of the airline services allows specialized shipping services for dogs who are not allowed inside the cabin.
While Cargo is on board, your dog can eat, drink, pee, poop, and have a walk around.
Most of the airlines have trained pet-friendly staff available to manage the situation.
Though to ensure your pet's comfort and a managed environment altogether, here are few tips to follow:
Microchipped dogs are often safe in Cargos. Even if in an unthought-of situation they try to run away, you can easily relocate them.
Or, ensure that your dog's harness/ collar has a label with his/her name, your name, address, mobile number, email, and other necessary details.
For ensuring that your pet stays less anxious, try making them wear PetSafe Martingale collars.
Line their carrier with pee pads.
Provide the Cargo in charge with a water and food bowl along with your dog's favorite treat. With that, you can also add your pet's favorite toy.
Summary
Taking your dog on a 10-hour long flight is a struggle, but things will go smoothly once well planned.
In contrast, the above tips will help you with the process; it's your job to make your pet flight-ready.
While you are away for only a few days, it is always ideal to avoid taking dogs or other pets for long flights.
Also, check for the banned breed, quarantine details, and other essential information beforehand.