Apart from their size, owning a large dog is no different than having a small dog, they are just as devoted, loyal, and affectionate, as smaller dogs. And leaving him at home while planning your trip abroad is not an option. Yet, most people are unaware of the rules when flying with a large dog.
It can be very overwhelming with so many rules and regulations when traveling with your dog "especially large dogs" and because of their size transporting them can be difficult at times.
However, your be glad to hear that it's easier than you might think when traveling with a large dog. It's no different than traveling with a small dog you still need to go through all the same security checks and have all the correct paperwork before boarding.
The only difference with having a small dog is they can travel with you in the cabin just as long as they meet the size requirement. Large dogs are required to travel in the cargo.
So to help you understand what these rules and requirements are regarding large dogs below is a list of everything you need to know when flying with a large dog.
Rules & Regulations
Although it is easy for the owner to fly with a small dog, it can become challenging for a person who owns a large dog. Because most airlines do not allow a Large Dog In The Cabin, this means your furry-friend must fly in cargo.
It can be stressful for some dogs, however, many airlines do have professional vet carers on board that will take care of the dog throughout the flight.
There are many ways to fly with a large dog "but" of course, not as easy as flying with your child or puppy. So it is essential to know what the rules and regulations are which will require careful planning and preparation.
First, you have to look into the airlines that you want to fly with and find out if they allow accommodation to large dogs. Besides, don't forget to go through the policy document of each airline. Doing so allows you to better understand the rules and requirements.
Some airline companies provide crates. However, most of them require the owner to bring his or her crate. In any case, It's recommended you buy a Comfortable Dog Crate and train your pooch before you travel.
You should buy the crate one or two weeks in advance before the flight. Put him in the crate every day for a few hours so that he gets familiar with it.
Breed Restrictions
Most airlines do not allow short and snub-nosed dog breeds, such as Pit Bulls, Pugs, and Boston Terriers. These dogs can undergo stress easily during the flight.
Also, they have a nasal structure, which can cause shortness of breath.
There are some airlines that allow these breeds to travel in the cabin, "but" you have to train your dog or go for alternative methods, like a pet relocation service.
Do not forget to check the list of breeds that are unacceptable to the airlines as per their policies.
Required Paperwork
If you want to fly within the U.S, most airlines will require to show them an updated health certificate within 10 days of flying. You will also be required to provide them with proof of recent rabies vaccinations.
Besides, if you are Traveling To Hawaii, your dog will stay in quarantine for 5 days upon arrival as per the law. Therefore, it is essential to get the correct and legit documents from your Vet.
If you are traveling to a foreign country with a large dog, you will require paperwork, tests, and other certified documents from the Department of National Health.
Temperature Range
Some airlines have policies for enforcing temperature restrictions with pets. It means they won't allow the transportation of a large dog in temperatures, which is above 85 degrees or below 45 degrees Fahrenheit.
It is essential to book your flight based on the destination, time of the year, and temperature. Likewise, it's recommended you check the weather of your departure and arrival cities.
Check the temperature of your dog and if he or she tends to become too cold or too hot easily, then it is better to figure out an alternative method.
Check-In Procedures
The cargo facility of the airline should handle the check-in procedures. Most airlines require the owner to bring his kenneled dog to the cargo facility.
Make sure they properly tag your dog so that you can track him throughout the flight.
It is essential to keep your dog's contact information up to date. The information includes your dog's ID tag and microchip information.
Do not forget to write your name, contact details, and home address on some things that can be secured to the kennel directly.
Large Dog In Cargo
As mentioned above, some airlines have strict rules for pet transfer while others have specialized travel programs for dogs. For instance, Alaska Airlines have trained staff that can work with large dogs.
The airline has the best record for transporting dogs in terms of reliability, safety, and convenience.  
A 60-pound is undoubtedly too large to travel in the cabin on most airlines, and that's why it will have fly as cargo. Apart from smaller pets, trained, certified service, and support dogs with legit documents are allowed to fly with their owners in the cabin.
Related Article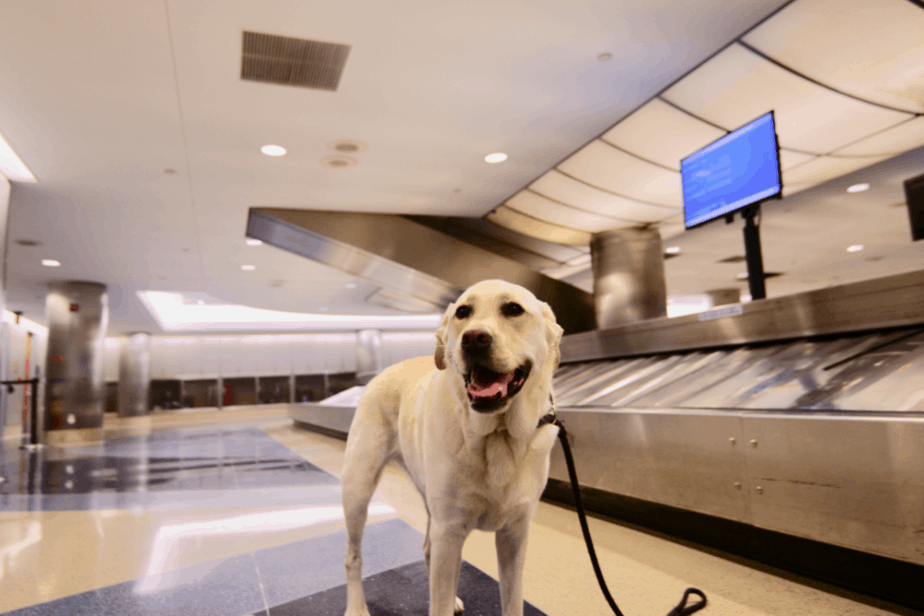 Requirements
According to the Air Travel Association (IATA), crates are important for dogs during the flight to keep them quiet and comfortable when the environment around them becomes overwhelming.
The IATA guidelines in choosing the best crate for your large dog.
Crate Size
For most domestic and international flights, you need a crate that is about the dog's length and half his leg, providing enough room in front and back of your dog.
It is important to have a tall create so that your dog's ear does not touch the kennel's top while he or she is standing. The crate must allow your dog to lie down or turn around comfortably.
Metal Door
Make sure you choose a crate that has a single metal door. It will keep your large dog inside the carrier or crate. If you choose a crate with a plastic or wooden door, your dog may collapse it.
As a result, it becomes difficult for the cargo staff to control the dog during the flight. For safety reasons, it is better to choose a product that has one metal door.
Dog Information With Crate
Flying with a large dog requires the owner to provide complete information to the cargo staff.
Also, you can include the essential information on your dog's crate, which includes name, medications, contact number, home address, destination, etc.
It's recommend you to provide feeding instructions along with the crate.
Carrying Side Rim
Most airlines that allow large dogs to travel via cargo require a spacing rim, which should be ¾ on all sides of the crate with ventilation.
The purpose is to prevent your dog from biting the handlers of the cargo. Thus, the staff will easily carry the crate on each side.
Crate Lining
IATA recommends dog owners to choose dog crates lined with absorbent paper and cushioning so that your dog can fly comfortably. The cushioning also protect your dog for any potential accidents during the flight.
Air Holes
If you are traveling to a foreign country, you need a crate for your dog with air holes on all four sides. On the other hand, if you are traveling within the U.S or want to fly domestically, the crate must have at least two vent sides.
However, IATA recommends crates with air holes on all sides for your dog's safety and optimal airflow.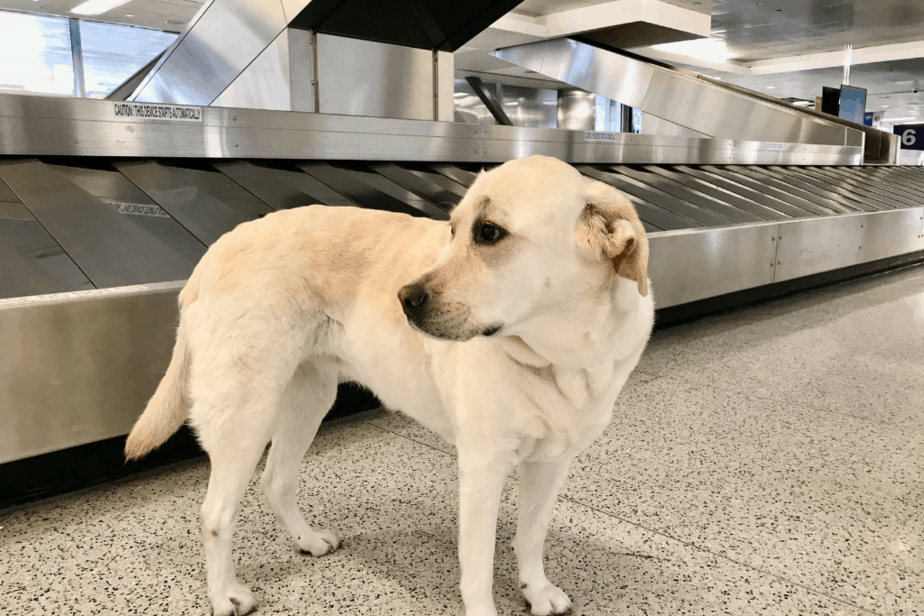 Cost Of Flying With A Large Dog
Flying with a large dog is becoming popular these days, and that's why airlines are making substantial efforts to accommodate pets, including large dogs in the cabin and cargo.
Shipping your dog costs around $70 to $1,000 each way.
A small dog in the cabin can cost you between $70 and $175
However, a large dog can cost between $125 and $1,000.
The cost depends on various factors, such as weight, distance traveled, and airline fees.
Frontier Airlines, for example, will charge you $75 each way for a dog that you can keep under the seat in a suitable carrier that's been approved by the airline. If your flying with a large dog, like the size of a k9 this means the airline won't allow the dog in the cabin.
A large dog can travel in the cargo hold for a fee of $150.
Airline companies require a pet passport or health certificates (CVI)
Airline-approved carriers can cost between $50 and $200.
Having a Pet Passport or health certificate that's been signed by your local veterinarian ensures the airlines that your dog has passed all the health checks and it fit to travel abroad.
You can purchase Dog Carriers that are already approved by the airlines however, the price of the crate depends on the size and features of the product.
No matter if you buy a cheaper one or expensive one, the crate must fulfill the requirements defined by the airline or IATA.
List Of Airlines
There are some airlines that do not allow pets on board. They don't have any policy for shipping the dogs even via cargo facility. For instance, EasyJet is one of the most popular British Carrier that flies over 800 routes in 30 countries.
It is an airline that does not allow dogs in the cabin and the cargo. However, they permit assistance or registered guide dogs on their flight, but occasionally.
American Airlines
It is an airline that allows large dogs on board, but they have strict regulations, such as temperature conditions and the weight of the dog.
For instance, the airline does not permit dogs with weight above 25 pounds, and it also has no travel policy for a bulldog, boxer, and Boston terrier.
Air Canada
Air Canada does not have a strict policy or regulation for large dogs. They allow large dog breeds to travel in the cargo. However, you must call customer support and give them complete information about your dog.
Such as the breed, the weight, medications, vaccinations, etc. to know whether or not you can fly with him in the cabin. The maximum weight allowed by Air Canada is 30 pounds.
Delta Airlines
Delta is another airline company that permits you to bring your dog on board. It's suggested to call the company's customer support service in advance and talk about your dog's weight, size, medications, etc.
This way, you will know whether your dog will travel via cargo or in the cabin. If you are flying from and to Canada and the U.S, the airline will charge you $125. The fee is $200 for European countries.
Other airlines that allow flying with a large dog are Southwest Airlines, JetBlue, and United Airlines.
Related Article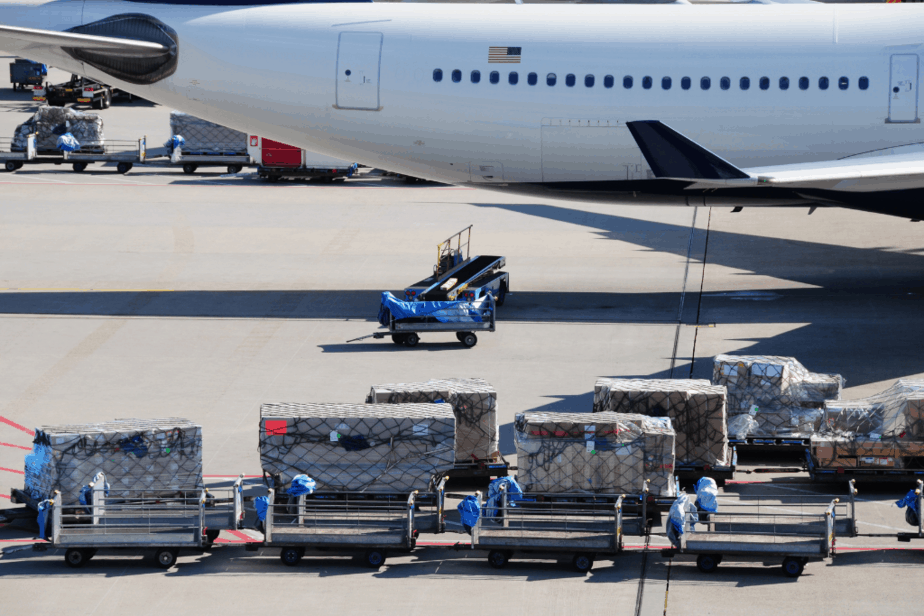 Tips For Flying With A Large Dog
For many dogs, regardless of their size, flying is a traumatic experience due to temperature and humidity fluctuations, strange sounds, and staying in the kennel for a few hours. In general, the tips given below will make your flying with a large dog a lot easier.
Visit The Veterinarian
If you have made a plan to travel with your dog soon, I strongly recommend you make an appointment with the Vet and visit him or her for a checkup. As mentioned earlier, airlines are strict about the pet's health and require different documents/certificates.
Therefore, it is essential to ensure all vaccinations are up to date, and before you book a slot for your dog on a particular airline, obtain a health certificate from the vet within 7-10 days of departure.
Purchase A Kennel
It is one of the most essential steps when it comes to flying with a large dog. There are different types of carriers available on the market, such as soft-sided and hard-sided.
I have already explained the criteria for choosing a kennel or crate that perfectly aligns with IATA guidelines.
Arrive At The Airport Early
Experts recommend arriving at the airport early. Do not forget to bring all the health certificates and other important documents with yourself.
Most airlines suggest arriving at the airport two hours before the flight, especially when traveling with a large dog.
Do Not Sedate Your Dog
Although tranquilizers or sedation drugs can keep your dog calm during the flight, it can affect your dog's cardiovascular system due to frequent fluctuations in the temperature and altitude pressures.
Conclusion
So as you can see traveling with a large dog is not easy. It requires careful planning, document preparation, veterinarian visits, and flight booking at the right time.
Most airlines only allow smaller dogs on board and restrict the entry of large dogs.
However, some airlines permit large dogs in the cargo, such as United Airlines, American Airlines, Delta Airlines, etc., but most of these airlines have strict regulations and policies.
Therefore, if you have a large dog, the best option is to choose the cargo facility.