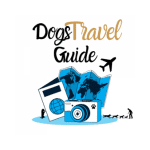 Airlines That Allow Large Dogs In Cabin
The cabin versus cargo has become a dilemma for a lot of dog owners. Many people are unaware of the conditions within the airline cargo and are confused about transporting their furry friends on airlines.
Most dog owners want their dogs to travel with them in the cabin because they want to keep an eye on their pets at all times to ensure their safety. Not only that, but traveling on an airplane is not always a comfortable experience for animals and having their owner close by can definitely help keep them calm.
Now, unfortunately Airlines don't allow large dogs like a adult k9 or any other dog of that size to fly with you in the cabin. However, they do allow large dogs of other breeds for example, if you have a full grown Norwich Terrier or a dog of similar size then they can travel with you in the cabin.
"But" there are restrictions on the size of these dogs and you will have to follow the airline policies, and in some cases pay extra fees.
In this article, you will learn, "Which of these airlines that allow dogs in the cabin." So make sure you read this post thoroughly and that you understand the rules & requirements for flying with your dog on an airline and to get the most out of this information.
Related Article
List Of Airlines That Allow Dogs In The Cabin
1. Air Canada
Air Canada allows pets in the cabin, baggage compartment, and cargo. The Airline only permit dogs and cats in the cabin.
Other pets must travel through cargo. Although this is good news, the question is: "Does Air Canada allows a large dog in the cabin?
Air Canada permits pet owners to travel with dogs of a certain breed. Generally, they allow 2 to 4 dogs in the cabin per flight. However, as before they need to meet the size requirements to be able to travel in the cabin.
It is essential to make your dog's reservation after you confirm travel plans. You can do this by calling the customer support service at 888-247-2262.
Tell them about the dimensions of your dog carrier, as well as the weight and breed of your dog.
If your dog is between 20 to 30 pounds, you can make a reservation for him. It is counted as one of your carry-on items. The Airline will want you to stow the carrier under the seat during the flight.
Air Canada charges $50 to $60 for one-way travel on domestic flights. Dog fees for one-way travel on international flights range between $100 and $118.
For dogs traveling in the cabin on Boeing 777-200LR and 777-300ER aircraft, the dog carrier can't exceed 21cm x 38 cm x 43 cm or 8.25 x 15 x 17 inches.
Remember, Air Canada does not allow dogs in the cabin with lie-flat beds. We recommend you to have soft-sided, well-ventilated, and leak-proof carriers.
Your dog must remain inside the carrier during the flight. Bring a carrier that allows the pet to turn around and lie down comfortably.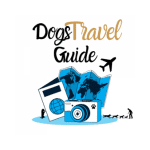 2. American Airlines
American Airlines allows seven dog kennels on flights. It is essential to contact the Customer Service at 433-7300 to confirm a spot.
American Airlines restricts traveling with large dogs if the weather conditions are below 45 degrees and above 85 degrees Fahrenheit.
American Airlines Allows dogs to fly in the cabin. However, the combined weight of the dog and the carrier must not exceed 25 pounds.
Your dog must remain in the carrier with the door closed. It would be best if you also stowed it under your seat for the duration of the flight.
If you are traveling to and from Argentina, Venezuela, Uruguay, Chile, Hawaii, and Bolivia, you can't bring a dog on the flight.
American Airlines charges $125 per carrier for flying to and from the U.S., Canada, Colombia, Mexico, and the Caribbean.
The company does not accept dog breeds such as Boston terrier, American Staffordshire, as well as all kinds of Boxer and Bulldog.
You can also not bring Pit Bull, English toy spaniel, Lhasa Apso, Shih Tzu, Tibetan spaniel, and Japanese Chin.
You must bring a non-collapsible carrier that doesn't exceed 48 cm x 33 cm x 22 cm. It must allow your dog to stand up, lie down, and turn around comfortably.
It is essential to bring a dog carrier that has soft-sided, water-proof, and padded properties. If you don't have a well-ventilated carrier, American Airlines will restrict you from traveling.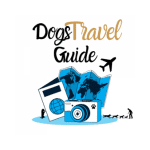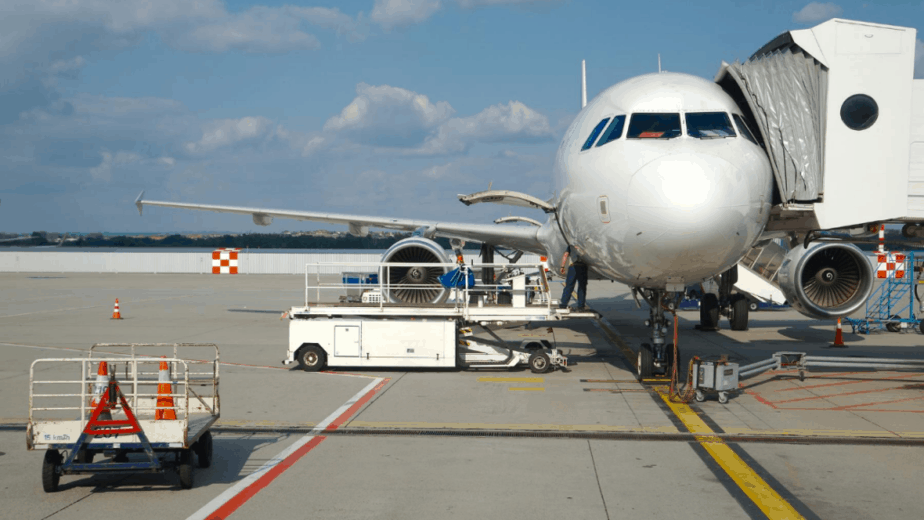 3. Delta Airlines
Delta Airlines accept dogs on a first-come, first-serve basis. The Airline permits the number of total dogs per flight and allows two dogs in the first and business class.
In the main cabin, they only allow four dogs. It is essential to call Delta Airlines at 800-221-1212 to confirm a spot on board.
Delta Airlines is one of the friendliest airlines for pets. Not only can you bring dogs and cats, but they also allow household birds in the cabin in most flights within North America.
The Airline does not permit large dogs on flights to Hawaii. Although it is best to bring a small pup that fits comfortably in the carrier under the passenger seat, you can bring a large dog 25-40 weeks old if traveling to and from the USA.
You can bring one dog in the carrier. However, you can bring a female dog with one pup if he is ten weeks to six months old.
Delta Airlines offer different fee packages that primarily depend on your travel plans. For instance, they charge a pet fee of $125 for flights to and from the U.S and Canada.
Similarly, the dog fee is $200 for flights to and from Europe. Pet fees for South America are the most affordable, which is between $75 and $100.
It is vital to contact the Customer Support Service to determine the size of the carrier. Again, we recommend a water-proof, escape-proof, and soft-sided carrier your large dog.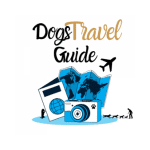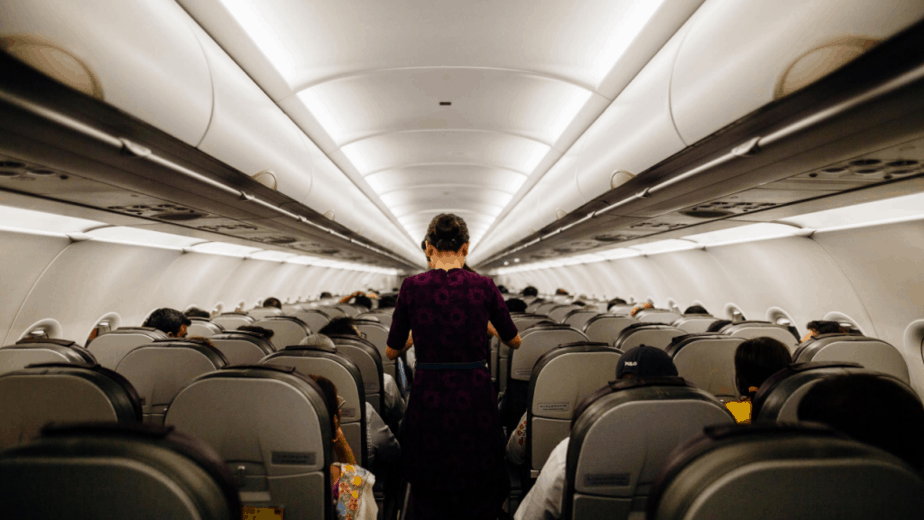 4. JetBlue
JetBlue Airlines allow four pets on each flight. So, if you are planning on traveling soon, don't forget to book a ticket for your dog.
To get the most legit and authentic information, we recommend you to call the Customer Support Service at 1-800-JETBLUE and let the service team know about traveling with a large dog.
The service team will verify and confirm dog availability on the flights. JetBlue only allows one dog per passenger. However, there are exceptions, such as a female dog that feeds her pup.
In that case, you can travel with two dogs – i.e., a female dog and her puppy. JetBlue accepts medium to large dogs in the cabin.
Like other airlines, this company permits traveling with a large dog in the cabin on both domestic and international flights.
Before traveling with a large dog of a certain breed, you must follow the rules and regulations as well as read the company's policy.
The Airline does not allow a large dog that weighs above 30-40 pounds. JetBlue does not accept dogs on flights to and from St. Lucia, Tobago, Trinidad, Cayman Islands, Jamaica, and Barbados.
So, if you are planning on traveling to the Caribbean and enjoy your holidays, unfortunately, you can't bring your dog.
The Airline requires you to bring a carrier, and the dog must stay inside it. During the entire flight, it will remain under the seat. You can't open the door of the carrier.
The Airline costs $125 on a one-way flight to and from the U.S and Canada. We think this is a bit expensive. However, considering the service of these airlines, it is worth paying them.
The carrier of your dog must not exceed 43 cm x 31 cm x 21 cm. Bring a well-ventilated, soft-sided, and water-proof dog.
The carrier must also allow the dog to stand up, lie down, sit down, and turn around comfortably.
In case your carrier is not according to the guidelines of the Airline, you can buy one from JetBlue at the airport for $50.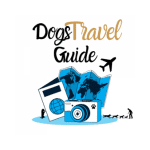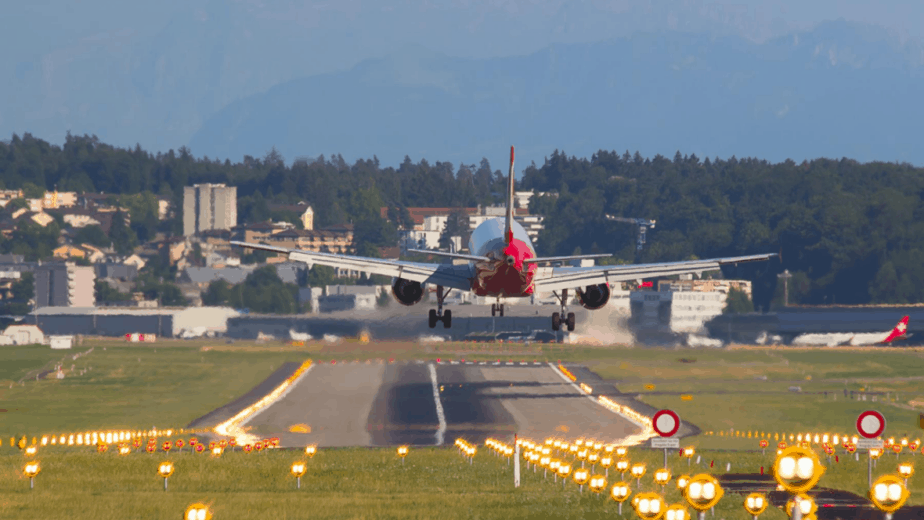 5. Southwest Airlines
Southwest Airlines allows only six dogs on each flight. Therefore, you should get your dog reservation as soon as you confirm the travel plans.
To reserve a spot for your furry friend, you can call the Customer Support Service at 1-800-435-9792.
The Airline does not allow dogs to travel without an owner. Also, they don't accept permit dogs to go with kids.
You can bring a dog in the cabin on domestic flights. They don't allow dogs to travel on international flights.
You can only carry one dog carrier on board. However, you can bring two medium size dogs in the same carrier. It will be counted as your carry-on bag.
The size of the carrier should not be large enough so that it can fit accurately under the seat in front of you during the flight.
The Airline does not have strict rules on requiring a health certificate or any other documents from dog owners or veterinarians for dogs to travel.
It allows you to avoid the hustle and bustle of organizing documents. The Airline charges a dog fee of $95 per carrier each way.
According to the official website of Southwest Airlines, the maximum dimensions of a dog carrier are 47 cm x 22 cm x 34 cm.
The carrier should have both soft-sided and hard-sided as well as water-proof and well-ventilated features.
Likewise, it should allow your dog to stand up, lie down, and move around with ease. If your next destination is Hawaii, unfortunately, it is terrible news for you. You can't bring your dog on a flight to and from Hawaii.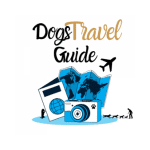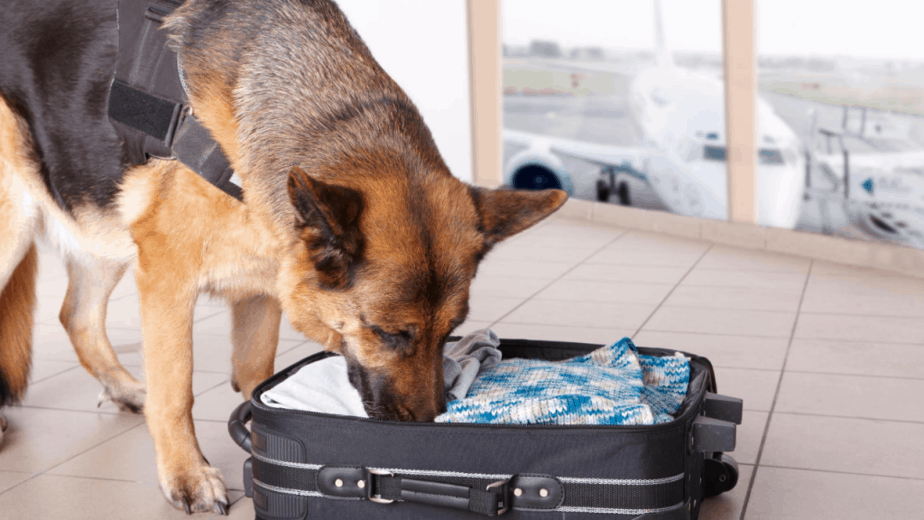 6. United Airlines
One of the largest airlines in the world, United Airlines, is pet-friendly and allows medium size dogs on their flights. If you can meet all the requirements, then you can bring your large dog on the plane.
The Airline accepts 2-4 dogs in the cabin. Due to the limited number of spots, we recommend you contact the customer support team at 1-800-864-8331 as soon as possible.
The good news is that the Airline accepts reservations between 5 days minimum and 30 days maximum in advance.
The Airline allows only one dog in each carrier, and the fee for dogs in the cabin is $125 one-way on the flight.
As per the official policy, you can't travel with American Bully, Terrier, Pit Bull, Boston terrier, Boxer, Bulldog, Japanese Chin, Mastiff, and Tibetan spaniel.
Like other airlines that allow a large dog in the cabin, United Airlines allow carriers that are soft-sides with maximum dimensions of 44 cm x 30 cm x 19 cm.
The carrier should provide comfort to your dog and allow him to stand up, sit down, lie down, and turn around comfortably.
A carrier should also be made of either metal, wood, or rigid plastic material. Make sure it is well-ventilated, water-proof, and secured by metal bolts.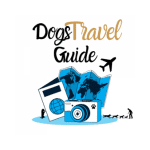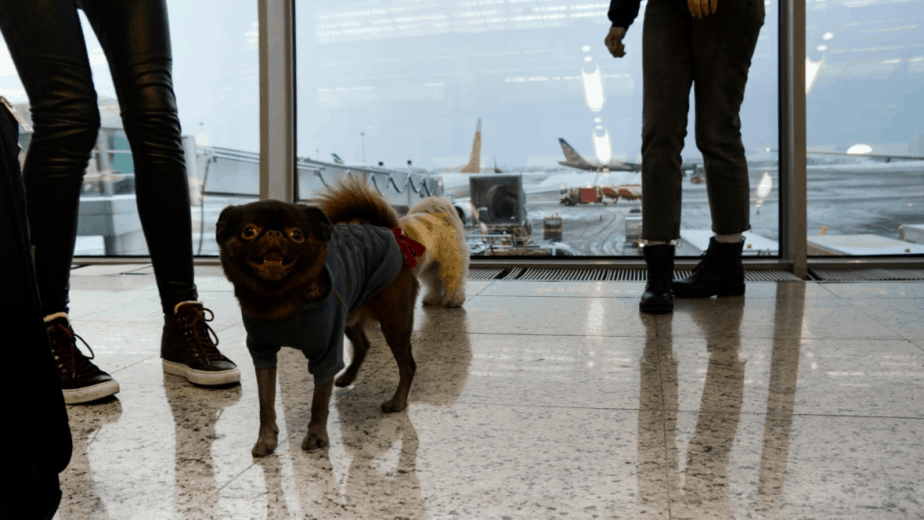 Dog Travel Requirements and Restrictions
Sometimes, you want to travel with your dog as you think you won't enjoy your vacation without your furry friend.
Yes, we all love our dogs and want them to accompany us everywhere we go. Dozens of airlines strictly do not allow pets to travel on flights.
Luckily, there are a few airlines that do allow large dogs on the flight, whether it's in the cabin or cargo which have already been listed above and explained their policies.
Related Article
Airline Requirements
All airlines have their own respective sets of regulations for large dogs. Most of them only permit shipping the dog if it is more than 50 pounds in the cargo or baggage.
Some airlines also require a health certificate from a licensed veterinarian issued with ten days of the flights.
Transportation Security Administration (TSA)
TSA does not have any restrictions incorporated for large dogs as long as you follow the policy of the Airline for dogs.
According to the TSA's Guidelines, a dog owner must take a dog out of its carrier and walk through the metal detector.
Anyone not going through the security checkpoints at the airport can't bring his dog on the flight.
TSA does not let the dog ride through the X-ray machines as they can be harmful to the general wellbeing of your furry friend.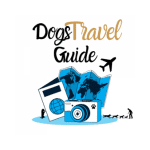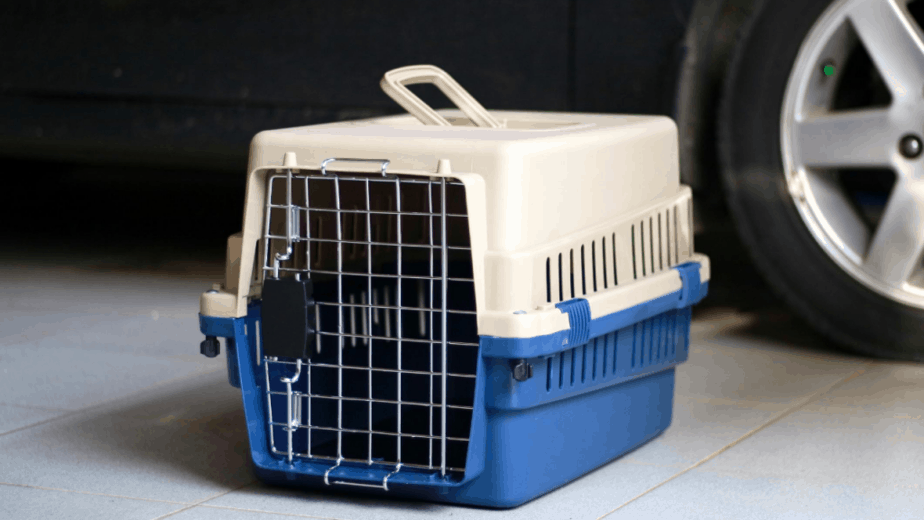 Destination Restrictions
You need to understand the destination restriction on both domestic and international airlines.
As mentioned above, some airlines do not allow pet owners to bring their large dogs in the cabin, for instance, to Hawaii and some parts of the Caribbean.
Hawaii has an extensive checklist, which shows you all the conditions you need to fulfill before you can fly with your large dog into the state.
The Caribbean, for example, takes at least 2-4 months to complete the checklist. Otherwise, they will impound your dog for up to 90 days at your expense.
So, before you fly with your dog on the flight, especially in the cabin, you need to know and understand the rules.
Seasonal Requirements
Even if you made a booking in advance and reserve a spot for your dog, some airlines wouldn't allow you to bring your furry friend.
If you are wondering about the seasonal requirements, let us tell you that if the temperature is above 85 degrees Fahrenheit, Airlines like Delta Air will prevent you from traveling with our dog.
Flights to and from Alaska don't allow large dogs in the cabin on busy holidays such as Christmas and Thanksgiving.
Breed Requirements
The airlines mentioned above restricts certain breeds such as boxer, terriers, bulldogs, etc. So, we suggest calling the support service and give them the details of your dog breed to verify whether or not you can travel with it.
So much so, flat-faced breeds suffer from anxiety, stress, and breathing problems. It is not easy for dogs to adjust to changes in the oxygen levels, pressure, and temperature in the cabin.
Related Article
Traveling With Dogs In Cabin – General Tips
Experts recommend researching the airlines that allow large dogs of a certain breed in the cabin. Make sure you talk to the airline staff before traveling with your dog. Here are a few tips for dog owners who wish to fly with large dogs in the cabin.
Consult With Your Veterinarian
Talking to your veterinarian is the first important step that you need to take before traveling with your dog in the cabin.
Schedule an appointment with your vet and ask him to check the health of your dog. Is your dog in the right shape to fly? Will there be any problems if the dog stays in the carrier?
Such questions are necessary to ask from your vet as it allows you to avoid risking the health and life of your dog.
Also, check with the state and airline veterinarian at your destination to find about the necessary documents or paperwork.
Most airlines require a health certificate, and your vet must issue it within ten days of your flight.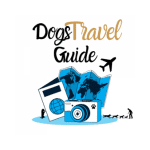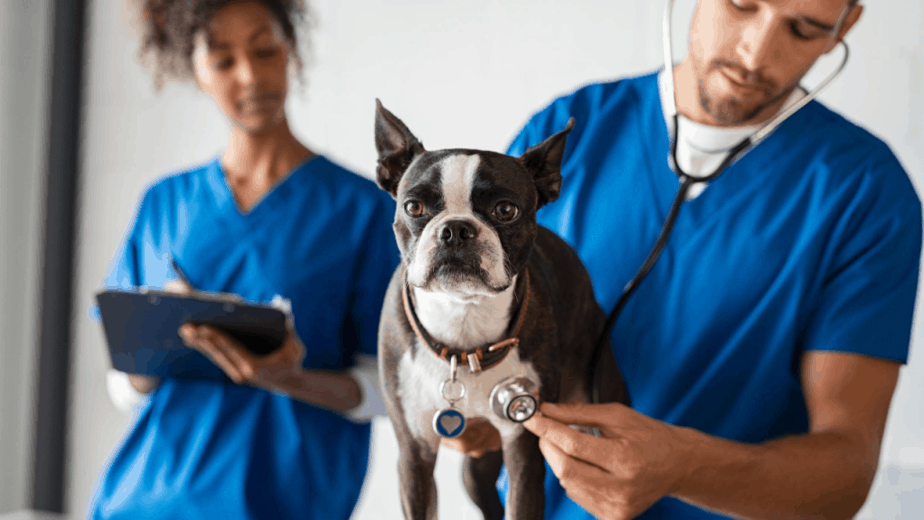 Book in Advance
Since airlines only allow a few dogs on the flight, the dog owner must check with the Airline about the number of spots.
Can you make a reservation for your large dog in the cabin? The support service of the Airline will answer each of your queries.
So, we suggest you book tickets or make a reservation in advance to avoid the hassle. Emergency traveling is an exception, though.
Avoid Pet Sedatives
Some dogs get anxious and feel anxiety on flights. You must calm them down naturally and avoid using sedatives or drugs or tranquilizers.
Otherwise, your dog's body fails to adjust to the in-cabin temperature on the flight. It means you are risking the life of your furry friend.
If you can't calm down your dog, there is no need to bring him on the flight. Anyway, you must also avoid using CBD oil, calming drops, and vests.
We don't recommend giving sedatives to your dog before the flight. Again, refer back to the Airline's policies to understand the rules and regulations thoroughly.
Conclusion
A dog is the loveliest and friendliest companion of all the pets. When you want to travel to another city or country to spend your holidays, don't leave your dog behind.
Most airlines allow small dogs in the cabin, and some permit medium size dogs with strict regulations.
So, it often becomes a daunting task for dog owners to find an airline that allows large dogs in the cabin. We hope the article will help you choose the Airline that best fits your needs.
Like What You See? Follow Us On Pinterest!