We're an affiliate! We may earn a small commission when you make a purchase from product links at no additional cost to you!
There's nothing better than bringing your dog with you on holiday, and if your planning to take a trip abroad in your motorhome (RV), why leave your four-legged family member behind?
Taking a dog abroad in a motorhome can be a bit tricky but not impossible, and in this article, your learn everything you need to know to make this a reality.
Taking the family on holiday in a motorhome can be one of the best experiences and when the children get older, they will look back at these times and cherish the memory.
The best thing about traveling in a motorhome is you and your family will have the freedom to visit different places throughout your journey. You're not restricted by the time schedules like with planes and buses.
However, before you start planning on the trip abroad you need to know what the rules and regulations are for taking a dog abroad in a motorhome for it to be a success.
The last thing you want is to be spending time in quarantine because your dog doesn't meet the recommended requirements for that country.
Checking on your dogs health
Taking a dog abroad in a motorhome might not be a harmful thing for the family but it can have big consequences for your dog. The whole process can be a stressful event for the dog.
One very important factor to take into account is the climate. The climate of another country can have a massive impact on the health of your dog.
For example, if your dog was raised in a country where it's cool and then is taken to a country where it's hot, then your dog can be very vulnerable to the heat.
A sudden spike in climate change can be hard on your dog so it's always best to be properly equipped with the right dog accessories, water, dog bowl, cool packs, etc…
This will make the journey more comfortable for you both. Keeping these things in mind before taking the dog abroad in a motorhome would be the wisest solution.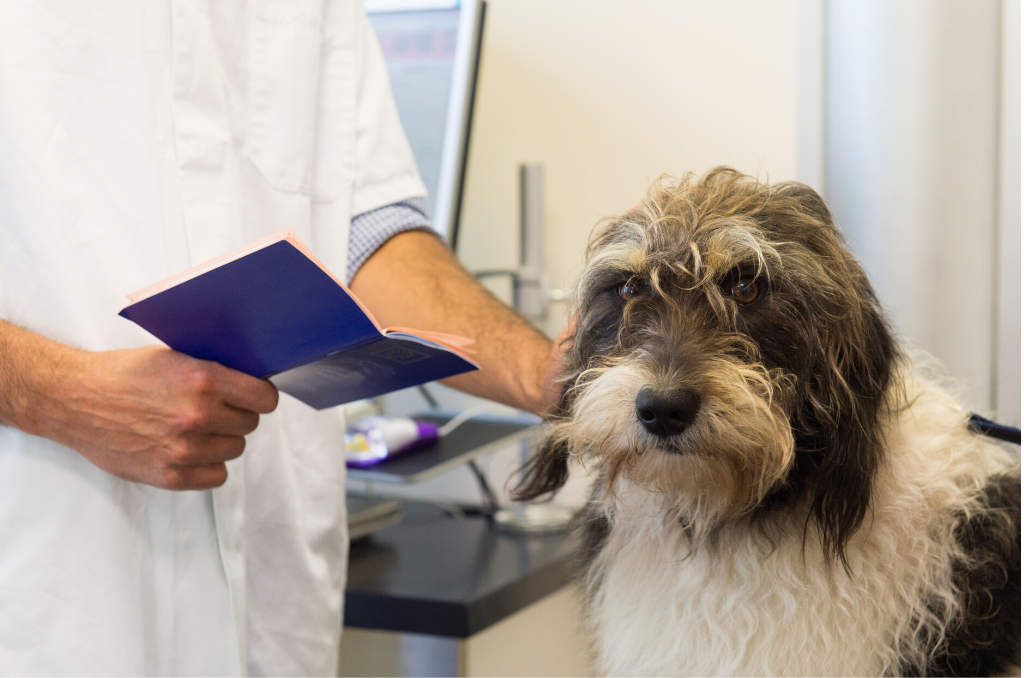 Consider getting a passport
So the first thing you should start with is to consider getting a passport for your dog. This passport works as a valid identity for your dog and basically proves that the dog is healthy enough for travel.
The pet passport will have a record of the vaccinations and tests your dog has received and having a dog's passport is the best way to get through the checking system without causing any interference.
It will show all the necessary information regarding the physical record and the health record by an Official Veterinarian.
If you already own a pet passport for your dog. Then you must run the passport through the vet again for a confirmation stamp and making sure everything about the dog is healthy.
Related Article
Certificate of Veterinary Inspection (CVI)
Now, this option is only if you don't have a passport for your dog. If you need to travel quickly then you would apply for a (CVI) certificate of veterinary inspection although having a dog's passport is your best option.
The certificate of veterinary inspection is just like a passport and will have all the information, including treatment and vaccinations that's been recorded dated and signed by an Official Veterinarian.
Your dog will still need to take all the same tests as if you were applying for a dog's passport before a (CVI) is issued.
Check the dog for Tapeworm
Before you travel your must-have had treatment for tapeworm. If you are planning to travel abroad with the dog then this must be performed 5 days before you travel.
If these rules are not followed then the dog can be put into quarantine on arrival.
The same rules also apply after you are done visiting the country, returning to your native place. The dog has to be checked again for all sorts of diseases while being in other countries, dogs will get interact with different forms of climate.
Getting your dog vaccinated
You will need to get your dog vaccinated against rabies 21 days before you can leave the country. The vaccine names the manufacturer, date, and expiry will need to be recorded in your dog's passport or health certificate.
Now there are minor things that can have a major impact. Whatever may seem common to you or in your country can have significant ramifications in other countries.
For example, a tattoo! sounds strange right? "but" if your dog has a tattoo, then it must be registered on the pet passport.
Some people actually have tattoos on their dogs for identification and if your dog received the tattoo after getting the pet passport, then the tattoo wouldn't have registered as a permanent identifying mark.
In these cases, the registry would assign the owner code, that can be tattooed on the dog.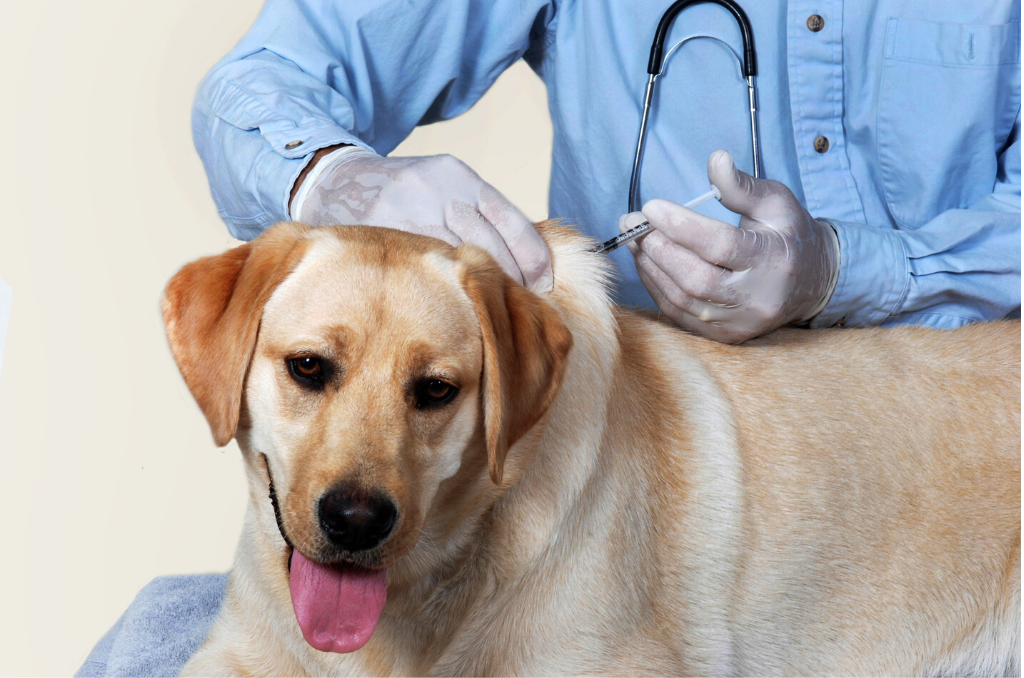 Getting Your dog Micro-Chipped
Getting your dog Micro-Chipped is very important and is a requirement to get your dog's passport. Not only that but in some counties like the United Kingdom, it's now law.
But the worst-case scenario is if your dog is lost abroad at least then all your information is stored on the micro-chip this way if the dog is found you the owner can be located without any problems.
If your dog already has a micro-chip then just remember to updated your details in case you have changed phone numbers or address.
Do your research
Researching before taking a dog abroad in a motorhome can make the whole vacation safe without creating any issues. Rules and regulations change all the time from one country to another so it's always wise to keep updated with the current laws.
Normally, countries with tighter regulations on animals will have plenty of rules for the traveler to follow. These rules are important and it must be abided for a safe trip of the dog.
Some countries will provide tighter regulations towards specific breeds of dog, in some cases outright banning that kind of dog.
These countries have tighter regulation not because they hate dogs, but bringing in a dog from another country have the potential to harm the environment of their native climate.
If you live in the UK for example, and you want to be kept updated with the current laws for taking pets abroad to and from the UK you can visit www.gov.uk for more information.
Breeds Of Dog
Now there are some countries that don't allow certain types of breeds of dog to enter the country and to give you an idea here are 4 countries below and the list of breeds that are banned.
France – France has a certain breed of dogs that are not allowed to enter the country dogs like…
American Staffordshire Terrier (Pitbull)
Dogs such as Staffordshire Terrier, tosa, rottweiler must be wearing muzzled on their face at all times, especially out in public.
Ireland
American Pit Bull Terrier
Staffordshire Bull Terrier
German Shepherd (Alsatian)
Don't worry if you found your dog on the list above. You are allowed to bring these dogs over to Ireland but they must be kept on a leash and wearing a muzzle when they are out on the public.
One additional thing, the dog should have a collar around the neck with the name and address of the owner.
Spain
American Staffordshire Terrier
Staffordshire Bull Terrier
All of these dogs are not banned from entering the country but all of these dogs must be registered before taking the trip abroad.
Denmark
American Staffordshire Terrier
The same rule applies to these dogs too. They are not restricted from entering the country but the rules must be followed by the owners to keep their dogs in safety by making the dog wear muzzles and having a leash around their necks.
Blindspot
Although some countries might ban certain kinds of dogs if they see the dog unfit for their country's environment but there are exceptions. These exceptions would put no wall between you and your dog's holiday abroad in a motorhome.
Assistance dogs are allowed to travel in areas where they are banned from entering. They are not prohibited from any sort of rules that would affect a normal dog.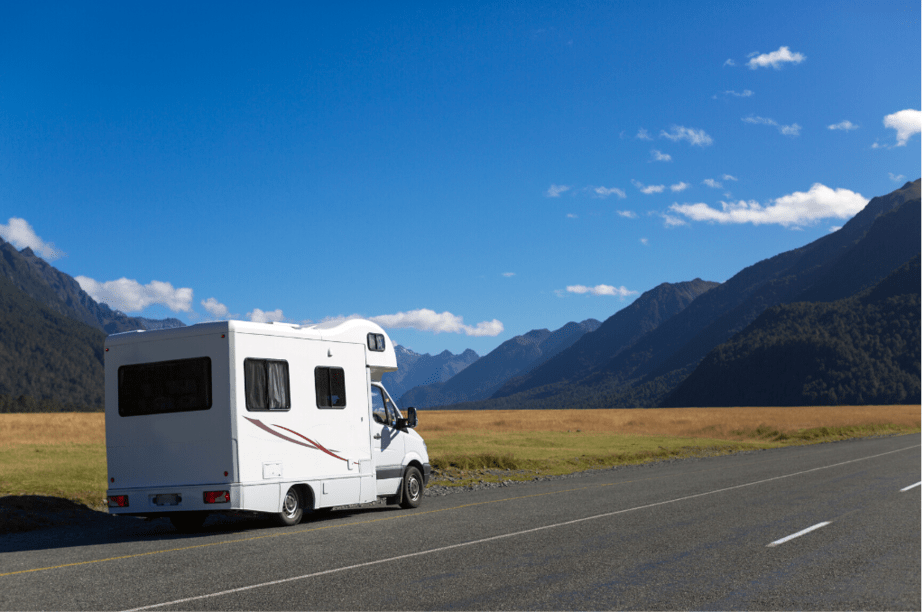 Expenses
Taking a dog abroad might not seem an expensive trip but the hidden charges can mount up. In some cases, the owner may have to visit the vet in the local area for treatment if your dog gets injured.
If your dog catches some sort of disease or does get injured or hurt while they are abroad then the pet insurance might not cover all of these expenses.
So it's also better to check with the insurance policy just to make sure they cover the overseas vet cover and how much of the expenses they will cover for your dog.
However, most insurance companies will cover the full expenses of the dog when abroad.
Choosing the right Motorhome
The most important part of taking the dog abroad in a motorhome is the motorhome itself. What kind of motorhome should one get for a perfect ride with the family and the dog?
Many different factors come into play when you start looking for a perfect motorhome to bring your dog over for a journey. One of the most important factors is the height of the dog.
The height of the dog has to be at the right size to fit comfortably around the motorhome. A bigger dog will require much more space and floor area to move around than the dog with a smaller body.
That doesn't mean you should get the one with the bigger space and larger in size. You can do some research to find one that balances the comfort area for the dog with the size of the motorhome perfectly.
Doing quick research will save you plenty of money.
Making the motorhome a home
Now that you have a perfect motorhome to start your trip abroad, it is time to make the motorhome a closer to home. Animals are no different than humans, they too have a sense of connection to a place.
So before you start planning to hit the road, make sure the motorhome or camper van a perfect replicate from your house, making it more comfortable for your dog.
Making sure the dog is feeling comfortable is very important especially if they are spending long periods of time in the motorhome.
The motorhome is not going to offer you as much space as a house does. It is recommended to remove some stuff out of the motorhome just to create some new spaces or free up additional spaces from the room.
This would create a lot of legroom for the family members and for the dog to roam around.
If you are planning to buy some new stuff from your vacation as a souvenir, now you can buy new things without any hesitation because you have space in your motorhome.
Other things such as food would be the highest priority for the family members and the dog. As they will be used to a certain standard of food for their daily consumption, anything else might mess up their inner system.
So take enough food before kicking the traveling gear to high. Check enough boxes before taking the dog in a camper while driving to a fancy location.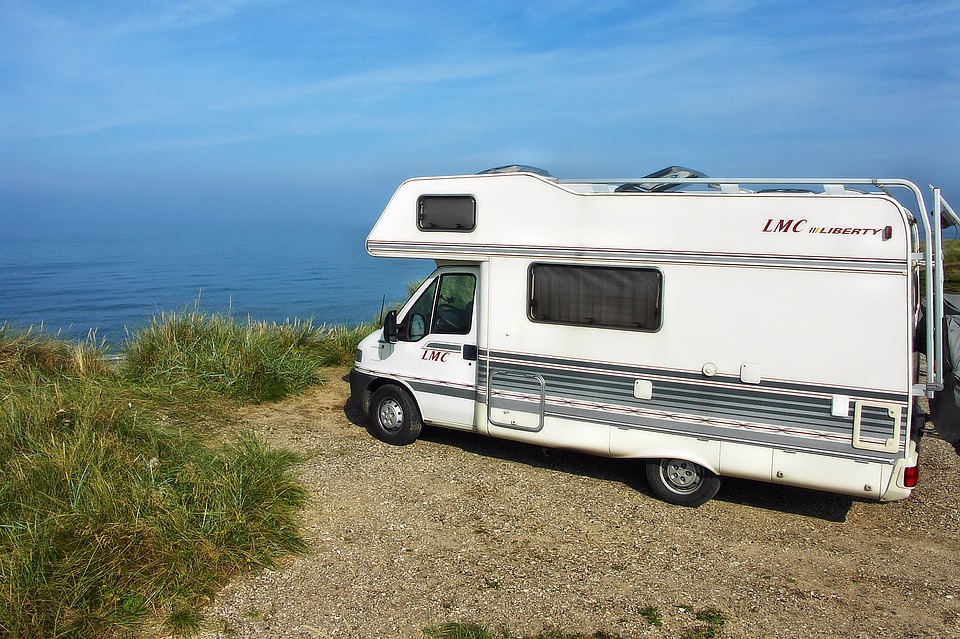 Finding the perfect Destination
None of this would see the clear sky if the destination is not suitable to bring the dog over. Some countries have gone to great lengths to prohibit dogs from ever entering the country.
If the owner of the dog successfully brings the dog over, then it has to be on a tight lead or wearing a muzzle in certain areas. Every part of your vacation will be spent under strict regulations so it's also best to know places that are dog-friendly.
Related Article
Safety concerns
One of the most important things to have in your mind while taking the family down the road is the safety of the members. Everything has to be properly maintained, the same rules apply to the dog too. The dog should have a new tag for the collar and with up to date information about the location, phone number, owner name.
In case if the dog goes missing, they can be returned to the right address faster. If the dog gets injured while outside, and you are in the place where there is no sight of civilization miles away or language barrier prohibiting to specify the problem to the vet.
Then packing in a first aid kit for the dog is the right choice for these situations. If you don't have it ready, then you also buy an already pre-made kit from your local drug store for a lesser price. The foreign countries might charge a lot for the kits, so it is better to bring one with you.
Make sure the first kid has all the things you will need for travel. Such things as bandages, antiseptics, tick removal device, and flea treatment for the dogs. Sometimes alternative solution has their uses, if a dog gets a cut outside from playing and you are far away from the motorhome, then it is a better solution to let the dog lick its wounds.
The important thing
The most important thing about going abroad is having fun. This is the reason why you took some time off from work to spend time with the things that you love the most. And that's all that matters on a vacation. Having fun with your loved ones.
Bringing your dog along with you on holiday would amp things up to another level. Because dogs love nothing more than playing with their owner as it strengthens the relationship between the dog and their owner.
Doing playful activities every single day would increase the trust value of the dog with the owner.
Remember to take videos and photos from your trip down the lane. As it would be a wonderful conversation starter and the photos would be a good reminder for the fun you had on your desk at the office.
At the end of the day, it is the family that matters.