So, you are thinking about hitting the road with your dog, but you are unsure what is the safest way for dog to ride in car? Many of us have seen or even been a part of something devastating when driving on the road and that is why we are so protective against taking our dogs in a car.
The safest way to have your dog ride in the car is to have them fully secure so they cannot move around while the car is moving nor distract the driver.
There are a number of ways to secure your dog in a car which as a result will be much safer and is in this article, you will find some essential tips to keep in mind when going on a road trip with your dog.
Some of these tips listed below are necessary to keep your dog safe and secure on your road trip!
Safest Ways For A Dog To Ride In Car
If you have not been a part of anything terrible or you haven't yet seen anything of the sort, it's still better to be careful than being sorry.
Still, if you want your dog to accompany you in the car, whether that's just to your relatives' house or to a grocery store you still need to be careful and make sure your pooch is fully secure.
So to help you with this below are some steps you can take to make your journey on the road as safe as possible.
1. Car Boot (Recommended)
If you have a large dog the safest and most common way for them to ride in the car is in the boot, not only is it the safest way but having your dog confined to the boot will stop them from distracting to the driver.
If you're from or are traveling to the UK by car then you should know that there are laws when traveling with your dog in a car.
The highway code rule 57 states that the dog cannot be a distraction to the driver while the car is in motion. If the driver is involved in a collision as a result of being distracted the driver could lose their driving license and revise a hefty fine.
If your dog can't keep still when in the car then you should consider getting a cage for the car boot. One that has enough space so your dog can stand up and turn around, this will also add extra security for your dog.
2. Rear Seats
Using the rear seats is another option, however, this is best suited for medium or small dogs. Again you need to make sure your dog is fully secure especially if you have an over-excited dog.
You can secure your dog in the rear in a number of ways typically using the car seatbelts. If your dog harness then all you need to do is simply thread the seatbelt through the loophole on the back of the dog's harness and your dog will be secure.
Read section 4 harness & leash for more tips!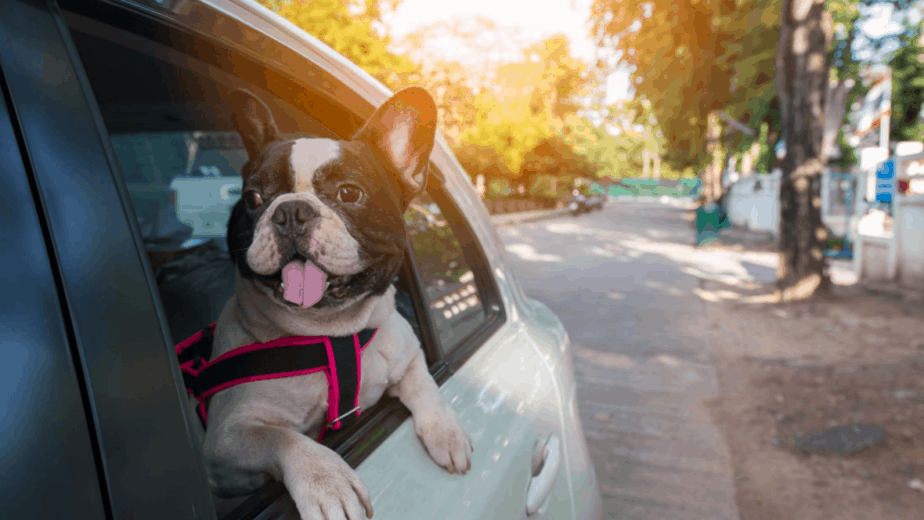 3. Use A Car Hammock
Car hammocks work best in the winter, not only will this protect your dog but your car seats as well. Some dogs like to shake them selfs dry when wet and if they do this while your driving again this could distraction forcing you to take your eyes off the road.
With the design of the hammock, this should shield you from any unwanted pet hair or mud. These hammocks are very easy to clean with some that just need wiping down and there ready for the next road trip.
4. Use Harness Or Leash
No matter what type of car you have, a harness or a leash is perfect for you to use to secure your dog. We all know that dogs like to roam around in the car while in transit, however as mentioned above your dog cannot distract the driver.
There are multiple ways to set up the leash in a manner that will make your dog comfortable while making him refrain from distracting the driver.
Related Articles
5. Dog Crate
Using a dog crate is one of the safest ways to secure your dog especially when you're going on a long journey. Dogs tend to get discomforted and uneasy when they are away from home for too long.
"Not only will a dog crate keep them safe but will keep them confined"
While the dogs love to travel, they also get nauseous away from home, and a dog crate is perfect for mimicking the environment of the house and making our little friend feel at ease.
If you are still afraid of getting in a situation where your dog's safety will be compromised, you can go for a dog crate that has been crash-tested to be extra sure.
However, there is also a matter of the weather inside the crate, and so you need to check for a crate that has good insulation and will be able to hold up in cold or hot weather.
6. Dog Booster Seat
using a dog booster seat is an excellent way to keep your dog safe. Now, this option is more for a small dog, however, they will be fully secure in this seat.
These seats are very comfortable making them perfect for long road trips. There's also a secure tether in dog booster seats so you can safely attach to your dog lead or harness this will keep them in the seat.
It's also very important if you do use one of these seats to never place it in the passenger seat. The reason being, if the airbags are ever deployed your dog can be seriously hurt.
7. Setting Limits In The Car
It is very important to set up limits between you and your dog. There is not much room in a car for a dog to move around, and if he feels agitated and jumps on the driver or decides to get in the lap of the driver, it can be a fatal mistake.
Setting up limits is one of the most crucial things to do when you are thinking of the safest way for dog to ride in car. Even if the dog is not in the driver seat and is in the passenger seat but not restrained.
Allowing this can also be fatal because your pooch can jump in the driver's seat or make a move that may cause the driver to take his eyes off the road.

In these situations, you need to set up limits for your little troublemaker to always focus on the road and refrain from getting in any lurking danger.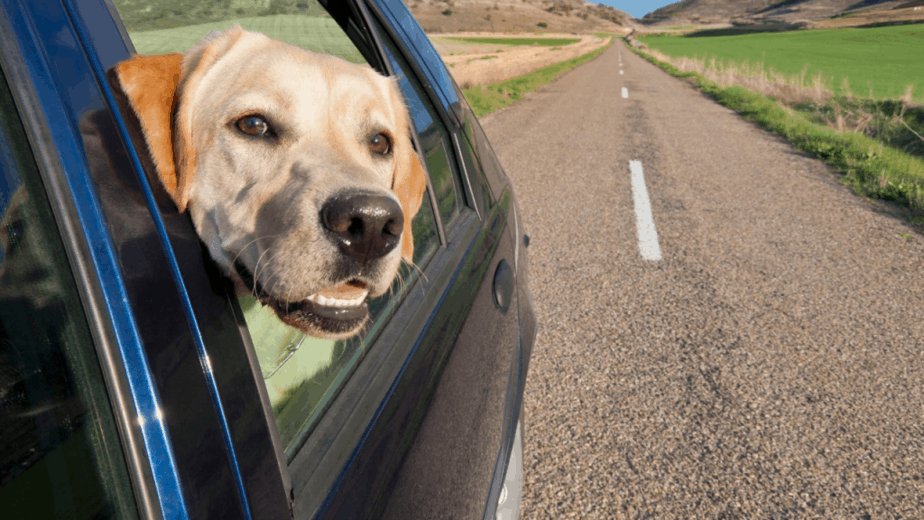 8. Turning Off Power Windows
Another crucial tip for the safest way for your dog to ride in car is to turn off the power windows. No matter if you are taking a short trip to the grocery store or on a long road trip.
A dog sticking his face out of the window can be a fatal mistake on behalf of the owner. No matter how happy your dog looks, never allow that.
If your dog wants to enjoy the scenery, you can always open the window just enough for your friend to see outside but not stick his face outside and turn off the power windows.
You might be wondering, why is turning off the power window necessary?
The answer to the question is that dogs are intelligent creatures, and they are continually learning and evolving, seeing our actions, and if by mistake, your dog rolls down the window, or simply steps on the button while hanging out the window then this can be fatal.
The flying debris and stones outside can injure your pooch, or the danger of car or truck passing by can also be a fatal blow for your dog.
9. Checking The Temperature Of Your Dog 
When you travel with your dog, the weather can sometimes be inadequate and harsh, which may cause the temperature of your dog to spike.
And so one of the safest ways for a dog to ride in a car is to take care of there well-being and continuously keeping the temperature of your dog in mind.
Keeping the car's temperature in check is also essential when you plan to leave your dog in the car while you go nip in the shop for supplies.
You should never leave your dog alone in the car for long periods of time especially in the summer or on a day as this can be fatal.
Even with the windows open, the car's heat has a severe effect on the health of the dog. Some dogs have even died in a car. Leaving a dog in a car is now seen as illegal in many parts of the world.
Related Article
10. Give Your Dog Plenty Of Rest Stops
No one can travel for 12 hours a day, and even if you can, you should take breaks in between. The dogs are easy to get uneasy and agitated, it is vital to take breaks now and then between the journey.
"You need to stop and take breaks after every 2 hours so your dog can stretch there legs"
Taking breaks will help in a happy journey and allow your dog to do his business every now and then, making it easy and comfortable throughout the journey.
Another benefit of taking a break is that the dog will get used to the changing scenery and enjoy the journey even more. It's also a good idea to throw the ball to your dog for 5 mins to tire him out.
Dog Car Travel Accessories
The safest journey is the one that is not only good for your dog but also you, and if there is a constant argument or hindrance in the journey, it can be troublesome for you.
So much that you may never consider taking your furry friend along you next time you make a plan. And so there are certain things that you can pack with you to make the journey more comfortable for your dog.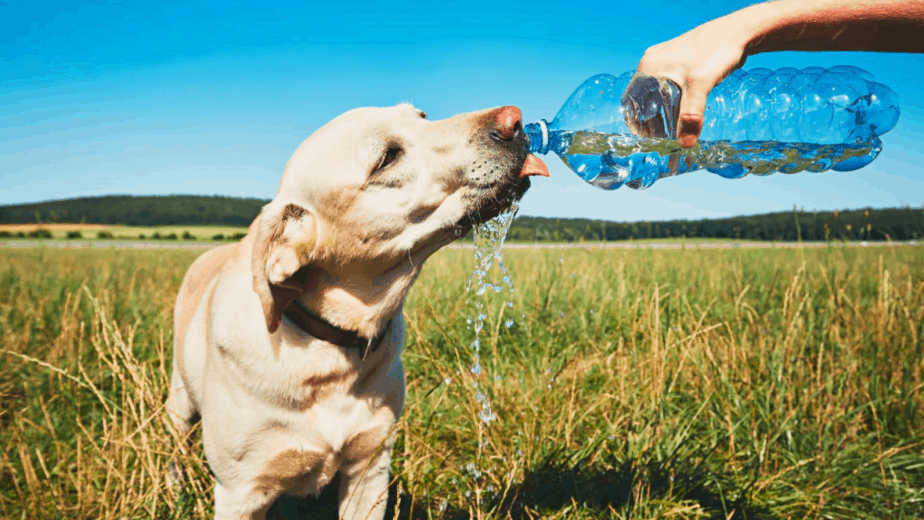 Bringing Water And Bowl
Bringing a dog bowl and drinking water is very important when you are going on a long road trip as dogs need regular access to water. It can also be essential to take the water supply with you on short trips if your dog needs it.
One thing you can do is keep the water in your car so that you may have the water at your disposal even if you forget to pack water with you
Bowl is not an essential part of the short trips, but on long journeys, you need to be sure to pack a bowl. There are also a variety of bowls that are available at places like Amazon.
Most of the preferred bowls that owners use are the spill-free bowl so that the thrills of going on an adventure or taking a bumpy road will not be a hindrance.
Chew Toys
The dog may get agitated and irritated when they are on a journey and rather than offering up your seat something, or cushion. It is crucial the dog takes out his irritation on the chew toy and alleviate his mood.
Cooling mat
There are some Dog Cooling Mats that are designed with self-cooling gel inside to keep your dog cool. These mats are an excellent way to keep your dog cool in the car.
All you need to do is simply lay the cooling mat down in the boot or in the rear seats and this will keep your dog temperature at bay.
Packing A First Aid Kit
Dangers are lurking everywhere, and if you are not careful, you could be putting yourself or your little companion in danger, and so one of the things that should take priority is packing up a first aid kit.
It might seem like your being too careful, but what if you or your precious pooch get hurt?
"It is always better to have a first aid kit with you just in case anyone gets hurt including your dog this way you can take care of wounds"
You can also keep the first aid kit in your car so that no matter what happens, you will always be safe, be it a short trip to the grocery store or an adventure to unknown lands.
Packing Medicines
One of the first and foremost things to do is contact a vet and tell him what you are planning. The vets are experts and may be able to give you some useful advice on your journey.
Also, by contacting the vet it may be that there are some medicines that your dog may need on the journey when feeling under the weather.
"Packing the recommended medicines will ensure that the dog's health will be in check at all times"
There are times when you are camping on the way to your destination, and it may worry you about insects and ticks that may harm your dog, and you can always have medicines that will keep the insects and ticks away from your dog.
It must also be kept in mind that sometimes the camping area has a high density of snakes and some of them being potentially poisonous.
The vet can also help you in this quest and suggest some functional medicine or anti-body help your dog fight poison from the snakes.
Poop Bag
When you have traveled with your dog numerous times, you know how much of a pain it can be to deal with the poop of the dog.
Even if you deal with the smell, the stain is forever there to remind you of your dog's bad memory.
A disposable, biodegradable bag is all you need when you are on a journey.
Just give your dog training to poop inside the bag.
All that is left is to pack it and throw it getting rid of the smell and stain altogether.
"Some bags have fragrance in them to cover up the smell of the dog poop"
This is especially useful when you cannot dump the bag right away and seek a safe location for dumping.
You do not want your dog to be agitated and irritated whenever you want to travel with him, and so one of the best ways for you to travel safely with your dog is to start going on these trips when your dog is still young.
As time progresses and he is not taken anywhere, he will be agitated and unable to enjoy the trip.
Conclusion
When you travel with your dog, you need to be careful and take everything that you feel would help you on your journey and some things that you feel are not necessary to be safe.
Every time we step outside of our house, we are taking the risk of our lives, and taking care of another life along with your life is a big responsibility.

For the sake of people asking about what is the safest way for dog to ride in car, there has been a great deal of research and traveling to make a list of things that will help in the safest way possible for your dog to ride in car.
However, it should also be kept in mind that one cannot prepare for everything, and it is alright sometimes not to be ready, its part of the adventure.
The most important thing to keep in mind is to never panic in any time of emergency.
Panic always leads to bad choices. Just know that with the help of these tips and some other research, you will be able to get through every tough time with your little companion.