How to secure a dog crate in car? When going on a road trip with your dog, it's very important that they are safe and secure, and the best way to accomplish this is to use a dog crate. Now there are a number of ways to secure a dog crate in the car which we are going to talk about in this article.
When you're taking your dog on a road trip or going to a vet appointment, it is important to know how to properly restrain your dog in the car to ensure their safety and the safety of others.
You see! There are some people who refuse to use dog crates because they feel that confinement is cruel. But this is not true, in fact, a crate can give dogs a sense of security, making the dog feel more relaxed, especially when traveling.
4 Ways To Secure A Dog Crate In Car?
1. Car Boot
The most common and safest way to secure a dog in a car is in the boot and the same goes for a crate and because a car boot is enclosed this will keep the crate still while in transit.
However, we do recommend using a cage instead of a crate when Travelling With A Dog In The Car Boot, this way if there any sharp braking or maneuvering or even a collision your dog will be protected.
2. Car Footwell
It's never recommended to place a dog crate on the passenger seat because this exposes your dog to the front passenger airbags. However, if the crate is small enough you can place it in the footwell of the car.
The way to do this is once you've placed the crate in the footwell, simply roll the seat forward gently using the seat adjustment until your dog crate is fully secure.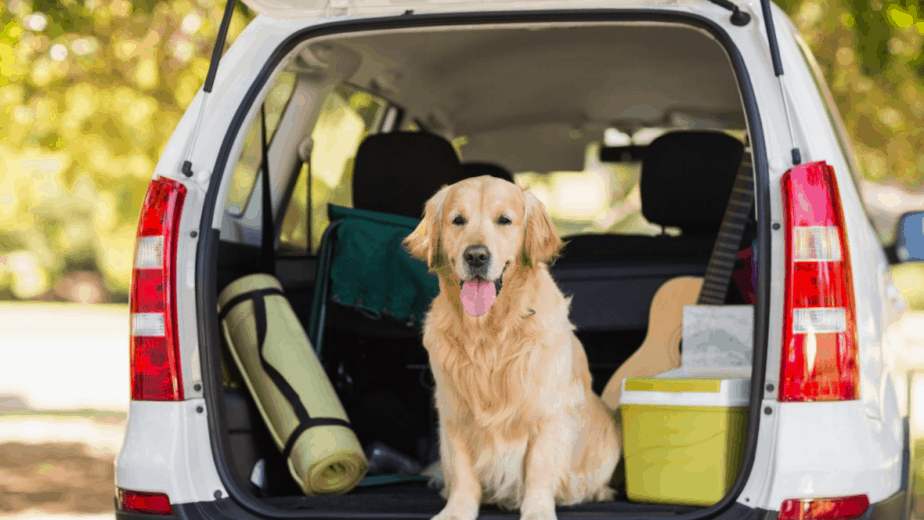 3. Rear Seat
Another way to secure a dog crate is on the rear seats using the seat belt. "But" it's very important that your dog doesn't become a distraction to the driver.
So make sure before heading off that your dog is completely secure in the carrier. Also, don't forget to give your dog a toy or chewy bone, this will help keep your dog busy while your driving.
4. Seat Hammock
Seat hammocks are great for protecting your car seats from any unwanted marks and scratches. Not only that but it can actually help secure a dog crate in place while using the seat belt.
This option gives your dog extra security while in the car and because the seat cover is in the shape of a hammock this can protect your dog from any sudden braking that may occur.
Related Article
Best Way To Secure Dog Crate In Car
The best and safest way to secure your dog would be in the car boot. Which is the most common way especially if you have a large dog.
Most cars usually have a place where you can attach hooks in the boot to keep the crate secure. Using bungee ropes with hooks on the end is a good option and they are cheap to buy a strong set would cost around £10.
However, if you have a small dog and you would rather have them travel on the car seat, but are unsure how to secure the crate properly using the seat belts then this video below should help.
Why Dogs Need To Be Secure In Car?
Many owners do let their dogs travel unrestrained in the car, but this can be very dangerous for both the owner and your dog.
For example, If your car is involved in an accident, the dog will become an instant projectile and could end up with some serious if not fatal injuries.
Not only that but in certain counties dogs have to be suitably restrained when traveling in a car. Having an unrestrained dog in your car can result in distracting the driver that could lead to a harsh penalty.
In some cases, Even Insurance companies will not cover the driver's insurance if they are involved in an accident as a result of being distracted from an unrestrained animal.
Dogs In Car Law
Traveling with dogs in a car that are unrestrained can be a distraction, as well as being a risk to themselves and others. Not only that but in certain counties like the UK for example, dogs have to be restained in a car.
The Highway Code from the UK Government states that a dog cannot be a distraction to the driver and using "a seat belt harness, pet carrier, dog cage or dog guard are ways of restraining animals in cars.
A fixed penalty for careless driving as a result of being distracted can be issued up to £100 with 3 points on the driver's license. If there's an incident that's more serious offenders can face higher penalties.
The Highway Code Rule 57
When in a vehicle make sure dogs or other animals are suitably restrained so they cannot distract you while you are driving or injure you, or themselves if you stop quickly. A seat belt harness, pet carrier, dog cage, or dog guard are ways of restraining animals in cars.

www.gov.uk
Tips For Being On The Road With Your Dog
When traveling long distances in a car with your dog make sure you schedule plenty of stops to let your dog relieve themselves and stretch their legs.
Making sure you are properly prepared for a road trip with your dog is defiantly key. Dogs can get bored quick so making sure they are entertained while in their crate can lead to a smoother trip.
For example, giving your dog a squeaky toy or chewy bone can keep them busy while traveling, and most importantly don't forget to bring plenty of water for your dog.
Dogs can get hot fast especially in a car so keeping them hydrated is very important. Bringing some dog treats with you is also a good idea and if you have a puppy this is a great way to train them to behave in a car.
Related Article
5 Best Dog Crates To Secure In A Car
Having the correct and safest dog crate to use in a car is very important. Thousands of dog crates each year are tested to make sure they are safe enough to use in a car.
To give you an idea of what tests these dog crates go through below is a video showing you exactly what happens to these crates and carriers in the event of a crash performed by the Center for Pet Safety (CPS).
If you don't have a dog crate already or are unsure which are the safest and best for securing in a car below are our top 5 picks that are perfect for using in a car whether that's in the boot, footwell, or on the seats.
1. Lightweight Fabric Pet Carrier Crate
This Lightweight pet carrier is great for a multiple of things, weighing in at just 3.32 kilograms it is very easy to move around and is ideal for any road trips and holidays.
Most importantly, it's spacious, comfortable and thanks to the square design, this carrier will fit comfortably in most cars that can be restrained using a seatbelt.
This dog crate also has a collapsible frame allowing you to store it very easily making it ideal for holiday trips. This carrier is available in three sizes, medium, large and extra-large and is suitable for small or medium dogs.
2. Dibea Dog transport box
This Dibea travel box is perfect for traveling with your dog using the car boot and has plenty of ventilation to ensure optimal air circulation during long road trips.
This carrier is also equipped with two pockets that can be used to store all your essentials for your road trip. It's durable, scratch-resistant, and easy to clean if your dog tends to molt a lot.
"But" as you know, when going on long road trips having as much space as possible is key for packing all your essentials and what's great about this carrier is it's collapsible, making it easy to store when not in use.
3. EliteField 3-Door Soft Dog Crate
The Elite field dog crate is designed with 3 doors for easy access and is made of high quality durable 600D fabric and provides excellent air circulation for your dog.
This dog crate is also equipped with two accessory pockets on the top and side to store all your essentials and like the previous two carriers above it's also collapsible.
The best way to secure this dog crate in your car is by placing it in the boot. This way the crate will be fully secure and because there's a door on top of the carrier this makes it easy to pass your dog some treats.
4. AmazonBasics Two-Door Dog Crate
This Amazon basics dog crate is a standard design and is more suited for short trips to the vets or to a park. The crate features two doors, one in the front and one on the top, making it easier to get your dog to and from the crate.
The crate itself is made of durable plastic with a steel-wire front door, that offers strength, security, and visibility, and with plenty of ventilation.
There are also four latches, including screws that can be used to further secure the top and bottom of the crate for added reinforcement. Because of the size, this crate can be placed in the footwell of the car or behind the passenger seat for extra security.
5. Casaria Dog Car Aluminium Crate
The Casaria Dog Car Aluminium Crateis the most popular option and is perfect if you prefer your dog to travel in the car boot. This cage features simple, quick assembly, with lockable doors, that's well ventilated.
This type of dog crate will fit inside most common estate cars thanks to the trapezoidal design. This crate also features sturdy plastic corners that will minimize the risk of any injuries.
Related Article
Conclusion
So as you can see there are plenty of ways to secure your dog in a car. However, always make sure your dog crate is fully secure before setting off on your journey.
If you haven't already got a dog crate don't forget to check out the 5 recommended dog crates above that are perfect for securing in a car.
Also, remember to check out the laws for traveling with your dog in a car especially if you live in the UK as the driver can be fined up to £100 with 3 points if the dog is found unrestrained.