How to travel with a dog in a car? Travelling with a dog in the car can be a lot of fun "but" it is certainly not easy if you don't follow the laws, rules, or precautionary measures.
Although everyone loves seeing their furry friend in the car, an unrestrained dog can cause distractions when it accompanies the owner behind the wheel.
An unrestrained dog can affect your driving. It can interfere with the steering, pedal operation, airbag effectiveness, etc. A dog that hangs its head out of the car window can also be hit by objects or passing vehicles which can cause injuries or even death.
Around 47% of owners say that it is no easy to drive with an unrestrained dog in the car. Research shows that 28% of owners do not consider travelling with a dog in the car dangerous.
About 26% of people know about the dangers, but they ignore them. Besides, 21% of dog owners believe that precautionary measures are unnecessary, and 25% follow the rules and regulations.
The probability of car accidents increases when you fail to follow the rules or consider precautionary measures. For example, when your dog climbs into your lap while driving, it can distract you from driving properly.
A dog sitting in your lap can inhibit proper steering, restricts you from keeping your hands on the steering, and blocks the blind spots. Keep in mind that these actions are illegal in almost all regions in the U.S, the U.K., and other countries.
Considering the stats, we would say travelling with a dog in the car can put you and your furry friend at risk of an accident. So in this article, we will talk about how to saftly travel with a dog in the car and also point out the laws.
Travelling with a dog in the car
Traveling with a dog in the car can cause a lot of stress for your four-legged friend. However, you can take certain steps to minimize stress and increase the safety of your dog and in this section, we will give you complete details on travelling with a dog in the car.
Decide Where Your Dog Will Sit
Deciding where your dog will sit in the car beforehand is very important. If you don't want to use a crate, make sure there is sufficient space for your dog to move around.
Likewise, ensure there are hazardous objects in the car. If you are taking a long road trip, we recommend making space extra comfortable by laying down your dog's favorite blanket and toys.
Because your dog will get in the car at the last moment before you start the journey, it is crucial to keep everything in place beforehand.
Make sure you don't let your dog sit in the front seat because the airbags can hurt it seriously in the event of an accident.
Although airbags are important safety objects that save lives, they explode with a significant force that causes severe injuries to your dog. If you have a small puppy, the airbag can even kill it.
That's why you must not allow your dog to sit in the front passenger seat or your lap. Experts recommend choosing the boot or the back seat for your canine. That way, you can ensure your dog's safety.
Choose The Restraint Carefully
Many owners recommend having a quality soft-sided or hard-sided crate for a dog. If you don't have it, you will need a restraint. The purpose is to ensure no harm comes to your furry pet in the event of an accident.
Some options include carry-boxes, zip-line harnesses, and harness seat belts.
Crates, dog guards, seat hammocks, and barriers are good alternatives to harnesses. Although these options are useful in getting the job done, restraints are usually more effective than them.
Ensure you check your local area or state laws to know if they allow traveling with a dog in the car without any restraints.
Avoid Feeding Your Dog Before Travelling
Experts recommend owners to maintain their routine, and in most situations, the advice works. However, when travelling with a dog in the car, you have to make some adjustments.
This includes not feeding your dog before you go.
If your canine friend eats before traveling, the chances are that its stomach will get upset during the journey.
The problem is common for dogs with motion sickness. Feeding your dog before travelling can lead to a lot of mess on your back seat, and you will spend your precious time cleaning it.
We recommend not to give your dog any food, especially if it is a young puppy. The rule of thumb is finishing a pre-travel meal at least three hours before you start the journey.
Always Plan Ahead
Although you can make efforts to mitigate stress-related issues for your canine friend, you can't eliminate them. It is essential to plan and make appropriate preparations for the eventuality.
Take your dog to an experienced and qualified veterinarian one month before the travel date if it has had stress problems previously. That way, you can make proper arrangements.
What if you have to travel urgently or on an emergency basis? In that case, you must ensure the availability of antidepressants.
Otherwise, you can leave your dog at a family member or friend's house and request them to take care of it. Anyway, there are various ways to reduce stress-related issues during the journey.
For example, If you are stress-free, calm, and relax during your road trip, your dog will also stay calm.
Ways To Reduce Stress-With Your Dog
Your dog's mood and happiness depend on your body language.
Ensure you have everything in place, including your dog's favorite blanket and toys.
Use non-prescription antidepressant medications to see if they can reduce your dog's stress and anxiety.
If you are unsure about these medications contact your local vet and they can advise you further.
Plan Your Travelling With Plenty Of Breaks
Travelling with a dog in the car requires careful preparations. It is important to balance your preferences with that of your dog's preferences. Although you may prefer to take a road trip without any stops, your decision may not favor your dog.
A long journey without any breaks can cause significant stress for your dog.
Therefore, you must plan travelling with plenty of breaks because your dog will be taking short walks, burning off excess energy, eat food, and go potty. Ignoring these things can lead to problems and ruin your journey.
That's why you should take a break every 2-3 hours for at least 20-30 minutes. Although it can delay your journey, taking a break for 20 minutes will keep your furry friend happy.
Taking a break gives you some time to eat, drink, explore the surrounding, and keep an eye on your dog to see if your four-legged friend is fine and enjoying the trip.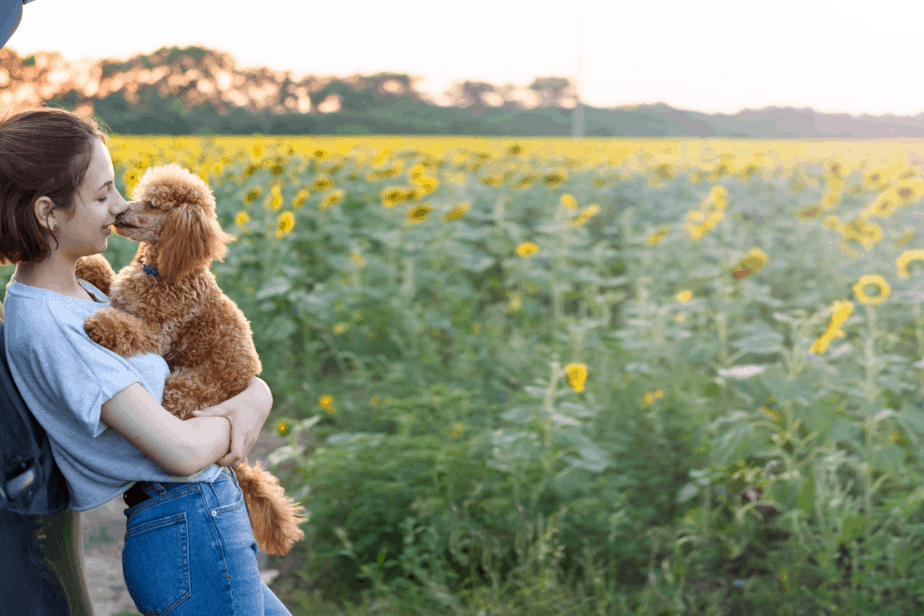 Choose The Right Crate
You can use restraint to control your dog inside the car and make your journey safe and secure. However, some owners prefer using crates instead of restraints. Each option has its pros and cons.
Anyway, if you have decided to use a crate, choose the right size for your canine. At the same time, you should pick a certified dog crate to ensure safety.
We recommend selecting a crash-tested container because such products are made of high-quality, sturdy material.
Many owners prefer aluminum reinforced fiberglass or plastic reinforced crates because of their durability, reliability, and sturdiness.
When choosing the container, pay attention to the ventilation and insulation factors so that your dog can stay comfortable throughout the journey.
We always recommend purchasing a dog crate from a reputable brand because it ensures high-quality material, good ventilation/insulation, easy access, and comfortable bedding.
You can buy a crate equipped with a crash bag to provide extra safety in the case of an accident.
If you have a young puppy or an older dog, make sure you buy a ramp to help your furry friend climb in the car. A ramp is an important accessory to safely and securely help your dog get into the vehicle without your help.
A high-quality ramp reduces pressure on your older dog's joints and helps it get into or out of the car properly without any issues.
Related Articles
Avoid Giving Your Dog Excess Treats While Travelling
Treats are a good way to keep your dog busy in the car. You can give your dog some treats to keep it distracted and happy during the journey.
However, we advise you to limit the number of treats to avoid problems. Instead, you can keep talking to your dog to keep it encouraged during the journey.
Giving your dog more treats in the car can lead to several problems, including choking, stomach upset, vomiting, and potty. At the same time, you won't want to get distracted while driving your car.
For example, turning around to the back seat to fetch treats for your dog is dangerous in a moving vehicle so it's best to keep your eyes on the road to avoid any unpleasant situations.
Maintain Optimal Temperature
Dogs are highly sensitive to fluctuating temperatures. If you want to keep your dog comfortable and safe, pay attention to your car's interior temperature.
It means keeping the interior warm during the cold weather and AC running if the weather is hot.
If you are travelling in the hot weather (summer), it is crucial to keep the windows open for a while to ensure your dog breathes in the fresh air.
However, don't put the windows down to avoid your dog sticking its head out of the window. Similarly, don't leave your dog alone in your car for a long time.
If you need to fill your fuel tank or need some food supplies from a convenience store, make sure you keep the back seat windows open for a while to allow air circulation.
Make sure you get back to the car as soon as possible because leaving your dog alone can cause anxiety.
Car Temperature Fluctuation
| Outside Temperature (Fahrenheit) | Interior Temperature After 10 Minutes (Fahrenheit) | Interior Temperature After 30 Minutes (Fahrenheit) |
| --- | --- | --- |
| 70 | 89 | 104 |
| 75 | 94 | 109 |
| 80 | 99 | 114 |
| 85 | 104 | 119 |
| 90 | 109 | 124 |
| 95 | 114 | 129 |
According to the chart, your car's temperature can increase by 10-25% within 10-30 minutes. Therefore, if you have parked the car somewhere along the journey, it is crucial to keep the AC running.
That way, you can maintain your car's temperature and keep your dog comfortable. However, It's always recommended never to leave your dog inside a parked car alone.
Ensure Availability of Essential Things
Travelling with a dog in the car requires you to pack a bag of essential things. The bag contains all the items that your canine friend will need during the journey.
It becomes even more important when you take a long road trip to another city, town, or state. Doing so will make things easier for you and your dog. Some essential items that you should consider are given below!
Travel Food
Leash and Harness
Medications
Medical Records
Treats and Toys
Waste Bags
Disinfectants
Laws for travelling with a dog in the car
Research shows that over 84 million households in the U.S own pets. Among them, 63.4 million people households have dogs.
It is easy for some people to keep a dog, but for many others, it becomes problematic to maintain a canine pet, especially if they lack the knowledge and don't know how to care for them.
Likewise, travelling with a dog in the car depends on your expertise and how well you know the laws and rules. You will need to know a few laws or regulations before traveling with a dog in the car especially if you plan to travel abroad.
Take the United Kingdom, for example, did you know that if a driver is involved in an accident as a result of being distracted from an unrestrained pet in the car they can face a hefty fine or in some cases imprisonment.
Rule 57 of the Highway Code states: "When in a vehicle make sure dogs or other animals are suitably restrained so they cannot distract you while you are driving or injure you, or themselves, if you stop quickly. A seat belt harness, pet carrier, dog cage or dog guard are ways of restraining animals in cars."

www.gov.uk
Before Your Road Trip
If you want to make the most of your travelling with a dog in the car, it is important to know the road rules relevant to your local area or state.
Ensure Your Dog Is Healthy
First, it is important to make sure your four-legged friend is healthy enough to travel with you in the car. Focus on your dog's worming, flea treatment, and vaccination, and ensure all of them are up to date before you set off.
If your companion takes any prescription drugs, we recommend you have enough of them throughout the journey.
Some states' laws require owners to consult their veterinarians for advice, including anti-anxiety medications, aggressive behavior, and paralysis tick prevention.
Install The Dog Restraint
Travelling with a dog in the car requires you to install a dog restraint in your vehicle properly. It is an essential accessory that offers several benefits.
Among them, the most obvious advantage is helping to stop your canine friend from distracting you. At the same time, a dog restraint becomes useful in reducing the risk of injury in the case of an accident.
Consider Dog Barriers
As the name indicates, a car barrier is a physical boundary that keeps your canine safely out of the way when you are driving. It is an essential accessory that allows for a safe road trip.
For instance, some barriers like hammocks can keep your dog in the backseat. These items also keep your car clean as they serve as seat covers.
Anyway, you need to purchase a dog barrier that is fully adjustable and provides easy attachment. Stainless steel material is usually the most preferred material for a dog barrier.
Familiarize Your Dog With Your Car
It is a wise idea to familiarize your dog with your car before you start travelling. I recommend this for long road trips or journeys. That way, your furry companion can enjoy a pleasant, comfortable, and safe ride.
Consider taking a few short trips to know if your dog is comfortable travelling in your car.
Emergency First Aid Kit
Travelling with a dog in the car requires owners to create an emergency first aid kit. It is a vital component for you and your dog in an emergency.
A few necessary items in the kit for your dog include a flexible digital thermometer, non-stick bandages, white adhesive tape, gauze, etc.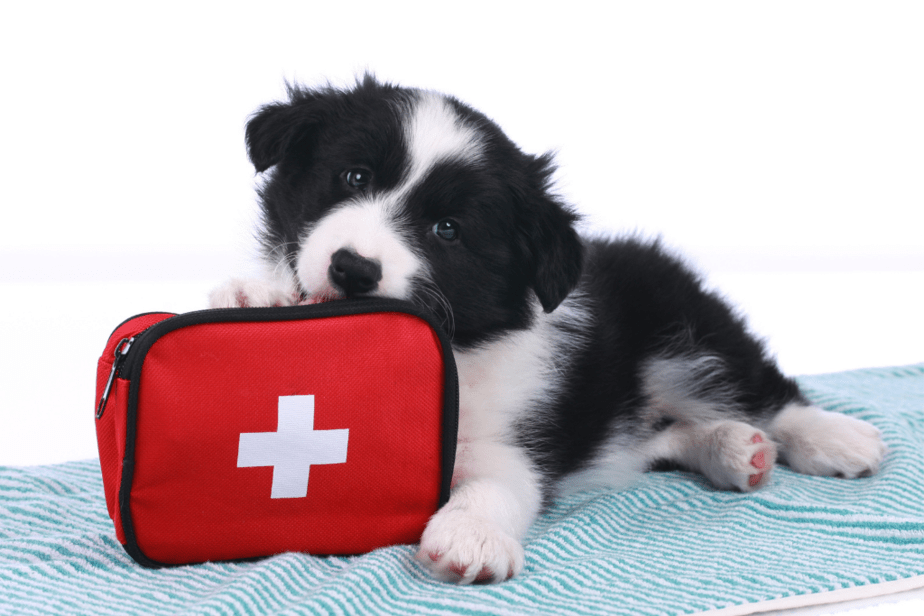 Microchip Your Dog
The law requires you to microchip your dog to ensure your contact details are recorded on the state's microchip register, and the information is up to date. If your dog is microchipped on a state-based register, it is wise to microchip your dog on a national record.
It is very important because if your canine friend is lost at any point, the authorities will contact you. Don't forget to attach an ID tag to your dog's collar. If your dog is registered in your local area or state, ensure the registration is up to date.
During The Road Trip
Keep The Car Windows Closed
Keeping your car windows closed does not mean completely shutting them. You can keep them slightly open to maintain air circulation. By this, we mean to say that don't let your canine friend ride with its head out of the car window.
At the same time, you must not leave the dog on your lap.
The problem does not occur when you have properly restrained your dog with a car harness. Otherwise, you will have to pay hefty fines if the law enforcement personnel catch you in such a situation on the road.
I have already talked about not leaving your dog in a parked car. Some states' laws strictly prohibit this because the temperature inside the vehicle can rise quickly, even if it cool or cloudy outside.
Stop For Toilet Breaks
Travelling with a dog in the car can become problematic if you fail to follow the rules. Among them, one rule is stopping for toilet breaks during your journey.
That way, you can avoid toileting accidents inside your car and properly carry out on-lead exercise outside your vehicle in a secure area.
Remember, well-trained dogs can also become exuberant or unpredictable in a new environment. Therefore, the laws require you to keep the dog on a lead in an unfamiliar environment. It allows you to secure your dog even if it takes fright at any strange sounds and sights.  
Essential Items
Although we have discussed packing a bag of essential items, I forgot to mention the waterproof sheet and paper towels. These items can come in handy in case your canine companion has a "doggy accident."
Besides, the laws require you to stop every couple of hours so that your dog can release excess energy by stretching its legs. Moreover, keep the journey as short as possible to mitigate unnecessary stress for your dog.
Travelling with a Dog in the Car Checklist
Some important things you should pack for your canine friend are…
Collar, Car Restraint, Lead, and Harness
Regular food and treats for your dog
A can opener if your canine friend eats tinned food
A travel crate with bedding to sleep in and a cooling mat for hotter days
Enough Food bowls and water bottles
Your furry friend's favorite toys
Grooming tools and equipment, such as towels if your dog gets wet
Plastic bags and pooper scooper to clean up after your dog does its thing
A first aid kit and required prescription and non-prescription medications
A waterproof sheet in case of a doggy accident
Your vet's contact number and details of a local vet
Find dog-friendly accommodation in case you have to stay for a night
Conclusion
Allow your canine companion to roam freely in your car is extremely dangerous. It can compromise your dog's health by increasing the risk of accidents.
Similarly, leaving your dog unharnessed or unrestrained can cause distractions for you, which is not safe for anyone.
If you allow your dog to stick its head out of the window, it can cause injuries. Your dog can likewise jump out and escape.
You must ensure properly securing your dog at all times when travelling in a car. That way, you can prevent serious injuries and practice dog car safety.
Remember, when travelling with a dog in the car, the safest way for your canine is to stay in the crate or with secured with the combination of harness and seat belt.
It does not matter if you use a restraint or container, the only thing that matters is your dog's safety. That's why your dog must not sit in the front seat of your car under any circumstances.
Make sure you secure your canine in the back seat and follow the rules and laws given above to make your journey stress-free, comfortable, and safe.