If you planning on moving to Switzerland with a dog or are just going there on holiday with your family, and want to know what the rules & requirements are for taking dogs to Switzerland then you are in the right place.
Traveling with your dog in Switzerland for the first time is definitely a fun and amazing experience.
More and more people each year are now taking their four-leg friend with them on holiday. So why leave the dog at home when you can bring him along with you.
The thing that stops most people from doing this is they are unsure of what it takes and what the Rules and Regulations are? how to get a dog's passport, what are the friendly airlines for dogs, and what breeds of dogs are banned.
Moving To Switzerland With A Dog
There are three main things you will need when moving To Switzerland With A Dog or if you're just going there for a holiday.
You must have a valid EU pet passport.
Your dog must have a microchip
Your dog will need to be vaccinated against rabies and must be over 12 weeks old to receive this vaccination, this can be given at the same time as the usual annual booster vaccinations.
You must wait 21 days from the date of their first rabies vaccination before traveling with your dogs to Switzerland or any other EU member state.
To get a dog's passport or inquire about the one you will need to contact your local veterinarian they will then book an appointment to see you and your dog.
If you want to learn more about what steps you need to take to get a dog's passport then this article below should help
Related Article
Switzerland Dog Laws
The next thing you want to check is if your dog is allowed in the country you want to visit, You see there are certain Dog breeds in Switzerland and other countries that are banned.
In 2010 Switzerland classified the following dog breeds banned and are prohibited from entering the country.
American Staffordshire Terrier
Staffordshire Bull Terrier
Airlines That Allows Dogs In The Cabin
If you are traveling to Switzerland then you most likely be using Swiss International this Airline allows dogs on board, and the best thing is this airline allows dogs in the cabin so they can travel by your side.
You will need a dog carrier for this, that does not exceed 17 lbs (8 kg) including the weight of your dog.
Now there are some restrictions on this airline from the 1st of January 2020 the transport of what they call snub-nosed (brachycephalic) breeds of hares, rabbits, dogs, and cats in the cargo hold will be restricted.
Each passenger is permitted to take a maximum of two animals with him/her. 
The rules for transporting your dog, in the cabin, or in the cargo hold are.
A maximum of two animals (dog or cat) in the cabin
One animal (dog or cat) in the cabin and one animal in the hold
A maximum of two animals in the hold (in one or two approved transport containers)
Swiss Airlines do not allow dogs or any animals that are dangerous, pregnant, or may annoy other passengers. there are Fees for pets on flights that vary by destination.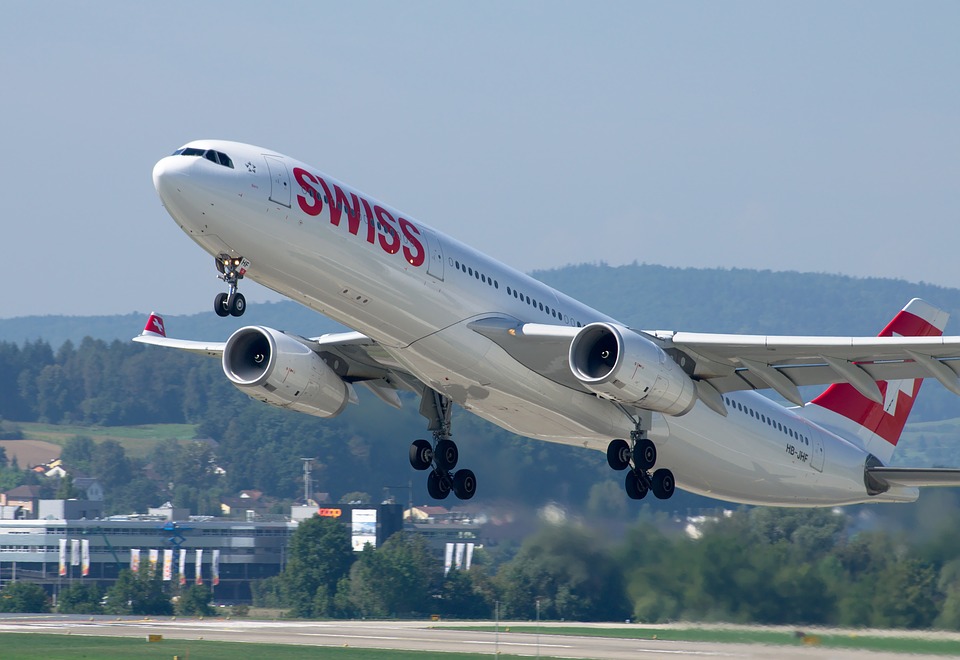 Airline Dog Carriers
The first thing you need to check is the size of your dog carrier. If your dog and carrier exceed 17 lbs (8 kg) or your transport container is larger than the recommended size, Your dog must travel as checked cargo in the hold.
When you travel with your dog in the cabin, Your dog must remain in the portable dog carrier for the entire flight.
The container itself must remain stowed away under your seat for the duration of the flight. Puppies under the age of 3 months are not permitted
To get more information on what type of dog breeds will fit under an airline seat, then this article should help.
Related Article
Cargo Hold
For dogs travelling in the cargo hold, the sizes for medium dog carriers are 23.5″ x 18″ x 16″ (60 cm x 45 cm x 40 cm) and large carriers are between 28″ H x 20″ W x 20″ D (71 cm x 50 cm x 51 cm) and 41″ x 30″ x 31″ (105 cm x 75 cm x 79 cm). Carriers must contain food and water for the duration of the journey.
All dog Crates must comply with international crate requirements. you can't use any dog crates wooden, the crate must be made of metal, rigid plastic or weld metal mesh, and the crate must be large enough for your dog to stand, turn around, and be able to lay down comfortably.
If you want to view some Airline Approved Dog Carriers and read Reviews visit Amazon's Website there you will be able to find the recommended size, weight, and price.
Entry Requirements
If you are entering Switzerland by flight your dog will need to be inspected by customs authorities at the airport.
If all the import requirements are not met, the border veterinary service will confiscate your dog and will then be returned to its country of origin. This will be at the expense of the owner of the dog.
The Swiss authorities will not accept dogs with docked ears or docked tails to be imported into Switzerland unless there is a very specific medical reason and if that is the case you will be required to send pictures and medical history to the Swiss authorities.
But as long as you follow the above requirements and you have all the correct paperwork, Dogs Passport, Vaccination's, etc.. Your dog will not be refused entry, and you be free to take your dog to Switzerland
Entering from a third country
The Regulations for taking your dog in Switzerland from a third country are different according to the rabies risk in the country you are coming from.
It is very important that you get your dog marked correctly and to be vaccinated against rabies, All this must be recorded in the documents required.
More requirements will apply if your dog is entering from a country in which there is a risk of rabies.
So before you travel outside the country with your dog from Switzerland make sure that the conditions for re-entry are followed. For More information.
Rules For Dogs In Switzerland
When travelling by train or Bus with your dogs in Switzerland you will need a second class ticket for your dog, whether you are traveling first or second class. Small dogs in portable dog carriers can travel for free.
When in the city dogs are required to be on a lease at all times. Anywhere in Switzerland, you are responsible for any mess that your dog leaves behind. However, there are many free plastic bag dispensers that you can use.
Most Swiss restaurants will let you bring your dog inside if he or she is well behaved. Your dog is welcome in markets or any shops, however, the large grocery stores will make you keep your dog outside.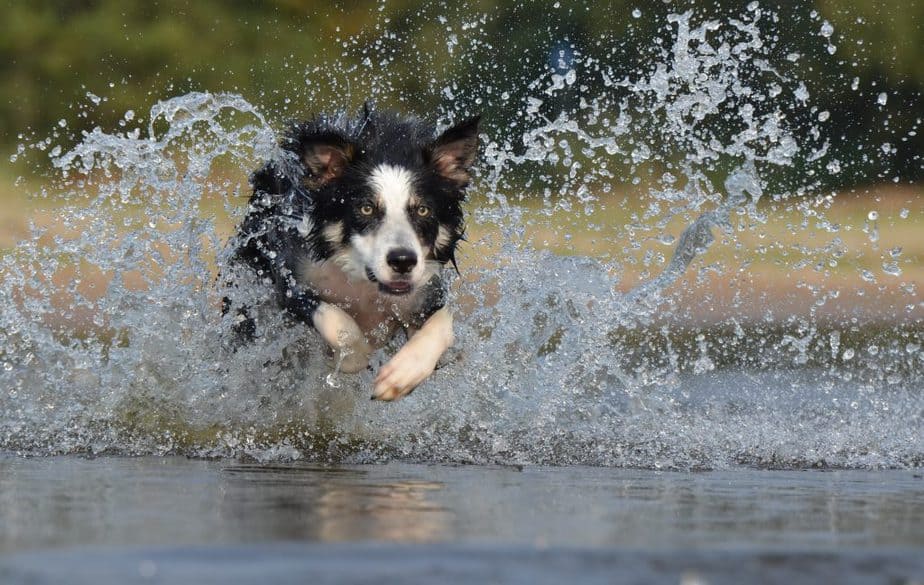 Dog Licences and Identification
If you're moving to Switzerland, your dog will need a license, If you are traveling with a guide dog then there are exceptions. 
In some case's dog owners may require private liability insurance before a dog license can be issued. 
Your dog must wear the license attached to the collar at all times when in public places.
Licenses must be renewed every year, also if you decide to move to another area with your dog in Switzerland, You must de-register and re-register your dog in the new community.
It's very important that you get your dog licensed, If you don't you will be fined.
Your license is valid for a year and again this should be renewed every year in January.
Identification of dogs whether that's a tattoo or microchip it's obligatory in all cantons in Switzerland.
All dogs born from 2007 must be microchipped (not tattooed) by an official veterinarian once the puppy is over three months old.
Before you move into any rental accommodation always check the rental agreement to make sure that dogs are allowed.
Conclusion
So as long as you follow the rules set out above you shouldn't have any problems traveling to Switzerland or if you're moving to Switzerland with a dog.
However, always make sure you have everything you need before making any arrangements or booking any flights.
Also, make sure you explain to your vet your plans so they can help you get the ball rolling.
Don't forget your dog will need to go through some health checks before they can even leave the country and again this is something your vet will advise you about.
Related Article